intro

As we were getting off a plane on 8 June 2007 on the Caribbean island of Tobago, a young Italian man invited us to his Italian cafe. We went there for lunch, speaking only in Italian to place our order. It reminded us that it had been too long since we were last in Italy.

We are often looking for a good enough excuse to visit our favorite foreign country, having lived there from April 1983 to August 1986, when Michael was on active duty at the U.S. Naval Hospital in Naples, Italy. We traveled to Naples in 1991 and 1999.

After 20 years now in the same house, we are in the process of remodeling our patio and desire an Italian look. So we decided a trip to Italy was justified, not only for the great food, but to visit and photograph Italian gardens for creative inspiration for ourselves and our landscaper, and to shop for tile on the Amalfi Coast that we never see in the States.

Thinking late September / early October would be a good time to go, we cashed in some frequent flyer miles and reserved our tickets. Since one stopover is allowed, we chose to see Ireland, a country we had never visited. We got 50 euro and 10 British pounds and started packing for our two-week trip.


Wednesday, 26 September 2007

On the day of departure, our daughter's sweet mother-in-law Robertta arrived at our house at 4:45 a.m. and took us to the Fort Smith airport. We each had a carry-on bag and Jeannie packed a suitcase (49.5#) which included a collapsible bag that we used on our return. We flew to Chicago through Dallas. All flights were on time. We had a 6-hour layover in Chicago before departing at 4:30 p.m. on Aer Lingus, Ireland's national airline.



Thursday, 27 September 2007

Our flight landed in Dublin, Ireland, at 5:05 a.m., 45 minutes early. Since supper was served late the night before and the flight was shorter than our previous trips to Europe, we did not think there was sufficient flying time to take a sleeping pill. So we slept far too little on the plane. Nevertheless, we slept through breakfast. We can't remember sleeping through a free meal on a plane before.

Whereas Americans and most of the rest of the world call the site where we take luggage off the conveyor belt "baggage claim," at Dublin's airport it is called "baggage reclaim," which actually seems the more accurate description. (We learned later that it's called the same in England.) After "reclaiming" Jeannie's suitcase, we got some euro currency from an ATM, then picked up our rental car, a Nissan Almera.

Michael had quite a challenge learning to drive an unfamiliar car in the dark. We were annoyed that the owner's manual was no where to be found after getting no instructions at all from the Avis employees. Relearning to use a clutch and keeping the car on the left side of the road took just a few minutes to master, but we could not find the controls to shut down the heater for nearly half an hour. This was largely because the traffic was so heavy on highways where we had never been before and it was so dark. It was 43°F outside and approaching 90°F on the inside. Driving 60-70 MPH with a window part way down seemed the most expedient solution. Perhaps if we were not so sleep deprived, we could have fixed this fiasco promptly.

The airport is on the north side of Dublin, the capital city. South of Dublin we exited the highway at Newcastle where we asked a local where we might find some breakfast. He said there was nowhere to eat in his village and suggested we continue along the coast road about 10 miles. When we arrived at Wicklow we found no place to eat so we got back on the freeway.

The next exit, also for Wicklow, indicated there was food available, so we drove in to the town along a different route. We soon found ourselves again at the same intersection where we had first decided we were not going to find breakfast. We parked the car and got some meager food from our suitcases. Before we ate, Michael noticed a deli across the street. So we got a donut and a bottle of flavored water.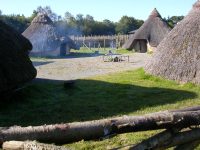 We arrived at the Irish National Heritage Park in County Wexford just as they opened at 9:30. The admission fee was reasonable. The park covers a large wooded area with a stream and lake. Numerous structures have been authentically reconstructed there that represent periods in Irish history beginning with a dwelling from 7,000 years ago. It was a bit chilly, but the long walk and sunshine helped us adjust to the 6-hour time change from home.
We ate a nice lunch at the Park. Then Jeannie purchased a rain jacket at their gift shop. She had searched for one like it in the States for weeks before our trip.
We then traveled to Waterford on the southeast coast. From 1:45-2:45 we toured the Waterford Crystal Factory. Jeannie then shopped at their showroom till 4 p.m. We seriously considered buying a crystal chandelier, but just couldn't convince ourselves it was worth us spending so much to replace the old lights over our dining room table right now.
For our first night in Ireland, we reserved a room in an 800-year-old castle. The castle is on an island, requiring visitors to enter by ferry across the Kings Channel. We checked in at Waterford Castle about 5 p.m. We stayed in the Otho Room. (The rooms did not have numbers.) We were fed an elegant evening meal in the Munster Room from 7-8:30.

Friday, 28 September 2007

On Friday morning we were awakened by our alarm at 8:30. We enjoyed breakfast in the castle. The drive back to Dublin was about 100 miles and took a few hours with our stop for lunch. A small portion of the trip was through the rain.

We returned our rental car to the airport and hired a taxi to take us to O'Callaghan Alexander Hotel near Merrion Square in the center of Dublin. By 4 p.m. we headed toward Grafton Street for shopping. We bought nothing but supper before returning about 8:00 to our hotel.


Saturday, 29 September 2007

Our Saturday morning started about 10 hours after falling asleep the night before. We had a nice breakfast in the hotel. We left our 3 bags in storage when we checked out.

We walked a few blocks to Trinity College (also now known as the University of Dublin), founded for Protestants by England's Queen Elizabeth I in 1592. There we saw the Book of Kells, an elaborately illustrated Bible more than a thousand years old. The Irish are very proud of it. We walked through a portion of one of the world's greatest research libraries (the Long Room) and saw the ancient wooden harp that is a well-known symbol, appearing on Irish coins.
It was raining when we left Trinity College and boarded the city tour bus. We planned to get off at Dublin Castle, but it was closed. The rain had stopped by the time we got off the bus at the next stop where we visited Christ Church Cathedral, the cathedral of Dublin.
We found a nearby bistro for an Irish lunch then walked a few blocks to St. Patrick's Cathedral, the national cathedral of Ireland. We arrived in time to sit and listen to the choir practice.
The first performance of Handel's "Messiah" (in 1742) was in Dublin, sung by the combined choirs from St. Patrick's and Christ Church Cathedrals. Jonathan Swift (author of Gulliver's Travels in 1726) was Dean at St. Patrick's from 1713 to 1745. We saw where he was buried under the floor of St. Patrick's.
We boarded the next city tour bus and rode without getting off for about an hour, mostly on the upper, open deck, listening to the interesting lecture about the places we passed. We got off a few blocks from our hotel to shop and find a Coke. Then we walked back to retrieve our luggage and got a taxi ride to the Radisson Hotel near the airport, where we spent the night.
see all our Ireland photos

Sunday, 30 September 2007
Our Aer Lingus flight left Dublin at 7:30 a.m. We were surprised and annoyed that a Coke was not complimentary onboard, but we were charged 2 euro (US$2.80) per can. The trip to Italy lasted about 3 hours. There was a 1-hour time change.

It surely was nice to use the same currency in Ireland and Italy. It took us a few days to stop thinking first that we were spending lire, the former Italian currency, that we used when we were living in Italy over 20 years ago.

Ben and Fran Rodriguez are church friends from when we lived in Naples. He retired from the Navy and she presently works in a government accounting job on the U.S. Navy base near the Naples airport. She has many relatives around Naples, so they moved back from the States nearly 2 years ago.

Ben met us at the airport to loan us his red, 1991 Fiat Panda which has automatic transmission. Michael drove him to the Naval Base from the airport to get his other car. Then we followed him to Bagnoli Joe's, our favorite pizzeria, for lunch.
About 2:30 we left Ben (Fran was working) and headed to the narrow, twisting road of the Amalfi Coast. We arrived at Hotel Margherita in Praiano (a bit beyond Positano) around 4:30. Our room was hugh with twin beds on either side of a king bed. It was on the top floor (4th floor by American counting) in the front center of this hotel of only 28 rooms. We had an awesome view of the sea from our balcony, as did every other room.
After we got settled in our room, we walked down the hillside to the tile-domed church of San Gennaro in the town center. The tiled floor in the church is beautiful beyond description. We ate insalata caprese and pasta in the hotel restaurant at 7 p.m.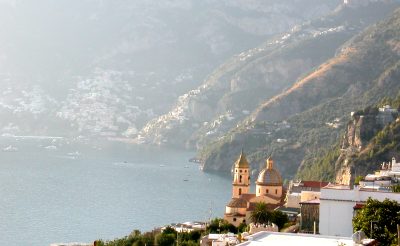 Monday, 1 October 2007

At breakfast we were served by Margherita, the hotel owner. She took our order for the special priced (€20) 4-course evening meal at that time.

Then we drove down the Amalfi Coast, turning north at Vietri. We went to Cava de' Tirreni. We were searching for a specific tile shop that we found on the Internet, but 2 emails from them did not give us an exact address. Nonetheless we managed to drive straight to it, ARCEA Ceramiche. It was in the midst of numerous tile factories. We found no way in, so we drove about town for awhile but were unable to find any tile showrooms. We filled the car with gasoline (about US$44 for 1/2 tank), then left town to shop elsewhere.
We went back to Vietri sul Mare and parked the car near the center of town. We visited several ceramic shops looking at tile for our patio projects. We did not purchase anything, but found possibilities. We ate a quick lunch at a hole-in-the-wall place, eating at a table on the side of the street. The table was not beside the street but in the street.
Our next stop was Amalfi. This place was thick with tourists, most out of many, many big buses. A parking place was very hard to find. After eating gelati (Italian "ice creams"), we visited lots of ceramic shops. We bought a cute postcard for our grandson. Before leaving town we visited (at €2.50 each) the Cathedral of Amalfi where they claim they have the skull and other bones of the Apostle Andrew. We saw the tomb but not the bones. (Interestingly, we saw what is claimed to be part of the skull of Andrew at Patras, Greece, during our visit to the Greek Orthodox Church of St. Andrew on 2 September 2000.)
We returned to our hotel by 5:30. Supper was at 7. Jeannie ate minestrone, followed by chicken cacciatore. Michael had spaghetti with clams, then Mediterrean sea bass. We both had a mixed salad. The meal ended with a delicious piece of torta (cake, in English).

Tuesday, 2 October 2007
After breakfast in the hotel, we drove to Ravello. It is high up the mountain above Amalfi. There are several hairpin curves and just one lane in places. About half way up the mountain we found a ceramic shop with a 60 cm ceramic table we liked, but we weren't buying yet.
We were warned to avoid Ravello on Tuesday because parking would be difficult due to the weekly market, but we chose this day so we could shop in the market. We found nothing we needed to buy. Then we found a big ceramic shop with exactly the tiles we want. We did not buy anything.
We walked through the gardens of Villa Rufolo and Villa Cimbrone, taking lots of pictures to inspire our efforts to create a patio with an Italian feel. We shared insalata caprese and a pizza Margherita for lunch at an outdoor restaurant that had a giant tree which shaded the tables.
When we returned through Amalfi we stopped for gelati. We checked out ceramic shops again in Amalfi and along the road back to Praiano.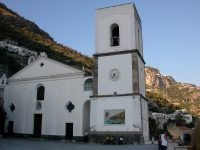 We returned to our hotel about 5:00. Then we walked the short distance to the church of San Luca Evangelista, the patron saint of Praiano. We often heard its church bells from our balcony. To reach the church we climbed dozens of steep stairs from the street. Everything on the Amalfi Coast seems built on a cliff and there are centuries-old steps going everywhere. The tile floor in the church is in very poor condition with most of the color worn off.

Supper at the hotel was what we ordered at breakfast. Unexpectedly we were first served an antipasta, a bean salad with little octopus arms. Then came a penne pasta with cherry tomatoes. For the next course Jeannie's dish was somewhat similar to Olive Garden's mixed grill and Michael had fish. We both enjoyed the potatoes, mashed but unlike anything we had before. For dessert there were two scoops of ice cream beside half a banana, drizzled with chocolate and sprinkled with very fine coconut.


Wednesday, 3 October 2007

After breakfast we left the hotel about 9 a.m. for Positano. Jeannie realized she forgot to take her anti-carsick pills, but seemed to do okay for the day. This may be because the many curves are so sharp that Michael couldn't drive too fast.
Before reaching Positano we made an unplanned stop at a ceramics store, Ceramiche Casola. Arriving so early in the morning, we had the owner's full attention. Signore Casola gave us a brief tour of his factory. We were very impressed with the quality of their workmanship. For our patio we ordered a gorgeous 60 cm ceramic-painted volcanic stone table that would be specially made for us (even with our surname painted in fine print). [Our table, shown on the left, arrived in early December.] We also ordered a set of 6 large tiles which together will show a scene of the Bay of Naples and Vesuvius. We plan to use this set of 8" by 8" tiles on the front side of a planter we are planning for our patio.
Traveling on to Positano, we found an attended parking lot for which we paid €10 for about 3 hours. It was quite a distance from the shops. The walk down the hill was pleasant, but the return walk back to the car was tiresome.
We walked inside the church of Santa Maria dell' Assunta. The organ was playing and an older couple were getting married or renewing their wedding vows, mostly while ignoring all the tourists coming and going and snapping photos. It was fun to watch.
Walking all the way down to the Mediterrean Sea, we found a nice place to eat on the edge of the beach. We shared an insalata caprese and a ham pizza, both of which were absolutely magnificent. Why can't these Italian foods be made the right way in the States? Jeannie found a beautiful blouse and blazer to purchase soon after lunch at Boutique Louise.
We departed Positano about 2:00. For the third day straight we went to Amalfi in mid-afternoon and found an empty parking space on the same short side street just a couple blocks from the center of town. We called our son Steven to wish him a Happy 26th Birthday at 7:45 a.m. in Arkansas. (There is a 7-hour time difference.) Then we sat on the steps of the fountain in the piazza to eat gelati as we had on Monday and Tuesday.
We walked to Il Ninfeo, the shop where we best liked the ceramic tile, the service, and the price during our shopping the previous day. We had checked out their website before leaving the States. We ordered #24 8" x 8" tiles and #180 4" x 4" tiles. These bright cobalt blue tiles will have several beautiful patterns painted on them with a matching motif in each corner. The large tiles will be used for the vertical surfaces of a platform under the Italian fountain on our patio and the small tiles will cover the vertical sides of the steps we plan to build on the patio. We had to estimate the number of smaller tiles and ordered an extra 10. We also purchased an extra sample of each size to carry in our luggage back to the States. Our order should be delivered to our house in a little over a month, but we expect we will not be ready to use them till next Spring.
We returned to our hotel about 5 p.m. Finding no empty parking spaces, we double-parked like experienced Italians. Michael left the car key with the hotel manager at the front desk in case the car needed to be moved before morning.
At breakfast on Wednesday we thought we might not return in time for supper at the hotel, so we didn't place our order for the discounted meal. Nevertheless, the manager allowed us to order from the specials on the evening menu when we went down to the restaurant at 7. We each had pasta followed by stewed lamb and roasted potatoes. Dessert was a light cake. All the meals at our hotel in Praiano were very good.

sunrise from our balcony

Thursday, 4 October 2007 We were up at 7 (in time to catch the sunrise), had breakfast, then were off by 8:30 to Sorrento, our favorite town in Southern Italy. With the patio shopping completed on Wednesday, we determined to just be tourists the rest of our trip.

We caught a ferry about 10 o'clock to the island of Capri (properly pronounced CAH-pree) in the Bay of Naples. It was only a 20-minute ride, much quicker than our trips from Naples in years past.

We were glad it had not rained while we were on the Amalfi Coast, but lack of rain meant a typical, hazy day for us with no view of Vesuvius from the bay. We thought the weather was actually perfect in almost every way. The high temperatures were around 80°F during the afternoons and in the 60's at night. It was never a problem that the car had no air conditioning.

After getting off the ferry, the line was ridiculously long to purchase tickets for the funicolare from the marina to the town of Capri. At the top of the hill we purchased a map for 1 euro and wandered about the very narrow streets with no particular destination. We were not nearly as excited as the typical tourists since we had been to Capri several times.

For lunch we shared insalta caprese (made perfectly, the Capri way) and a ham pizza (not as good as Wednesday's). That plus 2 Cokes and a bottle of water cost US$70. We've always known that everything in Capri is expensive!

We caught the 1:50 ferry back to Sorrento. Jeannie napped, having no significant seasickness problems. It was a bit less hazy in the afternoon, allowing us to see Sorrento from Capri.

It was time for gelati when we got off the ferry. Then we retrieved the car from the parking garage and drove to Notturno, our favorite inlaid wood shop. There we enjoyed a visit with our favorite inlaid wood salesman, Michele Pellecchia. He immediately recognized us. (Inlaid wood is much more expensive than we remembered.) Since we purchased every piece we might ever need between 1983-86, there was really nothing we found that we wanted. (In the mid-1980's we bought and still cherish several inlaid wood pictures and music boxes, a tea cart, trays, a secretary, a grandfather clock, and an inlaid wood dining table with six chairs and a matching hutch. It all came from Notturno's, so it's no surprise that Michele still remembers one of his best customers from over 20 years ago.)
We left the car at Notturno's and walked around Sorrento, visiting more shops than we could count. When we had bought all we could carry, we found a bench and sat near the street till Jeannie got bored and our feet rested enough to let us return up the hill to the car, where we stuffed everything into the trunk.
After paying €4 for parking, we took our chances and moved the car closer to our favorite Sorrento restaurant, La Lanterna. We shared insalata caprese and wondered, can it be unhealthy to eat too much mozzarella di buffala and tomatoes? Jeannie had cannelloni and Michael ate gnocchi alla Sorrentina (obviously prepared in the exact and perfect Sorrento way).
We walked back to the car and found a €36 (US$50) parking ticket on the windshield. We were pleased, actually, to find the car had not been towed away. There was no sign that we could understand that indicated we shouldn't have parked there.
Finding our way out of town and driving an hour in the dark back to our hotel in Praiano was an experience beyond what words can describe.

Friday, 5 October 2007
After breakfast we got everything packed up. We checked out of the hotel and headed for Naples. On the way we stopped at Pompeii. This was Michael's 12th and Jeannie's 10th time to visit the ancient city. We stayed a couple hours. Michael took lots of photos while Jeannie listened to the "audiotour" of various sites we passed. Besides buying tickets to get in (€11 each), we rented 2 audiotour devices at €5 each. A nice map came with each handset. Michael had to leave his driver's license as a guarantee that we would return the handsets. This relatively new system is a great way to go through Pompei Scavi at your own pace. We were disappointed that the House of the Vetii was closed. It's undoutedly the finest restored dwelling in Pompeii.

We ate lunch where we had parked the car. It would have been free parking if we had ordered €40 worth, but we did not want to eat that much. Our waiter acted quite offended when he couldn't talk us into more food. Meal prices have always been too high outside Pompeii. We shared insalata caprese and what the restaurant called "Pizza Vesuvio." We paid a little over €39, plus €9 for 3 hours parking. (That's about US$67.)

Take our  online tour of Pompei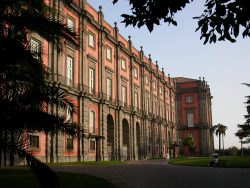 We got back on the autostrada about 2 o'clock, intending to drive straight to Capodimonte. We misinterpreted a turn and ended up near our hotel, Starhotels Terminus, at Piazza Garibaldi by the central train station in Naples. So we checked into our room and then drove to the Capodimonte Museum, formerly a royal palace. (When we asked the hotel receptionist how to drive there, she sternly warned us that it is too dangerous for tourists to drive in Naples. We agree, but we have plenty of driving experience with the creative Neapolitan way.)
Finding the entrance to the museum and then finding a space in the area to park made us wonder why anyone bothers to visit this place. We walked through the museum in about 2 hours, seeing many well known paintings that were once part of a king's collection.
After battling bumper-to-bumper traffic for neary an hour, we surprisingly managed to drive the most direct route back to our hotel. (The trip was over entirely different streets as compared to a longer, but faster way that got us to Capodimonte.)
Before returning to our hotel, we had the car filled with gas. We were told that self-service is available in Italy, but we never found it. When we lived near Naples for 3 years, we would tell the gas station attendants to put a specific number of liters into the tank since we purchased NATO gas coupons on the Navy base in advance. Michael had a difficult time on this trip getting the tank filled up since we did not know how to say or indicate in Italian we wanted a full tank.
We rested for about an hour at our hotel, then headed over to the train station to find an ATM to replenish our euros. We found a place to get some supper, which turned out to be the least expensive meal we had since leaving the States. We then ate gelati at a gelateria shop (having missed our afternoon indulgence this day). On the walk back around the piazza (which is roughly translated "square") to our hotel, we bought a less than good Coke Light at McDonald's.

Saturday, 6 October 2007

We ate the complementary breakfast at our hotel about 9 o'clock. At the nearby central train station we purchased 3-day transportation tickets. When we finally determined the right bus to take, we rode to Piazza Plebiscito.

There we asked for a tour of the San Carlo Opera House, but were told it wasn't possible. We walked into San Francesco di Paola, a church inspired by the Pantheon in Rome.
We skipped entering the Palazzo Reale (Royal Palace), while Jeannie shopped for a short-sleeved blouse near Galleria Umberto, one of the world's oldest shopping malls. We found a nice pizzeria for lunch just off Via Toledo in the Quartieri Spagnoli (Spanish Quarter).
Afterward we walked to Spaccanapoli, where we found all the churches closed for siesta. Sansevero Chapel was open, so we looked at its incredible marble statues, as well as two bodies preserved as only bones and blood vessels. Apparently no one is certain how this process was accomplished more than 200 years ago. (We had been inside this chapel only once before, during our first week in Naples in Spring 1983.)
We decided we had time to visit the National Archaeological Museum. We got in free with our transportation passes. Michael took lots of photos of Pompeii artifacts.
We went back to our hotel for awhile, then went shopping till nearly dark. We caught a bus to look for a restaurant. We ended up back at the same pizzeria where we had lunch, Il Soldina. We got quite wet in the rain as we returned to the bus stop, though we had an umbrella.
Being well into Fall, we were unable to find a short-sleeved shirt for Jeannie. She washed one in the sink to have a clean one to wear Monday.

Sunday, 7 October 2007
The rain on Saturday night cleared the air enough in Naples that we had a great view of Vesuvius from our hotel balcony on Sunday morning.

After breakfast in the hotel, we retrieved the car from the hotel garage. The attendant acted like he couldn't drive an automatic or else the car died after he started it. Michael followed him back into the depths of the "cavern" where the car was parked and drove it out himself.
We were later than we planned getting to Chiesa di Cristo in Bagnoli. We were able to drive straight to the church building, though it was more because of one way streets than our memory of 21 years ago.
The interior of the meeting place was modified after we left in 1986 and before our vacation to Naples in 1991. A major change during that same time is that the American and Italians stopped having separate services. We were told that every so often there is talk of returning to separate services, but everyone likes it as it is. (There is an Italian-only "house church" elsewhere in Naples where Christians who don't feel comfortable with English can attend.)
Sunday School officially starts at 9:30, but we found a parking place and a pew before anything really got underway. We were treated like honored guests, but it seemed that everyone else was also showered with special attention. The Bible study was in Italian for up to 5 or 10 minutes at a time, then the teacher, Giusepe, would spend 5-10 minutes repeating it all in English.
The worship assembly lasted about 1 1/2 hours. Everything was duplicated in each language. Immediately after a prayer in one language, a man of the alternate language would lead a prayer. The song leader, Ben, led us in an English-language song, then immediately led the Italian song that used the same tune. There were independent comments before the Lord's Supper and the collection in both languages (not translations). The sermon was delivered by Bruce Mentzer, a Navy chaplain, then orally translated sentence by sentence by Antonio.
In a country where Catholism dominates, this small group of simple New Testament Christians is a spiritual "family" who interact as first century Christians surely did. We heard many comments from members and visitors about how this church is a "community." They truly encourage one another in every imaginable way.
As when we lived here in 1983-86, the American membership of the church is turning over every few years as military orders change. We were delighted to renew friendships with several Italian Christians who were here twenty years ago. Though we do not know enough of each other's language to have a real conversation with most of the Italian Christians, we were able to demonstrate our love and appreciation and felt the warmth of their affection.
It was a real joy to visit with Nino & Laura, whose wedding we sang at (in Italian) in 1985. We found that we are remembered with great fondness. Even their twin daughters commented about seeing us in a video of the wedding. Laura's mother gave us a big hug, too. (Italian greetings between friends often include a light kiss on each cheek, regardless of your gender.)
It was great to meet Lino & Rosaria Luongo, who Michael had communicated with several times by email for many years. Michael's article about Noah's Ark on West-Ark's website was translated into Italian by Lino & Rosaria, and we learned that they get frequent email contacts as a result of this Italian language version of the article on West-Ark's website.
We had heard for years of the leadership of Giusepe & Jennifer at Chiesa di Cristo. We were thrilled to get to know them better. Older members, Massimo & Ada, who we remembered from younger days, are still very influential leaders in the church.
The Sunday morning worship service was well attended. We were excited to be there on a day when they had an "agape" meal together. It was at Ben & Fran's house. We followed a couple vehicles to find their house in Baia, on the far side of Lago di Verno. Lunch was an Italian potluck with many different Neapolitan choices.
Most all the Italians from church came, but disappointingly few Americans. We had a fun time. They set up microphones and speakers and had a talent show. There were poems read in Italian, then loosely translated to English. Many songs were sung -- some in English, some in Italian -- some with soundtracks, some with keyboard accompaniment. One person read 2 sonnets by Shakespeare. An 80-year-old, who accompanied his granddaughter to the party, was a former opera singer. He sang a couple of well known Italian songs for us while he played the piano.
There were a few light showers in the afternoon, but it had no effect on our activities. Before and after the rain Michael took several photos from Ben and Fran's rooftop. The scenery of the surrounding landscape and the sea was awesome.
Jeannie, Jennifer, Michelle and her two daughters sang a couple of songs in English. Then Michael and one of the other husbands were talked into joining them for three more songs. We were quite a hit with the Italian audience.
The fellowship didn't wind down until sundown. Having returned the car to its owners, we had to bum a ride. We asked for transportation to any train station, but Bruce and Michelle Mentzer were kind enough to drop us off at our hotel about 7 p.m. on their way home.
We then walked to a nearby restaurant for pizza. As we were packing for departure, Michael realized he had left a bag at the restaurant an hour earlier. Though it contained only some maps and guidebooks, he rushed back to see if it might still be there. He was excited to retrieve it and returned to the hotel to finish packing.

Monday, 8 October 2007
On our last day in Italy we were up by 7 a.m. (in time to catch the sunrise). After breakfast we finished packing for our flight, then left our bags in storage as we checked out of the hotel. We really didn't have anything planned for the day.
Jeannie wanted to shop at a popular open-air market, called "Shoe Alley" by the Americans who live in the area. Since it was beyond the edges of our maps (not being a tourist destination), we were not exactly sure where to find it. We ended up walking much farther than we expected. Though Jeannie had driven there many times when we lived in Italy, we stopped twice to ask if we were walking the right direction. We looked at lots of shoes and clothes at the "Shoe Alley" mercato, but did not find anything that we needed to buy.
We caught a bus back to Piazza Nazionale, where we found lunch. Afterward, we took the subway to Piazza Amedeo and then rode the funicolare up the hill to the Vomero neighborhood of Naples. We walked through the park at Villa Floridiana. Because the haze cleared after the rain on Saturday, we had great views of Vesuvius, Capri, and the Bay of Naples from this garden that overlooks the city.
After getting gelati, we shopped for awhile on the Vomero. We enjoyed browsing the aisles of a big supermarket, comparing prices and checking for products not available back home.
We then decided to return down the funicolare and caught the Metro to Piazza Cavour. We hoped to get on a bus but did not find a bus stop before we arrived at the Duomo, built in the 1200's on the site of an even older church building. The place is most famous as the site of the tomb of San Gennaro, patron saint of Naples. His "blood liquifies" during a ceremony held here twice a year. We remember seeing on TV the huge crowds at these events when we lived here.
We paid €3 to visit some of the excavations below the cathedral. We saw ruins of Roman influence above older ruins in Greek style. A most impressive ancient sight is the baptistry of San Giovanni in Fonte of the 5th century, considered to be the oldest in Western Europe (though we're not sure the folks in Ravenna, Italy, would agree). The depth and diameter of this baptistry from the 400's undoubtedly proves (to us) that it was used for immersion.
As we walked back toward Piazza Garibaldi, we walked around the outside of Castle Capuano, built in 1165 by the Normans. We saw the nearby ancient city gate, called Porto Capuano, left from the days when a wall surrounded Naples.

We ate supper a few blocks from our hotel. After reclaiming our 4 bags from the hotel, we repacked a few things before dragging our luggage to the train station. There we got a taxi to the airport. Our British Airlines flight left soon after 10 o'clock for London. The plane landed on time at 11:40 p.m. We found the weather quite chilly compared to warm and sunny Naples.


Tuesday, 9 October 2007

By the time we cleared British customs, got a taxi (took 30 minutes), and got into our room at Gatwick Belmont Guest House, it was 1 a.m. This is our third time to London and our third time to arrive at a hotel in London and be told that we don't have a reservation! Actually, this place, just 5 minutes from the airport, is a bed & breakfast. Fortunately for us, they had an empty room.
After about 4-hours sleep, we were fed breakfast at 7:00. Then the B&B transported us back to the airport. We had an uneventful, almost 10-hour flight to Dallas, where we enjoyed a short, mid-afternoon visit with our daughter and grandson. Robertta drove us home from the Fort Smith airport.
We really enjoy experiencing the food and cultures of other countries and meeting foreign residents. Leaving the States always makes us more thankful to be U.S. citizens. We appreciate the Lord providing us a safe return home. We are already wondering when we can start planning our next trip.
Michael & Jeannie Cole
read Angelique's Italy travel journal, 22-28 May 2007