Friday, 6 August 1999
Dear Friends,
We just returned last night from an exciting visit to Italy. We are providing a written record of it for those who are interested in learning the details of our trip. We hope you will enjoy our tales.
During the 3 years that we lived in Italy, we enjoyed several visits in our home by staff and students from Harding University's campus at Florence, Italy. Before we left Italy in 1986 when our daughter Angelique was only 6 years old, she expressed a desire to go to school in Florence someday. She never lost sight of this dream and even married a guy, Greg Moses, who became interested in doing the same. This summer they finally realized their dream of studying at Harding's "Villa" in Florence. Besides studying, the experience also involved lots of travel time to many places in Europe.
Over a year ago, Jeannie and Robertta, Greg's mom, decided they would go to visit Greg & Angelique while they were in Italy. Darrell, Greg's dad, eventually said he would go, too, if I would go along. So, we planned the trip many months in advance, working out more details as the time got closer and we learned the kids' schedules.
On Monday, 26 July, we checked in at the Fort Smith airport about 4:15 p.m. and departed on Northwest Airlines to Memphis, Tennessee, at 5:30. An hour and five minutes later we landed in Memphis, where we had almost a 2 hours layover. We flew aboard the Dutch airline KLM to Amsterdam, Holland. Soon after supper was served, Jeannie & I took the sleeping pill Halcion 0.25mg and slept about 5 hours. Then breakfast was served on the plane.
The plane arrived in Amsterdam about noon on Tuesday, 27 July. Jeannie & Robertta planned the 6-hour layover in Holland so we could spend some time away from the airport and say we had visited the Netherlands, as well as Italy. I withdrew 200 gilders (about $100) from an ATM. We left most of our hand luggage in a locker at the airport. Phil Krumrei, an old friend of ours, met us at the airport and drove us to a place to eat a Dutch lunch and shop. Phil drove us by the Ann Frank house. We returned to the airport by 5:30 p.m. and retrieved our bags from the locker.
Using up our remaining gilders, Jeannie & I shared a sandwich and Coke, before boarding an Alitalia flight at 6:20. Supper was served unexpectedly since it wasn't indicated on our itinerary. We arrived in Rome (Roma) at 8:40 p.m., along with all our luggage. Jeannie & I had 3 checked pieces; the Moseses had only 1. We were surprised that we cleared customs there without ever showing our passports.
Though Greg & Angelique strongly advised against it, we all carried quite a bit of U.S. currency. The Moseses found a cambio to exchange some money, while I used my checking account's debit card at an ATM to withdraw 500,000 lire. The exchange rate, almost £1850 per $1, was very good while we were in Italy, though it dropped below 1800 lire per U.S. dollar at the end of our trip.
I originally reserved a rental mini-van to drive while we were in Italy, but Greg & Angelique insisted we use the trains and buses for transportation. From the airport in Rome we took a taxi to our hotel, since the driver convinced us it would be less expensive than 4 train tickets. Transporting the luggage by taxi was easier than the train. It was quite a distance and the taxi ride cost us £100,000, plus I gave the driver a five dollar bill as a tip. He was good at pointing out to us the various sites as we passed them. His typical Italian driving was entertaining to Jeannie and me, fascinating to Darrell, and somewhat unnerving to Robertta.
We arrived at the Hotel Canada about 10 p.m. We all thought our air-conditioned rooms were fantastic, with big beds and nice bathrooms. The hotel was only a couple blocks from a subway station and about 6 blocks from the central train station.
Jeannie & I again took Halcion 0.25mg before going to bed and slept very well that night. We had no problems whatsoever with jet lag during our vacation.
On Wednesday, 28 July, we enjoyed the hotel's complimentary continental breakfast, then boarded the Metropolitana subway at the Castro Pretorio station. We got off at the Colosseo station. After looking around inside the ancient Roman Colosseum, we
visited the old Roman Forum and walked around on the Palatine Hill. After exiting onto the Via di San Gregorio, we walked along the far side of the Circus Maximus, while looking for a place to eat lunch. After walking many blocks, I finally asked a policeman (in Italian) to point us toward a trattoria or ristorante. After a very nice lunch outdoors at an osteria, we walked to the nearby Bocca della Verità and visited the adjacent church of Santa Maria in Cosmedin. We walked along the Tiber River, passing by the island called Isola Tiberina.
We found a gelateria where we ate gelati. This Italian ice cream was supposedly "invented" in Naples. My favorite is stracciatella (chocolate chip); Jeannie likes fragola (strawberry) best. I tried to eat gelati every day.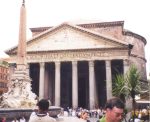 We continued walking to the Pantheon, where we saw the inside for the first time. Jeannie got a Coke at McDonald's, now located on the opposite side of the piazza from the Pantheon. We bought some cold bottled water next door and walked to the Fountain of Trevi. Then we walked to the Spanish Steps where Robertta counted 136 steps to the street as she walked down from the top.
About 6:30 p.m., we found a nice restaurant about 2 blocks from the Spanish Steps, but they told us to come back when they opened at 7. So we shopped till we could eat supper. Afterwards we caught the subway at the Spagna station and rode to Termini, the central train station. From there we walked back to our hotel. It was quite a challenge since it was dark and we weren't exactly sure where the hotel was from that station.
After breakfast at the hotel on Thursday, 29 July, we took the metro (subway) to the Vatican museums. After about 3 hours of walking and looking at the art treasures of the Vatican, including the Cistine Chapel, we found a ristorante just a couple blocks outside the Vatican walls. There we had all ate Margharita pizzas for lunch. Their fresh strawberries for dessert were superb.
We walked to St. Peter's Basilica. It was a longer walk than usual due to lots of construction near the wall. The cathedral was completely covered in scaffolding. Since I was wearing shorts, they wouldn't let me inside. This was not at all surprising to me. Jeannie and Robertta wore dresses that day, and Darrell wore pants. Before going to bed Wednesday night, I had considered placing some slacks in my bag, but never got around to it. (Angelique had insisted we wear shorts in Italy because it was so hot. Since she hadn't said except on the day we visit the Vatican, I really thought that the old rules for entry might have changed.) Since I had been inside St. Peter's several times since 1980 and the 3 others climbed over 400 steps to the top of the dome on St. Peter's this day, I did not at all feel cheated that I had to (got to) stay outside in the piazza where I read my guide book about Florence and Venice.
When the others rejoined me, we looked in several nice shops east of the Vatican. Then we walked a considerable distance to the nearest metro station and returned to the hotel. We had to walk in the rain from the station to the hotel. This was the only time it rained on us while we were in Italy.
It had stopped raining by the time we went to a nearby restaurant about 6:45 that evening. We then walked the few blocks to the main train station where we found the track we would depart from in the morning.
We purchased a £10,000 phone card at a newsstand, then tried calling the Harding villa, but the first phone didn't work right. Finally, on another payphone, Jeannie talked to Angelique, who told us where and when to meet her & Greg in Florence the next day. We found that all the public telephones had been replaced since we moved away from Italy 16 years ago. We no longer had to use special gettone coins to make a call. All the payphones will now take a phone card, which is the size of a credit card. You leave the card in the orange phone, and while you are speaking there is a small viewscreen which shows how much money is left on your card.
Before walking back to our hotel, we bought some gelati at the train station. Before going to bed, we packed for our early morning departure.
We were up at 5:30 a.m. on Friday, 30 July. I discovered a blister on one of my toes caused by all the walking. Jeannie found a blister on her foot after our first day in Rome when she wore sandals.
We checked out of the hotel by 6:30 and walked to the train station, dragging our suitcases. After getting our 8-day Italy rail passes validated to begin their use, we got pastries and cappuccino. This was at one of those places where you have to first pay the cashier and then get our orders filled at a different, and busy, counter. I have always hated that system. It's too complicated when I don't speak Italian well enough to be sure I am getting a receipt for what we really wanted at the counter. You can't just point to what you want when you are trying to tell the cashier. When we lived in Italy in the mid-1980's, even with the receipt one only got service after placing a coin on the bar (as a tip, I suppose). That system seems to not be the standard any more, though I found it appropriate at some counters to leave a coin.
We boarded the fast train to Florence which left at 7:30 that morning. We had made reservations in the States. Our ticket was in German. Making the reservations in the States was quite a bit more expensive than doing the same in Italy for some reason. We were served prepackaged cookies on the train. We saw lots of sunflower fields from the train.
The train arrived in Florence (Firenze) about 9:15 a.m., just a few minutes late. This 1 hour and 45 minute trip would have taken a minimum of 3 hours by car. Before leaving the train station, we purchased 3-day bus passes. We took a taxi for £15,000 to our hotel, the Hotel Pitti Palace, located less than a block from Ponte Vecchio. Our rooms were not ready, so we left our luggage at the hotel. When I asked the hotel receptionist how to get by bus to the Galleria Dell'Accademia ("Accademia" rhymes with the nut "macadamia"), he explained that it was only a "15-minute walk" and provided a map showing us how to get there.
We walked past the Duomo (cathedral). There we stopped to see the bronze East Doors of the Baptistry, which many claim represent the birth of the Renaissance.
We walked on to the Galleria Dell'Accademia where we saw Michelangelo's incredible "David" statue. I am rarely very impressed with statues, but there is some unexplainable impact that this particular statue has on me when I see it in person. It is very awe-inspiring. No picture of it does it justice. Unlike 16 years ago when we visited the "David" with 2 small children (ages 23 months and 4 years), we were able to see all of this museum. There was no line to get in and the crowd was acceptable.
After spending plenty of time at the Galleria Dell'Accademia, we began the long walk back to the hotel. On the way, we chased away a Gypsy woman who Robertta caught trying to get her hand into Darrell's front pocket. We stopped at several shops. We met Greg & Angelique at our hotel about 12:25 that afternoon. They had just completed some of their final exams. We took them to lunch at a restaurant with a terrace overlooking the Arno River.
We have never enjoyed the bread in Florence as much as the bread in other parts of Italy. The story we heard in 1983 was that centuries ago the king placed a tax on salt, so the people of Florence stopped using salt. The bread in Florence today is still made without salt.
After lunch, we 6 went to the Uffizi where we looked at hundreds of the world's best art works. Most of these were collected by several generations of the Medici dynasty during the Renaissance. To me, Botticelli's "Birth of Venus" still is the most impressive painting in Florence, followed by his "Primaverde" (also called "Allegory of Spring"). Both of these are in the same gallery in the Uffizi.
We then found some gelati to eat and shopped in an open air market. I bought 3 leather belts. We got separated from Jeannie & Angelique, so had to return to the hotel without them. Fortunately, they arrived at the hotel about 10 minutes later.
About 5:30 we caught a bus to the train station where we changed buses and rode for about a 1/2 hour to the "Villa," the campus of Harding University in Florence (HUF). It is in the country near Scandicci, a suburb southwest of Florence. From the bus stop, we had to walk up hill about 15 minutes. We pulled a suitcase filled with two dozen 24-ounce plastic bottles of Dr. Pepper as a gift for the students and faculty. We also had a couple boxes with several dozen Oreo cookies. Neither Dr. Pepper nor Oreos are available in Italy.
For 10,000 lire each, we four parents ate supper at the Villa at 6:30 with the staff and students. The staff whom Jeannie & I knew were Joe Jones, Cliff Ganus, III, Warren & Suzanne Casey. Joe Jones' wife was there; Debbie Ganus had already returned to the States. After helping clear the table, we "toured" the villa and took a few photos. Greg & Angelique had a nice room with their own bathroom in the villa. Using our phone card, we called our son Steven, who stayed behind in Fort Smith with his grandparents. Darrell, Robertta, Jeannie, and I looked at the dozens of photos that Angelique & Greg had taken while in Europe.
Dr. Casey offered to drive us to the bus stop, but having emptied our suitcase, we chose to walk. Then we decided to leave the suitcase with Greg & Angelique to fill up with stuff they wanted us to take back to the States. Greg & Angelique accompanied us down the hill to a gelateria in Scandicci as the sun was setting. When we got near the bottom of the hill, a college student from Searcy caught up with us. Also going to get gelati, she walked with us the rest of the way. We found the gelati to be very good.
After finishing our ice cream, we said our good-byes to the kids and went to a nearby bus stop. The kids walked back to the Villa. The bus picked us up in about 5 minutes. We rode to the train station in Florence where we discovered that the last bus to our hotel had run at 9 p.m. At 9:45 we began the several block walk back to our hotel. I can never remember my feet burning so bad or my calf muscles so sore. We were asleep before midnight.
We went to the hotel's complimentary breakfast at 8 a.m. on Saturday, 31 July. We walked to the nearby Pitti Palace and entered the Boboli Gardens in the rear. Because Jeannie's sinuses started acting up from all the wildflowers, we left before the Moseses and looked through Museo degli Argenti in the Pitti Palace. These rooms were incredibly decorated with inlaid stone and elaborate paintings on the walls and ceilings. The collections of treasures displayed in the rooms were very interesting.
After meeting Darrell & Robertta in front of the Pitti Palace at 10:30, we shopped together for awhile before we split up again. We didn't want to miss the Ponte Vecchio ("old bridge"), which is lined with jewelry shops and thick with tourists. Jeannie found a gold necklace and earrings to buy.
We all met Greg & Angelique near the Duomo about 1 p.m., after they had finished their last final exam for the summer session at HUF. We went to eat pizza for lunch, then went to the Medici Chapel to see Michelangelo's sculptures and architectural work. (Greg & Angelique waited for us outside, not desiring to pay the entrance fee to see this again.) We then walked to see the inside of the Duomo, which is much less impressive than the outside.
After stopping at an ATM for cash withdrawal, we went to get gelati. We then split up to shop. I bought a couple ties. Jeannie bought a tapestry. Angelique bought a purse. We returned to the hotel about 5:30. I bought a pair of cashmere-lined, leather gloves across the street from the hotel.
Angelique was feeling too sick to go to supper with us, so we left her in our hotel room at her insistence. We planned to take a city bus to Piazzale Michelangiolo, on a hill which overlooks the city. Street work had closed the bus stops, so we ended up walking up the hill. We thought the restaurants there were too expensive, so we caught a bus to the train station where we found a nice restaurant nearby. Worrying about Angelique, we didn't particularly enjoy the meal. Her mother was especially anxious about her. After supper, we caught the last bus (9 p.m.) back to our hotel.
During the 3 hours we were gone, Angelique had vomited a few times. She insisted on returning to the Harding villa where she and Greg had to pack that night and get moved out in the morning. We finally decided to send them back to HUF in a taxi, since the bus to catch was quite a distance to walk from the hotel and the bus stop for the Villa was too far to walk while Angelique was so sick.
Jeannie and I got up about 7 a.m. on Sunday, 1 August. Before eating the hotel's continental breakfast, I went to a nearby ATM to withdraw some lire. As I was checking out of the hotel with my credit card, I remembered that I hadn't waited at the ATM for my receipt. I rushed back to the ATM across the street from the Pitti Palace, but none of the receipts laying on the sidewalk were mine. Since this particular ATM didn't print the credit card number on the receipts, I guess it won't create a problem. But for some reason, my debit card didn't work the rest of the trip. Fortunately, Jeannie's debit card continued to function.
Before 9:30 we caught a bus to the train station with all our luggage, which we left in a baggage claim area. Greg & Angelique met us at the train station. We were sorry to discover that Angelique had been vomiting about every hour Saturday night and hadn't gotten any sleep. Jeannie stayed with Angelique at the train station while the rest of us went by bus to church in Puccini, a suburb of Florence.
The Church of Christ at Florence is still using the old Russian Orthodox building we met in 16 years ago. We arrived a few minutes late (about 10:48), and the service started very soon after we got there. Of course, the service was all in Italian. Singing from the song book was not difficult for me, though it wasn't possible to read all the words and all the notes at the same time. I understood more of the songs and sermon than I anticipated. After the service ended, we learned that the American girl sitting in front of us was a sister-in-law to a girl from Fort Smith whom we know.
We walked the few blocks back to the bus stop and rode to the train station. Because we were rushed, we got hamburgers at McDonald's. We retrieved our luggage and boarded the train, which left on time at 12:40 p.m. to Venice. Robertta quickly got sick from sitting backwards on the train, but then traded seats with an Italian girl. Her nausea passed and we returned to having just one patient. Angelique didn't vomit any while on the train, but threw up within a minute of getting off at Mestre (near Venice) about 3:15.
We required 2 taxis to get to our hotel. The hotel was a disappointment. Miles from the train station, its location was horrible. Nothing was set up to conveniently help guests get to Venice. The air conditioning for our 3 rooms (and presumably the entire hotel) only ran from 6 p.m. to 12 midnight. The hotel was on a street with lots of traffic noise. We couldn't believe it was rated a 3-star hotel. We would not recommend anyone staying there.
With Angelique being ill, Jeannie convinced the hotel to turn on our air conditioner at 4 p.m., shortly after we checked in. Angelique seemed to be doing some better, so we left her at the hotel to sleep. The hotel receptionist explained how to get to Venice, but he was out of bus tickets. (In Italy, one can't buy tickets on the bus.) Though there was a bus stop across the street from the hotel, we 5 had to walk several blocks to find a place to purchase tickets. Then we had to run to catch the bus which took us to the Piazzale Roma in Venice (Venezia).
Venice is such a strange city with canals instead of streets. We got tickets for the water bus (or whatever it's called), but got on going the wrong direction. We still enjoyed the trip, though. We got off at a stop which allowed us to walk to the Rialto Bridge. Being Sunday and late in the day, lots of the shops were closed. We ate supper about 6:30 at a restaurant along the Grand Canal near the Rialto. After this we took the water bus back to where we could catch our bus that returned us to our hotel by 9 p.m.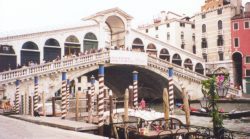 Angelique slept part of the nearly 5 hours we were gone, but she was still vomiting occasionally. Oral medications were useless since she would vomit every 20 to 30 minutes. We came really close to taking her to the nearby Italian hospital, but she never looked more than a little dehydrated. And I was terrified at the thought of what they might do to her at an Italian hospital, not to mention our concern about how many days they would have kept her. Finally she kept a sleeping pill down that I gave her at 9:45. She vomited only twice more, about 1 and 4 a.m., and slept the rest of the night.
It got quite hot in our room after the air conditioning went off at midnight. Jeannie & my room faced the street. With the windows open, the noise from the street, and our sick daughter across the hall, we really didn't sleep very well that night.
Monday, 2 August, was Angelique's 20th birthday. She stayed in bed sleeping while the rest of us went to the hotel's complimentary continental breakfast at 8 a.m. Greg then used our room to more efficiently pack their stuff that was to return with us to the States. He filled their small suitcase and our 26-inch bag that had carried the Dr. Pepper. To allow Angelique to rest as long as possible, we didn't check out of our hotel rooms till 11:15 (fifteen minutes before mandatory check-out time).
We took 2 taxis all the way to Venice with all our luggage. We then rode a water bus across the canal to the first stop, the train station, where we left all 10 bags in the baggage deposit. Though Angelique was lots better than the previous day, she was not feeling good enough to ride another boat. So from here we started walking toward Piazza San Marco till we found a restaurant. Angelique's pace was considerably slower than it would normally have been since she was still weak and uncomfortable. (By the way, she's not pregnant, if that's your diagnosis at this point. I'm sure she just had a viral gastritis.)
After lunch we shopped along the way. We divided up to shop about 30 minutes after we arrived at the Rialto bridge. We made our way to Saint Mark's Square where the line was much too long to try to get into the cathedral (Basilica di San Marco). We shopped, took pictures (the angle of the sunlight was great), and fed the pigeons. The pigeons there ate out of our hands and even landed on our shoulders.
After this we walked back to the Rialto where Robertta talked everyone but Angelique into riding in a gondola for about 30 minutes. We passed by where Marco Polo had lived around 1300. Angelique's stomach still wasn't well, and she never does well on boats of any size. She sat on steps sipping on a Coke at the water's edge till we returned.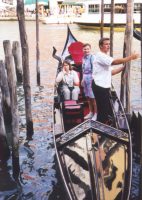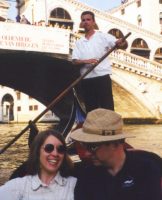 Jeannie and I had pizza for supper. Angelique only drank water and ate a half piece of bread.
We slowly worked our way back to the train station through the very narrow streets, which are little more than a maze of sidewalks between the buildings. We found several shops still open after 9 p.m. Angelique wanted to take a shower at the train station, but that section was closed. We retrieved our luggage and packed away our purchases of the day.
About 11:20 p.m. we boarded our sleeper train to Naples. Fitting all the luggage into the compartment and figuring out where we all would sleep was a bit more complicated than I expected. The train left on time about 11:30. We had the lights out about 12:30 a.m.
On Tuesday, 3 August, the train stopped in Rome at 7:15 a.m. and I did not go back to sleep. Jeannie got up about 8, Greg about 9, Angelique about 10. The train arrived in Naples (Napoli) after 10:30, about 1/2 hour late. We left most of our luggage at the baggage deposit, paying 5,000 lire per piece. (To pick them up cost another £10,000 per bag due to the length of time we left them there.) We carried with us only what we needed for one night.
We boarded the Metropolitana (subway), but due to construction it didn't stop at Piazza Cavour. Surprised, we got off at Montesanto, the next station, and walked quite a distance back to the National Archeological Museum, which we found to be closed. Angelique seemed no better than in Venice and was having considerable problems with abdominal pains while walking. We thought we were taking a bus back to the train station at Piazza Garibaldi, but had to change buses at Piazza Cavour. On the way, this second bus was hit by a car door that had been poorly tied to the top of a 3-wheeler truck. There apparently wasn't much damage since the bus driver didn't stop for more than a couple minutes. Other than the excitement caused by the flying car door, Jeannie and I were quite frustrated by the whole morning.
We had originally planned lunch at Bagnoli Joe's, our favorite pizzeria in Italy, near the NATO base. Since Angelique wasn't feeling well, we instead found a pizzeria just off Piazza Garibaldi. The pizza was great as well as the prices. Angelique ate absolutely nothing. She drank a little Gatorade which Greg found for her near the restaurant.
We walked across the piazza to the train station and boarded the Circumvesuviana train for Sorrento, planning to get off at Pompei Scavi (a.k.a. Villa dei Misteri) station. Before arriving there, Angelique decided to stay on board and go on to our hotel in Sorrento. She took her and Greg's bags with her.
The rest of us left our bags at the entrance to Pompeii (Pompei) in a baggage storage area with an attendant at no charge. We had not considered that we would find such a place. We
knew the train station was too small for storage of luggage. We spent about 3 hours exploring the ruins. This was my 11th time to visit Pompei. A few major sites were open that hadn't been and some were closed or access was limited, which hadn't been in the past. We stopped for Cokes behind the forum. We skipped the amphitheater. I got to see the Temple of Isis for the first time up close. We exited by the tombs, then walked through the Villa of the Mysteries. Our walk back to the train station outside the walls of Pompei was 600 meters. Darrell & I had to return to the entrance near Porta Marina to retrieve our overnight bags. Then we returned about 50 meters to the train station where we waited only about 5 minutes for the next train to Sorrento.
Take our  online tour of Pompei


We arrived in Sorrento, then learned we should have gotten off at the previous stop since our hotel was really in Sant Agnello. We boarded the next train for Naples and got off at the first stop. I asked a policeman after we got off where our hotel was. He didn't speak English, but it sounded like it was farther than we wanted to walk at 7:30 p.m. So we took a taxi. He let 4 sit in the back seat and took us to our hotel, which was pretty far up a hill. Before getting in the taxi, we all understood the cab driver to say in English that the cost would be £50,000, which is rather expensive. But it is Sorrento and there were 5 of us.
We checked into the hotel, pleased to learn that Angelique was in her room sleeping. Her and Greg's room was between our room and Darrell & Robertta's. There was no where to eat nearby, and we didn't want to walk down and up the hill, so we made reservations (as instructed by the front desk) for 6 persons at 8:15 p.m. in the restaurant at the hotel.
Jeannie & I showered (for the first time that day) and changed clothes. I then got a call from the front desk to come to the lobby to talk with a taxi driver. We thought perhaps I hadn't given Angelique enough money for a cab from the Sorrento train stop and the driver came back to get more from her father. I discovered the driver was ours, so I first thought perhaps one of us had left something in his cab. I was not able to understand him without help from the hotel receptionist who said the cost of our trip was 15,000 not 50,000 lire. So I took back the 50,000 lire note and paid him £15,000 and thanked him profusely. He seemed very happy, too. Jeannie asked when I returned to the room if I gave him a tip, but I was so shocked that he had come back a half hour later that it didn't even cross my mind.
We had a great supper on the terrace with a great view of the mountains and bay. Supper cost £50,000 each, but the food was good and we had great service. Even Angelique ate some. Afterwards, Jeannie, Robertta, Greg, and I played spades till after 11 p.m. with Robertta's souvenir cards which she got in Venice.
We enjoyed the hotel's complimentary breakfast at 8:30 on Wednesday, 4 August. We checked out of the hotel and left on the hotel's bus at 9:30. The bus only goes to the Sorrento train station. We checked the train departure times for the afternoon to learn when to return to Naples. Jeannie found a place we could leave our bags at the station.
We walked to an inlaid wood shop where we never buy anything, but wanted to let everyone look around. Then we walked to Notturno's where we had bought all of our inlaid wood furniture when we lived in Naples. We were disappointed that Michele Pellecchia, our favorite salesman, was not there. We stayed in Notturno's for a long time and bought several small things. We were pleased that we were offered the same discount that Michele would have given us. If you are ever in Sorrento, you must visit Notturno Intarsio Inlaid Wood Works Factory. Tell Michele that you were sent by Dr. Cole, who was with NATO in 1983-86.
After locating Jeannie's favorite Sorrento restaurant, La Lanterna, we split up for about 30 minutes to shop. I bought a fantastic CD called "Favourite Neapolitan Songs" sung by Luciano Pavarotti, which I am listening to as I am typing this. At La Lanterna for lunch, I ate insalta caprese (sliced tomatoes, water buffalo mozzarella, and basil) and gnocchi alla Sorrentina (a type of dumpling made with potatoes and covered with a tomato sauce and mozzarella), my favorites. Everyone enjoyed the meal, including Angelique.
That afternoon the women and Greg remained in Sorrento to shop. Before going to the train station, Jeannie enjoyed a visit with Michele when she returned to Notturno's to retrieve our purchases which they had permitted us to leave behind.
After lunch, Darrell & I left on the train and went to the ruins at Ercolano (a.k.a. Herculaneum) for about 1 1/2 hours. Then we got on the next train to Naples. The women and Greg arrived on the next train.
We walked across the street at Piazza Garibaldi to get gelati. We then retrieved our suitcases from the train station and boarded our train for Rome. After an hour and forty-five minutes we arrived on time in Rome at 8:15 p.m. We were assisted in finding a mini-bus taxi which took us to our hotel, a Holiday Inn, near the airport. We ate supper at the hotel about 9:15.
Afterwards, the kids got everything packed for us to carry back to the United States and packed what they would need for the rest of their time in Europe.
At 7:30 on Thursday, 5 August, we went to breakfast, which cost us extra, but they only charged 5 of us for 3 meals, perhaps because we didn't eat much. We checked out of the hotel and took the hotel's courtesy bus to the airport. We turned over our remaining lire to Greg & Angelique. After we checked in with KLM, we said our good-byes to the kids and went to our departure gate. Greg & Angelique went to board the train to Rome, then onward to Florence, planning to spend the night one last time at the Villa at HUF.
We unsuccessfully attempted to get our value-added tax (VAT) refund at the Rome airport for the purchases we had made on Ponte Vecchio in Florence, but there was no access.
Our KLM plane left before 11 a.m. and arrived in Amsterdam about 1 p.m. We entered the country (Holland) without showing our passports, similar to the week before. We were hoping that Susan Krumrei might be there to meet us, but if so, we never found her. We shopped awhile in the airport with U.S. dollars. We went through Passport Control and found where to get the VAT refund. They sent us to Customs to get the receipt stamped. It took us awhile to find the right office. Then Jeannie & I got a $24 (US) refund-in U.S. cash. Robertta was told she would have to drop her paperwork in the mailbox. We found one as we walked to our departure gate. Our 3-hour layover was over when we departed Amsterdam on a KLM flight to Memphis at 4 p.m. During this 9-hour flight, I finished reading a Star Trek book which I bought before we left the States. We had about 2 hours to kill in Memphis, Tennessee. Jeannie, Darrell, and I got milkshakes at Baskin Robbins in the airport. Our plane left Memphis about 8:30 and arrived in Fort Smith about 9:40. Steven picked us up at the airport. Robertta's family gave her and Darrell a ride home.
Jeannie and I were in our own bed by 10:20 last night.
It was a fun trip, but we are glad to be back in the U.S.A., where drivers rarely disobey traffic laws, where we get ice in our Cokes and free refills, and where the people speak our language. We already miss the wonderful Italian food, the gelati, the shopping, the history, the art, and Greg & Angelique. (We are looking forward to their return to Searcy on 18 August.)
The Lord has truly blessed us with great kids of whom we are very proud. We thank God for the resources which allowed us this trip and for keeping us safe while we were in a foreign land.
Love,
Michael & Jeannie