intro
In the Fall of 2008, Michael was offered a nine-month employment as a civilian family physician at Aviano (U.S.) Air Force Base north of Venice, Italy. Since we had lived in southern Italy between 1983 and 1986 while Michael served as a doctor in the U.S. Navy, we came very close to accepting this offer to live and work again in Italy beginning 1 January 2009. We actually worked out most of the details of moving, then decided our reasons to do so were just not compelling enough to justify the disruptions it would cause for so many people. (At the top of our list of reasons not to go was the undesireability of being separated from our precious grandchildren for nearly a year.)
This year's vacation to Italy was primarily the result of our desire to see places in northern Italy that we had never seen before and had missed by not moving there in January. We were delighted to find the "perfect" trip offered by QueensLander Tours. We used frequent flyer miles to acquire American Airlines tickets.
The following journal was meant to be a travelogue, but unexpectedly got too lengthy when more than the "facts" were included. If you have the desire and time to read this, we hope you can imagine yourself visiting this amazing country that continues to attract us like moths to a light. (We recognize that some of the details are tedious, but they often help us and others prepare for our next vacation to Bella Italia.)

Tuesday, 29 September 2009
Our journey began when our special friend Robertta (with whom we share grandchildren) transported us to the Fort Smith airport at 4:45 a.m. Our first flight departed at 6 a.m. for Dallas. We intentionally scheduled a long layover there.
Our daughter Angelique picked us up at the Dallas-Fort Worth airport about 7:45. We dropped her off at work and drove our two small grandchildren to a nearby park to play. We then went to Grapevine Mills Mall until it was time to pick up Angelique for lunch. After an Italian meal, we went to Angelique's house for nap time for the toddler. We returned to the airport in time to catch our American Airlines flight that departed for London about 5 p.m.
We were aboard a Boeing 777, flying at 600 miles per hour at 37,000 feet above the Earth. We were served a big meal about an hour into the flight. We then each took Sonata 10mg sleeping pills and slept fitfully in our seats for a few hours.

Wednesday, 30 September 2009
About an hour before arriving at Heathrow airport in London, we were served a light breakfast. We had a two-hour layover, then were on our way to Venice on a British Airways flight that departed about 10 a.m. We were served another breakfast on this flight. We enjoyed the view of the snow-topped mountains as our plane flew over the Alps. It was exciting to see St. Moritz, Switzerland, out the window as the overhead display showed our plane flying over the town. (Read more about St. Moritz on 3 October, below.)
We landed in Venice, Italy, about 1 p.m. We reclaimed our 2 suitcases and cleared Customs. We were then enthusiastically greeted by Lane Drage, our tour captain. She arranged a water taxi to transport us to Hotel Saturnia & International, where we checked in by 1:50 p.m. Our room was on the second (third by American counting) floor, overlooking a narrow canal. The room was much bigger than we expected (compared to the tiny one we shared with our small children in Venice in 1985). This room at Hotel Saturnia was very quiet except for the rare, enjoyable singing we heard as a gondala would pass.
Lane gave us time to freshen up, then met us in the hotel lobby about 2:30. The hotel is a short walk to the west of Piazza San Marco. Lane guided us on a walking tour of the area around our hotel for about 3 hours. We got our favorite gelati around 3:00.
We unexpectedly found Hotel Danieli near Piazza San Marco and remembered it as being the hotel used in "Only You," one of our favorite romantic comedies. We went into the lobby and were pleased to see that it looked exactly as in the movie.
Between 6 and 7 o'clock we rested at our hotel. We then joined six other Queenslander tourists and their tour captain, Susanna, for a reception on the rooftop terrace. This was also their first day in Venice and we were staying at the same hotel. At 8 o'clock we walked to Ristorante da Raffaele for supper. We enjoyed the meal though our menu was preselected.
We were back in our room about 10 p.m. After Lunesta 3mg (sleeping pills) we had a sound sleep that hastened our adjustment to the seven-hour time change from home.

Thursday, 1 October 2009
Our hotel provided a very nice complimentary breakfast. (All our hotels on this trip included a big variety of choices for the included breakfasts, not the continental breakfasts we were expecting. Michael had a cappuccino nearly every morning at no extra expense.) About 9 a.m. at Basilica di San Marco, our group of eight and the two tour captains met Cinzia, our local Italian guide for the morning.
We were among the first of the day admitted to the cathedral. Its style seems to have been greatly influenced by the Greek Orthodox. Apparently the Venetians once had a very loose connection to the Vatican. The highest position in St. Mark's church is called the Patriarch rather than a Bishop.
Cinzia then led us through the Doges' Palace and across the "Bridge of Sighs" into the old prison. We learned a great deal about the democratic system of government that was in place in Venice for nearly a thousand years. The Doge (or "Duke") was an elected position. Since Venice was a collection of small islands managed by numerous wealthy merchant families, their government never was ruled by a single monarch seeking to acquire large areas of land as in the rest of Europe.
Next, Cinzia's husband, Luigi, took our group of eight in his beautiful boat to the glass factory on the isle of Murano. There we watched a demonstration by a master glass blower. Jeannie bought some Murano glass necklaces and earrings. We were transported at 1:30 back to Venice, where everyone went their own way for lunch.
We two ate in a quaint restaurant with only 6 tables. We walked to the Rialto Bridge and spent the afternoon shopping. We returned to our hotel before 6 p.m.
At 6:30 we assembled with the other 6 tourists and took a 45-minute trip in gondalas. It wasn't a romantic ride since they put 6 passengers in each gondala. An accordian player and tenor performed for the cluster of 7 or 8 gondalas throughout our cruise of the canals as the sun was setting. We were pleasantly surprised that our route passed below our windows at our hotel.
Upon returning to land, six of us walked to Piazza San Marco. We found a pizzeria and had a quick supper. We then walked about a block to Ateneo di San Basso where the Virtuosi di Venezia - San Marco Chamber Orchestra performed Vivaldi's "Le Quattro Stagioni" (known in English as "Four Seasons"). Antonio Vivaldi was born in Venice in 1678. We arrived for good seats at 8:10. The concert started at 8:30 and was finished about 9:30. (We discovered this delightful concert after arriving in Venice. It was not part of our paid tour.)

Friday, 2 October 2009
After breakfast we were transported by water taxi to the train station by 8:00. We said goodbye to the other tour group members who departed for Florence shortly before our train departed for Milan. They were taking QueenLander's "Great Cities" tour, visiting Venice, Florence, and Rome. (Of course, we think Naples should be included in the list of great cities of Italy.) Rain was gently sprinkling down as we left, pleasing us that it waited for our departure.
Beginning with the journey by train, Michael and Jeannie were the only tourists on QueensLander's deluxe northern Italy "True Small-Group® Tour Experience." When we reserved our tour, we were hoping for less than a dozen people. We were thrilled by our undeserved luck that the current economic recession apparently had prevented others from signing up for the same tour at the same time. We were so pleased that our tour was not cancelled by the tour company. We were particularly delighted after meeting Lane, our tour captain. She was so nice and helpful throughout our time together. It was such a refreshing adventure, knowing we were never responsible for any arrangements. (It was such a contrast to medical mission trips we have led in which we are responsible for dozens of people getting to and around in foreign countries.)
The first class train ride to Milano lasted almost 3 hours. In Milan we were met by Fabio, our Italian driver. Our comfortable van ride to Lago ("Lake") Como took about 1˝ hours. The two of us ate lunch with Lane on the terrace overlooking the lake at our hotel in Varenna. (We assume that Fabio returned to Milan.)
Lago di Como is the third largest lake in Italy. At over 1,320 feet deep, it is one of the deepest lakes in Europe. The lake's name comes from the town of Como on the southwest edge of the lake.
Since we arrived before our room was ready, Lane escorted us a few blocks to the Villa Monastero Gardens. She had business to attend to elsewhere while we two stolled through this beautiful botanical garden above the shore of Lake Como. It was an incredibly nice, sunny day. We took almost 100 photos, including this fabulous one below. The admission fee for the garden was well worth the price.
As we walked back to our hotel we stopped for gelato, visited a couple of centuries-old churches, and found an out-of-service (i.e., useless) ATM. Our room was then ready at Hotel Du Lac – a romantic villa built in 1823, right at the water's edge. Our room was on the top floor with a double level and tall windows that look west, across the lake toward Bellagio. We enjoyed the nice sunset over the mountain.
The credit card we preferred to use was being rejected due to its security features. After we got settled in the hotel room, Michael phoned our credit card company to inform them once again that we were in Europe. After 3 expensive minutes on the cell phone with a representative, all was "fixed."
We met Lane in the hotel lobby and walked to a nearby restaurant with her shortly before 8:00 for one of our included meals. We were allowed to order from the menu and had a great dining experience on an outdoor terrace beside the lake.

Saturday, 3 October 2009
While it was still dark, at 6:45 a.m. we left our hotel to walk to the train station. The hotel packed pastries and bottled juice for our breakfast which we ate as we waited for the train to arrive. We caught the 7:20 train to Tirano in northernmost Italy. There we changed trains to the Bernina Express for an awesome ride into Switzerland through the southern Alps. It provided numerous breath-taking, picturesque views. We saw several snow-topped mountains and a few glacial lakes. We arrived in St. Moritz, Switzerland, shortly after noon. (St. Moritz hosted the Winter Olympics in 1928 and 1948.) For this optional trip, we purchased our tickets as we went.
We ate lunch sitting outdoors. It was barely warm enough in the sunshine. This was our only non-Italian meal during our 2-week tour. Jeannie and Lane then checked out several shops while Michael wandered along behind. We stopped for hot drinks before boarding the return Bernina Express train. It departed about 3:45 p.m. We again took lots of photos from the train till it was just too dark, as the sun sets early beyond the high mountains.
We again changed trains in Tirano, Italy, where we had enough time to find an ATM to withdraw some euro, to purchase a 220V night light, and to eat gelati. Our train departed at 7:10 p.m. We arrived in Varenna at 8:45 and walked back toward our hotel. We found a nice restaurant on the way where we stopped for supper.

Sunday, 4 October 2009
We were awakened at 7 a.m., probably along with everyone else in town, when the church bells rang (and rang). After breakfast, we went with Lane on the 9:20 ferry across Lake Como to the lakeside town of Tremezzo. There we walked around the gardens of Villa Carlotta till about 11.
We then took the ferry to the popular village of Bellagio. After our lunch at a trattoria, Lane returned by ferry to the hotel. We spent the afternoon at the many shops in this busy tourist town. We took a break for gelati at 3 o'clock. About 5:00 we caught the ferry back to the dock in Varenna, where we did more shopping as we walked several blocks back to our hotel.
About 7 o'clock we split an insalata caprese and a pizza at a table on the waterfront as we watched the sunlight fade away. Then we returned to our room to pack for the next morning's departure.

Monday, 5 October 2009
After the hotel's complimentary breakfast, we departed about 8:30 with our driver, Fabio. The road took us to the edge of Milan and slowed us in the traffic congestion. It was a 2-hour ride from Varenna to the town of Stresa on Lago Maggiore. There we checked out the shops. Much less English was spoken here. We had a great lunch at Osteria degli Amici. The insalata caprese was absolutely perfect. The skies were overcast and it was a bit chilly this day. We worried it might rain.
Shortly after 1 p.m. we were on our way to Lago (or "Lake") Orta. By 2 o'clock we were checked into room 314 at Hotel San Rocco in the town of Orta San Giulio. Our hotel was a former monastery, built in the 17th century. It has a large garden terrace leading down to the lake shore. Our modern room had a small balcony with a view of the lake and mountains.
From 3 to 5 p.m. we walked around Orta San Giulio with Lane. This quaint, quiet, picturesque town with very narrow streets has its main piazza beside the lake. There were only a few tourists here compared to all the other places we visited on this trip. Is it always that way or is it simply late in its tourist season?
The view across the lake is awesome during daylight and dark. There is a small, enchanted island, Isola di San Giulio, nearby (in the middle of the lake) with buildings painted to rival anything Walt Disney could imagine for a fairy tale.
We went to supper about 7 at a pizzeria where we each got a Coca [Cola] Light, an insalata caprese and half a pizza with prosciutto cotto. (That's "cooked ham." We just cannot imagine why anyone would order a pizza with prosciutto crudo, "uncooked ham," also on the menu.) We sat at a corner table. German was the native language of the customers seated at the tables near us. Other than between the two of us we did not hear a single word of English spoken at this restaurant by diners or staff.
We undertood (or perhaps misunderstood) from our waitress to pay the bill at the cash register. We had never before paid on the way out at an Italian restaurant. With our limited Italian it was a challenge to know what to pay since we were given nothing in writing. We understood the euro amount told to us, but not the cents. It was even more complicated by us being handed a 20 euro bill after giving the cashier a 50. She wanted coins to make it even. When Michael said in Italian that he didn't understand the number she needed, the cashier picked the remaining appropriate change from the handful of coins he displayed in the dim light. The Italians tend to be very patient with us. We felt uncomfortable when we walked out without leaving a tip, but we couldn't figure out where we would place it nor how to communicate what it was for.

Tuesday, 6 October 2009
After breakfast we joined Lane for a short water taxi ride to the tiny island of San Giulio, inhabited mostly by nuns, we think. The boat took us around the island on its way to the dock. On the island we visited the 9th century basilica dedicated to San Giulio, then walked around the "Path of Silence." Perhaps the nuns walk silently along this alleyway, but workers and other tourists and we didn't keep quiet. As one walks this path there are numerous overhead signs on the walls with various short, wise sayings in four languages about a peaceful life.
Upon returning to the piazza (much like a "town square") in Orta San Giulio, we parted from the tour captain. We rode a shuttle that looked like a red train to the top of the hill above the town. There at Sacro Monte di Orta we walked through twenty chapels that honor the life of Francis of Assisi with frescoes and statues. We had some great views of the lake. Building of the chapels began in 1590 and continued for centuries until stopped by Napolean around 1800.
After completing our walking tour of the chapels and grounds, we walked back to the piazza via a shortcut down the hill. We sat at the edge of the piazza at a restaurant where we were served lunch outdoors. Then we walked about town, exploring alleyways and shops till it was time for afternoon gelati. We returned to our hotel where we drank Coca Light beside the lake. We read books till the sun set behind the mountain across the lake, then returned to our room. Most of the day was overcast (but not so much as the day before) and it was just cool enough to be comfortable with light jackets.
For supper we walked to a restaurant where we found multi-course meals at special prices. The food turned out to be discount value, edible but not the usual Italian dining experience.

Wednesday, 7 October 2009
We ate breakfast at the hotel, then left at 8:50 a.m. with Lane and Fabio. The sky was overcast during most of our journey. We drove on the autostrada (like an interstate highway) through Genoa, the birthplace of Christopher Columbus. The last few miles of the trip were on an older road, with many tight curves that challenged Jeannie's tendency to get motion sickness. We were in the van for 3 hours as we rode to Monterosso al Mare, the northernmost of the five villages of Cinque Terre (a national park on the Italian Riviera). Cinque is "five" in Italian and terre means "lands."
We had just a little trouble finding the location of our bed and breakfast (B&B), the Locanda Il Maestrale. After getting checked in, we went a couple blocks from our B&B for a light lunch in the main piazza, down the hill near the beach. To drink, we had Coca Light. (That's a zero calorie Coke that we haven't seen in the States. We think it tastes much better than Diet Coke even though the colors on the can or bottle of Coke Light match the stateside Diet Coke. A few Italian restaurants also now have Coke Zero, but it's not as good as Coke Light.) Michael ate a ham and cheese sandwich on focaccia bread and Jeannie ate insalata caprese for lunch.
(The first meal we ate in Italy in 1983 included insalata caprese, and we have not grown tired of it. The insalata caprese of northern Italy [and especially the U.S.] is frequently below our standard of excellence based on the southern Italy version with slices of perfectly ripened red tomatoes interspersed with moist, fresh water buffalo mozzarella, sprinkled with just the right amount of oregano and leaves or bits of fresh basil, some salt and pepper, plenty of virgin olive oil, and a little balsamic vinegar. Absolutely no other ingredients should be included, but too often are when we are not in southern Italy.)
After lunch we enjoyed an orientation walk with Lane. We walked about the "old" town (where we stayed) and "new" town, which are separated by a tunnel. We hiked a little way at the top of the cliff along the path that leads to the next seaside village to the south, Vernazza. The narrow and steep trail would take a couple hours. We turned back shortly before the station that would require a toll to pass. The afternoon weather was perfect, mostly sunny and just right for short sleeves.
We returned to our B&B in mid-afternoon and unpacked for our three-day stay. The B&B was once a 6th century palace. It has only six rooms for guests. The rooms are not numbered, but called by the villages of Cinque Terre. Our room was "Riomaggiore."
We then went for gelati, a uniquely Italian ice cream. Jeannie usually gets a small cup of fragola (strawberry flavored) and Michael always gets a medium or grande cup of stracciatella (small chips of chocolate in vanilla gelato). We sat on a shady bench in the piazza watching children play till we finished our gelati (that's the plural of "gelato").
Michael returned to the B&B to read in a lounge chair on the terrace. Jeannie joined him after shopping till about 6 p.m. We were surprised at how quickly the temperature dropped as sunset approached.
At 7:45 we met our tour captain and walked to a crowded (meaning popular) restaurant, Belvedere, for supper. Our outdoor meal was delightful with good food and good service, though the restaurant is right under the railroad tracks and gets briefly noisy and the windows rattle quite frequently as trains pass. The meal took 2 hours, not at all unusual in Italy. (Because of our familiarity with real Italian restaurants, we are sometimes a bit annoyed when a waiter seems to be trying to rush us through a meal, at any restaurant actually, in the States.) Jeannie drank "natural" water and Michael drank the "frizzante" (fizzy) water. Apparently this restaurant will sometimes make insalata caprese with mozzarella di buffala, because the waiter went to the kitchen to ask after we inquired. When he returned and reported that they only had "normal" mozzarella, we passed (this time). The bread was good, but not so much so that we ingested many calories from it. Jeannie's first main course was a pasta with a tasty bolognese sauce (a meat sauce that at some restaurants in the States can taste like it came from a can). Michael's pasta had the dark green pesto sauce, which originated in this area of Italy. For our second course, Jeannie had a delicious veal with mushrooms and Michael got a hugh beef steak, about which the waiter jokingly apologized that it was so small before he placed it on the table. We convinced ourselves that we had saved room for a piece of apple cake and a bowl of tiramisu. We've never seen tiramisu served in this fashion and eaten with a spoon, but we rarely order desserts. As we walked our stuffed stomachs slowly back to our B&B, the town bell tower struck 10 o'clock.

Thursday, 8 October 2009
We thought it a bit chilly to eat breakfast on the terrace of our B&B at 9 o'clock, so we ate just inside the open door to the terrace. Jeannie then enjoyed shopping at the outdoor market that was set up under the railroad bridge. She admired a blue cashmere jacket. When she asked the traveling merchant in Italian what it costs, he simply answered, "Caro" (which means "expensive"). After she tried on the jacket and saw that it fit, he finally told her it was 180 euro. (That's nearly US$270, which was "expensive," indeed.) Jeannie passed it up.
We departed Monterossa for a day trip with Lane on the ferry around 10:30. We rode to the southernmost Cinque Terre town of Riomaggiore. It was mostly sunny almost all day. At noon we noticed that the temperature was 79F. There was often a nice breeze.
We walked for about 20 or 30 minutes along the top of the cliffs to the next village, Manarola. This easy trail is called Via Dell'Amore, loosely translated as "Lover's Lane." We discovered a fascinating tradition along this path: couples often leave behind a lock that they have permanently attached to the fences or railings. If you don't bring one, the national park will sell you one for about US$12. (We purchased one of these special locks as a souvenir and brought it home. We hope that's not bad luck.)
In Manarola we found a pizzeria beside the Mediterranean Sea where a very talented trio of musicians were playing great melodies that entertained all the customers and everyone passing by. We ate pizza and insalata caprese for lunch. We then explored an old cemetery on a hill above Manarola with great views of the village and the sea.
We took the hiking trail to the next village, Corniglia. This trail was much rougher than the first. We stopped often to take photos. It took us about an hour to walk to the Corniglia train station. Corniglia is high above the sea and does not have a harbor. We did not visit the town. It is accessible by 368 steep steps or a public bus, for which we decided not to wait half an hour for its arrival.
Instead, we caught the train to the next village, Vernazza. Here we enjoyed gelati beside the harbor. Jeannie and Lane sat for awhile with their feet cooling in the Mediterranean Sea. There were many people swimming, though it seemed much too cool to us to even consider putting more than our feet into the water. We explored the town and shopped. We enjoyed meeting some people from northeastern Oklahoma. (We were impressed that they had been touring Italy for 10 months. They seemed equally impressed that we had lived in Italy for 3 years.) We caught the ferry before 6 o'clock to return to the town where we started the day.
Before returning to our bed & breakfast, we stopped at the train station to purchase tickets for an exciting, unplanned, unexpected trip for the next day. For supper we ate pasta very close to our B&B. Then we took our tired, overused feet and legs back to our room to rest for the night.

Friday, 9 October 2009
By this time our "real life" seems remote. Though it is only our tenth day in Italy, we feel we have been away for months. We are losing track of what day of the week it is. Our usual obligations still seem somewhat important, but we recognize that we're in a far distant country and our "responsibilities" have no choice but to wait.
Each day we find we can better understand Italian and each day we seem a little better at making ourselves understood in what has become our second language (though we're probably below the language development level of an Italian 3-year-old). We are still in love with the Italian culture, history, mannerisms, styles (before the 20th century), driving, music, food, the Italian people, the rhythm and almost musical quality of their speech, and most everything else you can imagine that is associated with Italy. That's not to say we don't shake our heads in wonder every day as we try to contemplate about why something was done in a peculiar way. The pleasant (as well as the annoying) surprises here make life's journey worth every effort.
In QueensLander's tour itinerary, this 10th day was a "free day." In other words, we were free to do whatever we wanted. (We were hoping to go horseback riding, but all the businesses that supplied horses were shut down for the season.) Thinking we had now experienced everything of interest to us in Cinque Terre (and having now convinced ourselves that we love the Amalfi Coast better; read our 2007 travelogue), we decided on Thursday afternoon to take a 2-hour train ride to Pisa on Friday. Though we had been briefly in Pisa over 25 years ago, we then had two small children who required most of our attention. (Read accounts 1, 2, 3.)
We arrived at the central train station in Pisa around 11 o'clock, about 45 minutes behind schedule. We had been told by another tourist that the walk would take 20 minutes to the Piazza Duomo where the famous Leaning Tower is. We did not know for sure which direction to go from the train station. We chose the easy way by taking a taxi.
The day was mostly cloudy. It was warm, but not too warm. Throughout the day it sprinkled just a bit, three times. We were able to get a few nice photos in Pisa while the sun was shining. There were many, many tourists and they seemed to be from everywhere as we heard many different languages.
Since this was not a planned trip, we went completely unprepared. Getting tickets in Pisa was confusing. The ticket offices are far from the landmarks that we sought to enter. At 12 noon we purchased €15 tickets (each) to be allowed admission to the Leaning Tower at 1 p.m. Not knowing that we needed separate tickets for everything, we purchased the other entrance tickets at a separate ticket office. Five other places combined were less expensive than the Tower.
While waiting for our assigned time for the Tower, we walked through the Baptistry, the Cathedral, and the Camposanto. We're not sure what the Camposanto is, but there are a lot of people buried there.
Climbing the Leaning Tower of Pisa was easier than when we carried our small children to the top in 1983, when they were 2 and 4 years old. That's not to say that climbing all those 294 stairs was an easy feat without them. We did enjoy the view from the top, and we particularly enjoyed successfully descending to terra firma about 25 minutes after we began our ascent.
We found a trattoria nearby and had lunch. We ate insalata caprese, spaghetti carbonara, cannelloni, and ended with frutti di stagione (that's "fruit of the season") for dessert. We then visited several of the vendors selling souvenirs. We found a taxi back to the central train station of Pisa, sharing the ride and cost with a couple men (father and son) from Montreal, Canada, who we think spoke English as a second language.
We hopped on the next train going in the right direction to return to Cinque Terre (with validated tickets, of course). We had to walk through several cars on the train to find a place to sit together. We changed trains in La Spezia and made it back to our room before 6 p.m.
At 7 we walked to Pizzeria La Smorfia which serves 90 types of pizza at a reasonable price. After eating our fill, we walked through the tunnel to the "new town." (Our B&B is in the "old town.") We ate gelati while we sat at the top of the cliffs by the Mediterranean. In the distance we could see an occasional lightning flash over the sea. The waves were big and noisy due to stormy weather on the sea. Then it was time to return to our room and start packing for our last stop on our northern Italy tour.

Saturday, 10 October 2009
After eating the complementary breakfast, we left about 8 o'clock to travel to Milano (a.k.a. Milan) with Lane. Once again, Fabio was a great driver. While on the autostrada just outside Milan, the driver-side front tire came apart while we were going 170 kph (that's 105 mph). Fabio had the tire changed in about 20 minutes. We were in our luxurious room (#702) at Hotel Brunelleschi by 11 o'clock. We had survived the autostrada once again.
Arriving in Milan brought us back to the hustle and bustle of busy lives all around us. This city is the industrial capital of Italy and the fashion capital of the world. Seeing the crowds of citizens not on "holiday" reminded us of our productive lives that we must soon return to in our home country.
Before lunch, Lane escorted us to the piazza to see the famous Duomo that took nearly 600 years to complete. It is the largest cathedral in Italy (if we properly remember that St. Peter's is in the independent Vatican City). Napoleon was crowned King of Italy at the Duomo in 1805. We walked around the immediate area which includes the Galleria Vittorio Emanuelle II, built in the 1860's, which makes it one of the oldest shopping malls. (The Galleria Umberto in Naples is almost identical.)
The two of us ate insalata caprese and pizza for lunch in the Galleria. We returned to our room till Lane took us by taxi to take "Grand Tour di Milano" by the Zani Viaggi travel service. At 2:30 p.m. we began this sightseeing tour with a busload of German and English-speaking tourists. The guide spoke fluently in both languages, as well as Italian. At first it was a challenge to pay attention since we needed to ignore the half of her commentary that was in German. When off the bus, we wore earphones attached to iPhone sized, short-range receivers which allowed us to hear every word without staying close to our guide. This was great for getting photos, but care had to be taken not to get completely lost from the group. It was comforting to hear her voice, knowing that the group was close though lost somewhere in the crowd.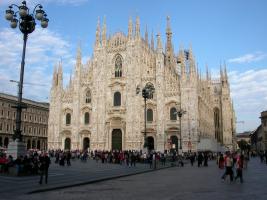 We first went into La Scala, the world's most famous opera house. We walked from there through the Galleria and into the Duomo. Next we went to see Milan's 15th century castle, Castello Sforzesco. Lastly, we saw what remains of the famous Renaissance masterpiece, "The Last Supper," painted on a wall by Leonardo da Vinci in the mid-1490's.
For supper we went with Lane, our tour captain, to Hostaria Borromei. The food, atmosphere, and service were exceptional. After this farewell dinner we sadly said goodbye to Lane. With our QueensLander tour now officially completed, she returned home to Colorado the following day.
This was certainly the most "pampered" vacation we have ever had. Undoubtedly, we will compare every future vacation to this truly magnificent one. We had such a relaxing, rewarding, stress-free, exciting, adventurous, and fun trip. We cannot find enough kind words to adequately express our appreciation to Lane Drage, Mark Story, and others at QueensLander Tours.

Sunday, 11 October 2009
We ate the complementary breakfast at the hotel about 9 o'clock. At 10:00 we walked through the church called "Santa Maria presso San Satiro." It has an interesting optical illusion that uniquely makes the area behind the altar appear bigger.
Then we walked a couple blocks to Chiesa di Cristo on via del Bollo to meet with Christians for worship, arriving about ten minutes earlier than we intended. There were about fifty in attendence by the time everyone arrived, with many different ethnic groups represented. We two were able to sing from the Italian song book without much trouble. The preacher gave a copy of his sermon, translated into English, to all in the audience who were not Italian. We understood a considerable amount of the Italian we heard, particularly after reading it first in English. Afterward we walked to a cafeteria near the Duomo for lunch with the local missionaries, Lewis and Tammy Short, and their three little girls.
Jeannie shopped awhile before we walked twice through the Duomo, trying to find how to get to the top. We eventually found the entrance for the tourist elevator on the outside of the building. After paying the fee and riding up, we walked around on the roof among the spires and some of the 3,500 statues. It was a remarkable experience.
We returned to La Scala opera house to get a better view of the inside. They were not letting tourists on the floor, but we could see with the lights up how grand it is from one of the boxes. (We were not allowed to see this the previous day due to a rehearsal.) We then checked out their gift shop. Then we walked several blocks to Milan's best art gallery, Pinacoteca di Brera, to view some of the art works.
Jeannie then did some more shopping as we looked unsuccessfully for gelati. We returned to our hotel to rest our feet and use their computer to select our seats on British Airways. About 7 o'clock we went out for supper. We ate our last truly Italian insalata caprese, pizza, and gelati for 2009. Then it was time to pack for the journey home.

Monday, 12 October 2009
After a good breakfast, we went by taxi to Milan's Linate airport. Our flight with British Airways lifted us off Italian soil at 11:45 a.m. It was a sunny day in London, allowing us to clearly see the landmarks, the Tower Bridge and Big Ben, as we were landing. We grabbed some lunch and changed to American Airlines at Heathrow. Our flight to Dallas was a long 10˝ hours. It was good to be back in the United States, our most favorite country. Our final flight departed from Dallas behind schedule. We were given a ride home from the airport by our kind next door neighbors, Dan and Janet. We arrived home very tired and sleepy just before midnight.
This was day 14 of our trip. The time had come to go home. We returned with a remarkable collection of 1,114 photos in our digital camera, a few souvenirs, and many very special memories. We will certainly remember this trip for the rest of our lives (and even relive it with when we read this record).
Vacations like this bring us closer together as a couple while we share a diversion from our typical busy lives. We are already dreaming about our next trip. As Frances Mayes wrote in Under the Tuscan Sun, "Seeing new places always brings up the possibility of other new places."
Michael & Jeannie Cole