intro
Our love for everything Italian prompted us in 2014 to finally fit into our budget a long-awaited first visit to Sicily (the Mediterranean island off the toe of Italy). Having had such a grand experience with QueensLander Tours during our trip to northern Italy in 2009, we turned first to their website where we found a perfect itinerary for "Magical Sicily."
Unfortunately (or maybe fortunately for us), the small-group tour was already full during the dates we needed. We were delighted that our friend, Mark Story, who owns the tour company, offered with a reasonable surcharge to let us follow the same itinerary during the same dates if we would go without the usual tour captain. Because we are of the opinion that we speak sufficient Italian, we chose to accept this arrangement and were completely delighted with the entire experience.
And, as an unplanned bonus, our Italian language skills showed greater improvement, we think, without the tour captain, who would have done most of the interacting with the locals. We quickly noticed that the Sicilian dialect has many similarities to that spoken in Naples (where we lived 30 years ago), but we tried to avoid the pronunciations that are regarded as too "Southern" in most of the rest of Italy. Since we often found ourselves in places where no English was spoken, we would not recommend a non-escorted tour of Sicily for anyone who doesn't know some basic Italian. A visit to Taormina would be the exception since it is so tourist oriented and most of the workers in shops and restaurants there spoke a little English.
With the expert help of our all-time favorite travel agent, Ruth Wood at Universal Travel in Fort Smith, we booked hotels in Rome and used frequent-flyer miles for our airline fare. As expected with rewards miles, we could not fly on the exact dates we needed (nor were we able to get economy coach class); we were "forced" to book business class seats and stopovers in Rome at both the beginning and end of our Sicily adventure.
For a crash course on Sicily before our trip, we both read the excellent book, Sicily: Three Thousand Years of Human History, by Sandra Benjamin, 2006. Since we were in Sicily soon after Scotland voted to remain in the United Kingdom, we asked if there were Sicilians who wanted to separate from the nation of Italy. We were informed that it was the rest of Italy that would prefer to see Sicily as an independent country.
Though most people will likely find the following travelogue to be too long and too detailed, it does not adequately describe all that we experienced and learned. The photos included (selected from the 1,500 that we took) are too few to exemplify the beautiful things we saw. And we are not giving details of the trouble caused by leaving an iPhone at a restaurant and how grateful we were that they knew our driver's cell phone number and that he was so gracious about returning for it. We had so many memorable adventures that are not recorded below, but we put this in writing for purposes of our future reference. We are sharing this incomplete report with the curious who may wish to read it (and maybe for our grandchildren to enjoy someday). We do hope you find it worth your time and that it will stimulate plans for your own adventure.

Wednesday, 24 September 2014
Our trip began with our special friend Robertta Moses giving us a ride to the Fort Smith airport very early in the morning. Our American Airlines flight departed at 6 a.m. We changed planes in Dallas and New York. Jeannie was embarrassed to sit next to Michael while he acted like a hillbilly exploring the numerous features of his business class seat soon after boarding in Dallas. We always dread the necessary travel to get to a distant location, but this first day was uneventful and actually quite pleasant.

Thursday, 25 September 2014
The second day began for us after our plane landed at Rome, Italy, on time about 7:30 a.m. (There is a 7-hour time difference between Arkansas and Italy.) We took an expensive taxi ride to Hotel Duca d'Alba. (If we had heeded the good advice given and taken a white taxi, we would have spent nearly 75% less.) Purposefully, we had reserved a room at a hotel just a couple blocks from the ancient Roman Forum.
Shortly before 2 p.m. in our hotel lobby we were met by Cynthia Garofalo. She was highly recommended to us by QueensLander Tours, who helped hire her for a walking tour for just the two of us. She guided us through the ruins of the Forum and Colosseum. Having visited these archeological sites several times without a guide, we had many previously unanswered questions. Cynthia's knowledge of ancient Roman history and archeology is unsurpassed. Except for the intermittent light rain, we very much enjoyed our 3 hours with her.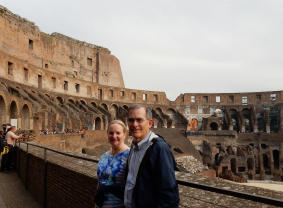 Friday, 26 September 2014
We awakened to our alarm at 9:00 a.m. with no particular schedule planned. We walked a block or two to the subway station and rode to the stop for the Vatican.
We visited Castel Sant'Angelo. Construction of this huge ancient structure was begun in 135 A.D. as a tomb for Emperor Hadrian. The ashes of several later emperors were also placed in this mausoleum. Centuries after the fall of the Roman Empire, the building was converted to a fortress on the Tiber River for the protection of the city. Later the structure was modified into an exceptionally secure vault for the Vatican's treasury as well as a safe residence for many Popes.
We had never before taken time to visit Castel Sant'Angelo. It should be rated much higher on the list of sites to visit in Rome, because we did not have to wait in line, the admission ticket was reasonably priced, we rented audio tour devices to hear multiple brief descriptions of what we were seeing, there were no massive crowds to maneuver like at more popular Rome attractions, and the view from the top was awesome. We would never suggest to anyone to skip the Vatican Museums if they have not already been there, but for repeat visits to this area, Castel Sant'Angelo was a refreshing and worthwhile alternative option.

view of Rome from top of Castel Sant'Angelo
After insalta caprese and a shared pizza, we walked to St. Peter's Basilica. Since our last visit several years ago (when Michael was refused entrance for wearing shorts), there is now X-ray screening of bags and everyone walks through a metal detector, greatly slowing the process for visitors. Because of this, we found a very long line of people seeking to get in. Tolerably, the line moved almost continually, though at a slow pace. Once inside, we walked through the underground crypt and exited unexpectedly outside. We reentered the building without having to clear the security checkpoint, but still in a massive crowd of visitors. Once we had seen enough, we noticed the Vatican post office where we mailed 3 postcards.
After a short subway ride that took us to the Spanish steps, we headed on foot toward the Trevi Fountain, which was extremely difficult to find using the map we were given at our hotel. We were disappointed to discover the fountain was drained and partly covered with scaffolding, yet still surrounded by tourists.
Our next stop was the ancient Pantheon, which was very easy to locate. Admission to the inside is free. We found a table for supper with a great view directly across the piazza from the Pantheon as sunset approached. We were a long distance from the nearest subway station, so we chose to return to our hotel by taxi.
Occasionally on this trip, we had the pleasure of teaching better English pronunciation to a few Italians when we heard words that took us awhile to comprehend. We never had considered saying "earth" so the first three letters sound like "ear" or that one might say "steedy" for "steady," but English is weird like that. Undoubtedly, sometimes Italians must have wanted us to stop butchering their language, but those we met were too kind to tell us so.

Saturday, 27 September 2014
On day 4 of our trip we arrived on an Alitalia flight about 11 a.m. at Palermo, Sicily, Italy. To start our QueensLander package, we were met by a driver (hired by the tour company) who transported us to the very nice Hotel Piazza Borsa near the heart of Palermo's old historic district. (We were very pleased to find our hotel bathroom was as big as the whole hotel room we had in Rome.) For lunch we found a trattoria that was packed with locals instead of tourists. (That's typically a good sign of a great restaurant.) Then we walked through an outdoor market for many blocks to the south.
At a mini-market store (where no one spoke English) we purchased a small 220-volt nightlight for which we had searched for years. We owned one with which we traveled overseas that had been handy for dark hotel rooms in the middle of the night, but we were never comfortable with how big and awkwardly shaped it was for packing, not to mention its Tweety Bird motif. (We were happy to abandon the old nightlight in Italy.)
We eventually walked to Giardino Inglese (English Garden), a public park, where we took a pleasant rest break (including gelati) before walking the many blocks (about 2½ kilometers) back to our hotel. For our evening meal we ate at a quaint restaurant a couple blocks away. To end the day we put our aching feet and still out-of-balance internal clocks into bed to sleep.


Sunday, 28 September 2014

At 9:00 a.m. in the hotel lobby, we met Marco, our guide for the day, and were soon introduced to our driver, Giuseppe. We visited many local sites of interest. We saw the beautiful interiors of a few nearby churches, toured the opera house used for filming the climax of the "Godfather" series of movies, walked through a couple open-air markets, visited Mondello Beach (where we enjoyed gelati after a great lunch at Bye Bye Blues Ristorante), saw the cave sanctuary of Santa Rosalia (patron saint of Palermo) at the top of Monte Pellegrino, and, lastly, saw the awesome mosaics inside the 12th century cathedral at Monreale in the hills south of Palermo. The weather was perfect all day long in every way.

We were returned to our hotel about 5 p.m. Around 7:00 we began walking to the opera house mentioned and pictured above. We came upon what must have been the celebration of a saint in the middle of the street at Quattro Canti (called "Four Corners" in English, but seems a poor translation). We ate supper at a trattoria we found along the way, then went to a concert of the orchestra of the Teatro Massimo. The music was not pleasant to the ears, but was masterfully played. We were relieved when the performance was over and hope to never again hear those pieces.

Monday, 29 September 2014
On the 6th day of our trip, at 8:30 we met our guide, Andrea. (That's a male name in Italy and pronounced differently than in English.) Our excellent driver, the same man as the day before, drove us for about an hour to the west to the ancient temple of Segesta, one of the best preserved temples in the world. It was built circa 420 B.C. to appear from a distance to be a Greek temple in the Doric style. Andrea did an excellent job explaining the theories about its purpose since it was built by non-Greeks, left unfinished, and never used as a place of worship.
We next went to the northwest corner of Sicily near Trapani where we saw the evaporation pools for turning sea water into high piles of table salt. We enjoyed lunch at the salt museum.
Our journey then took us to the top of a mountain high above Trapani. Here we were guided on a walking tour with Andrea about the town of Erice, which retains its medieval appearance. We visited the Royal Cathedral, built in 1314 by King Frederick II of Aragon. The sea could be seen from both sides of the village. Before departing we sampled the town's famous convent pastries.
We were returned to our hotel shortly after 5 p.m., thoroughly satisfied with the historical knowledge which Andrea tirelessly shared with us throughout our day together.
For supper we enjoyed insalata caprese and romano pizza at a nearby pizzeria recommended by the hotel's front desk. Then it was time to repack our suitcases.

Tuesday, 30 September 2014
We left Palermo about 9 a.m. with Tomasso ("Tommy"), our new driver. We arrived at Agrigento on the southwest coast of Sicily about two hours later. Here we visited the archeological site known as "The Valley of the Temples," though it is actually on a ridge. Our local private guide, Michele, was excellent at describing all that we saw.
Here stand some of the best preserved Greek temples in the world. The largest known Greek temple was built here, but now appears as an impressively huge pile of rocks.
After lunch at a restaurant on the beach, we were given a private tour of the marvelous Archeological Museum by Ninfea, a young woman who grew up in New Jersey.
About 4 p.m. we arrived at the secluded Hotel Foresteria Baglio Della Luna. Our two-level room was constructed inside an ancient baglio (a watchtower) used since the mid-1300's. Initially, the tower was one of forty around the Sicilian coast which served for defense against the French, then Saracenes, and, lastly, the Barbary pirates until U.S. President James Madison defeated the Barbary states in 1816.
We began supper at 7:30 in the hotel restaurant where we had an impressive view of the floodlit temples. We were very disappointed at how hot our hotel room remained after many hours of the air-conditioner running on high.

Wednesday, 1 October 2014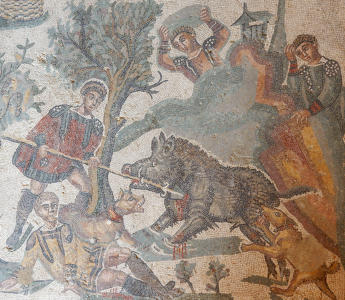 On the 8th day of our journey, we departed the hotel about 8:40 with our English-speaking driver, Tomasso. Our first stop was the Villa Romana del Casale. Built during the early 4th century, the house was buried by a landslide in the 12th century. This ancient villa was rediscovered in the 19th century and uncovered in the 20th. It contains the richest, largest, and most complex collection of Roman mosaics in the world.
Maria, our private guide for the excavation site, did a superb job explaining all that we saw. We were amazed, beyond our ability to describe, at the quality and quantity of the incredibly well-preserved floors with vivid scenes in multicolored mosaic tiles. We were mistakenly expecting to find fragments of floors as in Pompeii, but there is no comparison. Considering the undeniably high construction cost, this Sicilian villa was probably a country home for a Roman emperor.
Our driver took us to a fantastic restaurant for lunch. Then we went to Caltagirone where we visited ceramic shops while climbing the 142 steps decorated with majolica tiles.
Our next stop was Hotel Villa Del Lauro in Ragusa. We enjoyed having a huge suite with a vaulted ceiling. We found a great pizzeria nearby where we ate almost all of two pizzas. We ate gelati as we walked back to the hotel.


Thursday, 2 October 2014
We left our hotel about 9 a.m. with Tomasso. Our first stop was nearby at a shop where we tasted delicious samples of Ragusa cheeses. Next we traveled to the adjacent town of Ragusa Ibla where we visited the cathedral and strolled through the Giardino Ibleo. We stopped in the town of Modica at the Antica Dolceria Bonajuto shop to sample Sicilian chocolates. We quickly visited the sparse remains of a 12th century church before resuming our trip to Siracusa.
We stopped to walk the streets of old Noto, rebuilt in Sicilian Baroque style after the enormous earthquake of 1693. We visited the opera house, Teatro Comunale Vittorio Emanuele (a.k.a., Teatro Tina di Lorenzo), and a church, Chiesa di San Domenica. Then we ate salads for a quick lunch.
When we arrived in Siracusa (Syracuse) in mid afternoon, we were met by our very knowledgeable guide, Italo, for a private walking tour. This important ancient Greek city was settled by Corinthian colonists in 733 B.C. The famous Greek mathematician Archimedes was born here in 287 B.C. The ship transporting the Apostle Paul stopped here for 3 days on the way to Rome in the first century A.D. (See Acts 28:12.)
Italo pointed out to us the original features of the ancient Temple of Athena that were incorporated into the foundation and walls of the city's cathedral. We happened to get out of the cathedral just minutes before a wedding began. It was at this time that it started to sprinkle.
In the Neapolis Archaeological Zone of Syracuse we were glad to have umbrellas as we walked about the ruins during a light rain. The mostly intact Greek theater was carved from the bedrock of the hillside in the 5th century B.C. With seating for 15,000 spectators, it is among the largest and most important theaters of the ancient Greek world, attesting to the significance of Syracuse in ancient times. The less ancient Roman amphitheater, built in the 2nd century A.D., is the third largest in Italy after the Colosseum in Rome and the amphitheater in Verona. We also explored the nearby stone quarry used in ancient Syracuse.

We arrived in Catania soon after dark and checked into the marvelous Grand Hotel Excelsior. A few blocks away we discovered a quaint neighborhood trattoria where we enjoyed a great meal with great service.

Friday, 3 October 2014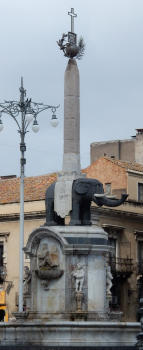 On our son's 33rd birthday, we met our guide, Pamela, at 9:30 a.m. On this very pleasant, sunny morning, she provided us a private walking tour from the hotel to the old city center. She expertly discussed with us the history, architecture, archeology, churches, outdoor markets, monuments, etc., that we passed and investigated. Some areas were closed due to an important meeting of NATO and other Mediterranean dignitaries who were discussing terrorism and immigration.
By our choosing, our guide left us several blocks from our hotel after she finished our tour (with instructions about how to find our way back). By our request she suggested a good restaurant nearby which we found to be very nice. We sat outdoors to eat and watched the sky grow darker. As we finished eating, it started to sprinkle.
We walked less than a block from the restaurant when a drenching rain began. After getting thoroughly soaked, we took shelter in a shoe store. After about 10 or 15 minutes, the rain slowed just a bit and we fortuitously obtained a taxi that returned us to our hotel. The streets and sidewalks were so flooded in places that we could not have walked back even if we had brought our umbrellas or bought one from the many pushy sidewalk vendors.
Not long after calling our son to wish him a happy birthday, we were taken about 4:30 by private car to Giardini di Villa Trinità in Mascalucia near Catania. The villa was built in 1609 and has belonged to the same family for the past eight generations. There we met Salvatore Bonajuto who escorted us around his magnificent gardens. We picked unripe lemons, lemon leaves, and pumpkin flowers that we later used in preparing our supper.
Annamaria Simili was very patient as she instructed the two of us on how to assist her with the preparation of a very delicious 4-course meal. It included caponata con peperoni, carpaccio di zucchine, Aeolian spaghetti, and polpettine in foglia di limone. We were given recipes for all of these dishes. The aroma in the kitchen was marvelous.
After we finished eating, Tomasso returned us to our hotel. As this was his last assignment with us, we sadly bid our farewells.


Saturday, 4 October 2014
On this 11th day of our excursions, we were met by our driver, Giuseppe, who was our driver in Palermo. It was a rainy day. At the edge of Catania we became stuck in traffic for about half an hour because of flooding on the roadway. This much rain is rare for Sicily.
Our next stop was at 1,986 meters (6500 feet elevation), above the rain, on the south side of Mount Etna, the largest and most active European volcano. It was too foggy to see very far, so our stop was short. We were pleased and surprised to see Etna up close; we did not anticipate this visit since it did not appear on our itinerary.
For lunch we visited Barone di Villagrande on the east slope of Etna. The owner's son, Marco, gave us a tour of their winery, part of his family heritage since 1727. We learned a little about making wine, but the rain prevented us from walking through the vineyard.
It was still raining when we arrived in Taormina in mid-afternoon at Hotel Monte Tauro. The hotel clings to the nearly vertical mountainside. Even with clouds blocking Mount Etna, the view of the Ionion Sea was incredible from our 5th floor balcony. Looking out from the glass elevator on the exterior of the hotel was breathtaking.


After the rain stopped we set out to explore the old part of the city. There are countless shops that are tourist-centered. We checked out the ruins of the ancient Greek theater. If not for the rain clouds, we should have seen Mount Etna from the theater (as well as from our hotel balcony). Before we finished supper at Sapori di Mare Ristorante, it was raining again.
By 8:30 we had walked in the rain to Teatro Nazarena where we attended a thrilling concert called "Canto Italiano." There were 7 stringed instruments and a keyboard along with a soprano and two tenors. We were familiar with nearly all the numbers performed. It was such an enjoyable experience for both of us. We turned down the complimentary wine at intermission, wishing there was Coke to drink. We walked in the rain back to our hotel by 11 p.m.

Sunday, 5 October 2014
This day was the 40th anniversary of our first date. The day was listed on our official itinerary as a "free day to explore Taormina at leisure." So we leisurely spent the day doing whatever we pleased, including sleeping late. After breakfast, we strolled through the nearby Giardini della Villa Comunale. We shopped about town until the high wind and rain started in mid-afternoon, forcing us to return to our hotel. Using Jeannie's iPad and WiFi, we watched the original English language version of a movie that was playing with dubbed Italian on TV during our meal the previous evening. The rain stopped in time to get out for a great last supper in Sicily.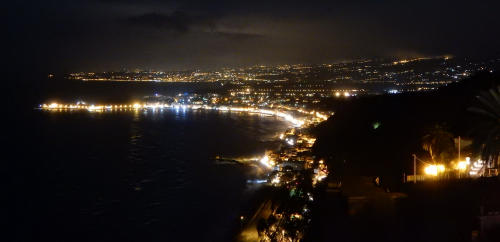 night view from our hotel balcony

Monday, 6 October 2014
A driver met us at our hotel at 5 a.m. We arrived at the Catania airport forty-five minutes later.
This officially ended our pre-paid tour of Sicily. Sireon Tours, an Italian company, was subcontracted by QueensLander to provide our guides. Apparently, the drivers worked for another company that was doing business with Sireon. We very much appreciated that all involved succeeded in providing an unforgettable experience for both of us in every way imaginable. With drivers, guides, hotels, and a fascinating itinerary all prearranged for us, we had a truly worry-free adventure. We can highly recommend QueensLander Tours to anyone desiring a superior, quality touring experience.
Our Alitalia flight left on time about 8 a.m. We were pleased to finally have great views of Mt. Etna from the plane before leaving Sicily. (Unfortunately, we couldn't get to the camera.) We arrived in Rome an hour later. We had a pre-paid room at the airport Hilton, but we checked in too early to get into the room. We left our luggage in storage at the hotel just in time to get the last seats remaining on the hotel's free shuttle bus at 10 a.m. to the city centre.
The bus stop in Rome was near a museum that we were hoping to see later in the day. Since we were so close, we tried to get tickets right away, but sadly discovered that the Musei Capitolini was closed on Mondays.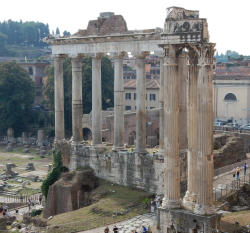 We resumed our original plan to go to the Vatican Museums. On the way to the subway, we snapped some photos of the Roman Forum and paused at the Mamertinum, claimed to be the site where the Apostles Peter and Paul were imprisoned in Rome. We proceeded to the subway entrance near the Colosseum and rode to the station nearest the Vatican. We ate lunch before proceeding. As we got close to our goal of seeing the Vatican Museums, we discovered the very, very long entrance line. We made use of one of the sidewalk vendors to purchase tickets that allowed us to skip to the head of the line. It still took an hour and fifteen minutes from the time we purchased the rather expensive pass till we were officially inside, but we did not actually stand in line. We even had opportunity to eat gelati during this waiting period.

Rome as seen from the Vatican
We spent about 3 hours wandering about the Vatican Museums with no particular itinerary to follow. We remember how poorly the ceiling of the Sistine Chapel looked prior to the restoration in 1980-94, so it is always a pleasure for us to visit the room in spite of the always-present tightly packed crowds.
After resting with Coke Zeros in a Vatican cafe, we went by subway to the Spanish Steps. We snapped the last of about 1,500 Italy photographs. We shopped awhile before getting our final real Italian meal.

Where's Waldo on the Spanish Steps?
Actually, Jeannie is somewhere in this crowd.
A taxi returned us to our hotel, truly the least hospitable place to lodge throughout our trip. (We cannot blame any tourist/travel agency; we chose the hotel based on location, but we were disappointed that it was so un-Italian in style. Most travelers probably would not complain.)

Tuesday, 7 October 2014
On the 14th and final day of our vacation, we were awakened with both cell phones ringing at 2:39 and 3:05 a.m. with a recorded message from American Airlines reporting that our flight would be departing an hour later than scheduled. (It was good that we did not reset our alarms for an extra hour's sleep.) After checking out of the Hilton about 7:30 a.m., we made the mistake of not waiting five minutes for the next hotel shuttle to take us to Terminal 5, deciding instead that we could easily walk there as we had walked from the airport the morning before. We did not know that we would have to wait 10 minutes outside Terminal 3 for the crowded airport shuttle bus.
The morning got even more frustrating once we were inside international Terminal 5 at the Rome airport. We were astounded by how many different checkpoints, too many of which were redundant security, through which we had to clear before getting on a plane.
When we got our boarding passes we failed to notice our seat assignments had been changed and we were no longer seated together. Once on the plane, a stewardess explained that the plane configuration was different from what we reserved. Most other couples flying together had also been separated. The flight attendants were eager to switch passengers around till couples were at least within arms' reach of each other.
Our 9½ hour flight to New York left the runway in Rome about 11:15, ninety minutes later than originally scheduled. We were among the first off the plane at JFK.
Thanks to our recently granted Global Entry status, we were through U.S. immigration control in just a couple minutes. Our luggage was among the first on the baggage claim carousel. Then we zipped through customs clearance before a line formed. We dropped our checked bags on the American Airlines conveyor belt. We found our way to security clearance where Global Entry privileges allowed us to quickly pass without removing anything from our bodies or our carry-on bags. Except for a quick stop at the bathrooms, we walked straight to our departure gate and were almost immediately on the plane without waiting in line thanks to "priority access." (If we had not gone to the trouble of traveling to Dallas to complete the Global Entry process in August, we think we might have missed our flight connection at JFK.)
Our flight arrived about 30 minutes early in Dallas. When we arrived in Fort Smith, we were delighted to see Robertta was there to take us home.

Before leaving the States, we expected the trip would feel too long about midway through. However, with WiFi in most of our hotels, we never felt out of touch with friends, family, or current events during this time. We were sad when we had to leave Italy. We wished we could have stayed much longer, though we fully realized it could not be as much fun after QueensLander's pampering ended.
Most importantly, we recognize that God has blessed us with opportunities far beyond anything we might have imaged forty years ago. Now we cannot imagine how our lives would be if we had not lived in Italy thirty years ago. We are glad to be Americans, but our hearts will always be longing for all things Italian.
Michael & Jeannie Cole