Wed. Afternoon
2 May 84
Dear Diane,
I must be getting looney ... or had a weak moment or something. Monday afternoon late a lady I barely recognized stopped by the house and asked if I was ready for my cat now. "What?," I asked. She said her kittens were now 6 weeks old and I had said I was interested in the siamese one. I barely remember that conversation. Anyway, yesterday I went and picked it up. So now I'm sitting outside on the prettiest day we've had since last fall - holding a cat that won't get down out of my lap to play. I think he is a "seal" siamese, but not a purebred. Anyway, he's mostly white with gray ears, tail, paws & nose & pretty blue eyes. What did we name him? After 2 hours of debating, we (Angelique) decided on Vanilla! Guess where we got that name.
The kids are quite enamored with the kitty. Angelique doesn't understand why he doesn't eat when she sits him in front of his bowl or play when she takes him to his ball. She doesn't understand yet that her will isn't his will. Steven wants to carry him everywhere he goes. So far,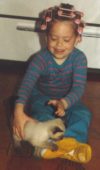 he prefers me over the kids. He follows me around, meows till I pick him up to sit in my lap, meows loudly if I leave the room and he didn't notice where I went. Sounds like I have a baby again. Demands, Demands. Fortunately, he didn't meow all through the night. We have his bed & pan in the downstairs bathroom and he seems quite content to be left there at night or when I go to class. I guess he likes the peace & quiet. He's a little playful, but not tremendously yet. I'm ready for his claws to be clipped, but I'm not sure that's wise since we want him to be an outdoor cat when he gets a little older. Does it work that way? Anyway, tell Chocolate he has a Vanilla cousin in Italy. We made a video tape when I brought him home yesterday but you'll probably get this letter first. Michael is not finished with the tape.
I wish I knew what tapes of ours you'd like to have a copy of. Or do you all have the same movies we do? We started the George Washington miniseries last night. We're enjoying it. Those tapes got here the day before we left for Athens, 21 April. The last tape got here Monday 30 April, I believe. What tapes did you send in March? The last tapes we got in February, I believe. Whatever you sent in March did not get here. Were they insured? What were they? It is possible they will come later.
Is Laura all snaggily? Angelique checks her teeth periodically to see how loose hers are. Do you remember how paranoid Angelique was about her teeth after Laura lost her 1st couple of teeth? Now she seems to be looking forward to losing her teeth.
I really need to trim my gardenias. I just found out they are supposed to be trimmed. They are about 2 feet high and scraggily now. I have pink, purple & red blooming ones.
Your garden looked good on the tape. You're getting much better at talking to the camera. I like your hair. Does Bill still have his beard or was that just a Spring vacation fling?
Where's the baby? Our Italian class is going shopping at the Vomero market Friday. That's the nicest, ritziest section of Naples. I'm ready to buy a little pink or blue gorgeous creation for Brenda's baby. I bet they are all getting impatient. I was glad to hear they got moved OK.
Mother sounds really anxious to get her house started. Sure wish I could be there to put my 2 cents in. Are they, Mom & Dad, gonna be easy going about all this or are they getting uptight about it all? It's hard to tell from letters.
No, I still haven't decided about Angelique's school. I'm leaning toward Paddington's where she is now. I need to go visit the public school kindergarten before they end in mid-June, I suppose. I just can't imagine 30 kids in a class and a sane teacher. There is a full time aide, however, but still ...
Wednesday Night
What kind of award did Kem get from the business department? How many square feet does their house have? How old is it? How many square feet will Mom & Dad's have?
I'm glad I am in Italy while Pulaski County, North Little Rock and Little Rock are merging their schools. That will take several years to calm everyone down. Everyone will be sick of hearing about it on the news before they get that settled. What is your 2¢ worth on the subject?
Yes, the Italians wear dropped waistlines. Laura's dress looked cute. She didn't really hang around long enough for us to look at it well.
I'm including a check for $50.00. Please don't feel like you have to send 3 tapes every month. It looks like we're gonna have a busy summer with summer sessions, swim classes, Camp Volcano, etc. And we spend more time outside so we don't plan on spending a lot of time in front of the TV. However, when something good comes on, go ahead and tape it.
I've got to get to bed before I go to sleep here. I don't think I'll ever catch up on all the reading I'd like to do. I've got magazines sitting here that I haven't even cracked. I guess I'll save them until I'm an ol' granny in a rocking chair. Maybe by then I'll have my kids raised and will have seen all I want to see.
Love,
Jeannie