Wed., 11 Apr 1984
Dear Mom & Dad,
I'll probably get a letter from you before you get this. We sure miss you. We appreciate so much that you came.
Tell us about your trip after leaving here. I'm sorry I wasn't home when you called last week. What were you all doing awake at 4 AM Arkansas time?
We are surprised you had jet lag on your return to the States. Is it straightened out yet?
Was it nice to be back in America?
The weather here has been bad ever since you left. It has rained every day, I think. There have been a few pretty days, but there has been rain at least on a portion of every day.
We went to Paestum (where the Greek temples are) on Saturday, after you left. We took the kids and went on our own, ahead of the archeology group. We were to meet them in front of the museum at 10:00, but they didn't show up till 10:45. We toured the museum with them. The kids did ok, but would have done better if we had started on time.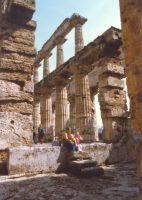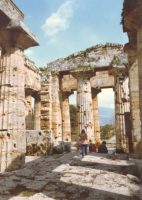 We took a picnic lunch & ate inside the old city near one of the temples. We looked at the ruins by ourselves. We decided the kids wouldn't do well with the rest of the group. We left after the kids got tired.

The temples were very impressive & well preserved. The rest of the city was a lot like Pompeii, except the walls to the houses were only 2 or 3 feet high.
I found a blue glass bead at Paestum. It is obviously hand-made. I will try to find out how old it is.
Last week I painted my frames for the screens. The landlord got the paint for me and then wouldn't let me pay him for it. Saturday, I built & painted the trap doors for the screens. Sunday afternoon I got them all put up.
They look very good from the outside of the house. Most Americans' screens distract from their houses.
It was hard to build trap doors with such warped wood. The latches will help. Let me know if you can't find latches and I'll keep looking here.
We do not need the paper cutter. The clinic just got a new one today that I can use. If you have already sent the one we asked for, that will be okay.
It took the kids a few days after you left to be sure you weren't coming back. They sure enjoyed you being here.
We had tapes at our house this past Sunday night.
Starting tomorrow night, John & I are going to study with the couple who were baptized at our house to teach them some of the basics. We decided they're not going to get it otherwise.
John came over Monday night & stayed till midnight. We mostly argued about alcohol & the Italian culture. We also discussed what we were going to study with Nola & Bret (the couple recently baptized).
We are going to Athens! On 21 April (Saturday), we are driving to Rome. We are flying to Athens on Alitalia, getting there about 10:30 p.m. The lectureship is going to be at the Eden Hotel. We are coming back on TWA the following Saturday morning. I am not taking leave; they are just letting me off for this. Isn't that crazy? Our plane tickets are costing us about $1000. We figure we will spend another $1000 possibly in Greece.
We are excited about going. Steven keeps talking about getting on a plane and going to Athens. Angelique says she is big enough to stay here by herself. She doesn't want to miss Easter.
Angelique is out of school that week, anyway.
Jeannie started Italian class Monday. She can already tell it is going to be harder this time.
I would have seen 400 patients last month if I hadn't been on leave for a week. Besides seeing lots of patients, we're having to do lots of paperwork in preparation for the IG (Inspector General) coming. The IG is an admiral from Washington & will be here in a month.
The voltage in our house is back up to 220. We found out after everything nearly thawed out in the freezer. I just changed the transformer around & now it is fine.
I can't think of anything else to tell you.
We look forward to your letters, your phone calls, and your return. Take care.
We love you,
Michael, Jeannie,
Angelique, & Steven