.


DAY 6 (day 2 for Turkey)
Wednesday, 30 March 2022
Our KMT (Kenneth Mills Tours) tour of the "Seven Churches of Revelation" officially began when the Tutku tour bus left the hotel with the eight of us at 8:30. We had one stop for the day's itinerary, doing everything else on foot. We strolled through the Topkapi Palace and visited the famous Hagia Sophia Grand Mosque that was originally a church.

For lunch at Pudding Shop Lale Restaurant the two of us ate iskender (commonly called Alexander) kebab, a very popular dish in Turkey. Baklava for dessert was a treat. We were quite surprised at this restaurant to once again see and briefly visit with Nancy Raney.

Next we walked about Hippodrome Square, then enjoyed the Istanbul Archaeological Museum, where we were granted special access due to having an archeologist in our group. Not yet open to the public, we saw what is believed to be the earliest discovered Hebrew writing and an inscription taken from the wall of an important tunnel in Jerusalem and the engraved stone from the time of the Apostles that was in the Jerusalem temple complex warning where Gentiles were forbidden.

After walking about 5 miles throughout the day, we returned to our hotel about 5:30. We enjoyed the evening meal with our group and tour guide at 7:00.


DAY 7 (day 3 for Turkey)
Thursday, 31 March 2022
We departed the hotel with our luggage at 8:50 and were dropped off at the Egyptian Spice Bazaar at 9:15. The vendors there were eager to help us spend money, but were less annoying than we anticipated.

At 10:25 we walked the short distance to board a ferry. Our cruise began at 11 a.m. in the Bosphorus, the narrow, natural strait and internationally significant waterway between Europe and Asia, connecting the Black Sea with the Mediterranean at Istanbul. With an overcast sky, it was a chilly ride. At 12:40 we disembarked where we began.

We walked to Hamdi Restaurant for lunch. For a starter we shared içli köfte. Jeannie ate alexander kebab and Michael had alinazik kebab as main courses. We then divided künefe for dessert.

At 2:30 we were back on the bus heading to the airport. Our 45-minute flight to Izmir left at 6:30 p.m., half an hour late. After landing, we collected our luggage and the eight of us with our Tutku guide Macit loaded into a 13-passenger van. We left the airport at 8 p.m. and rode an hour to Korumar Hotel in Kusadasi, Turkey. We arrived shortly before the hotel restaurant closed for supper. Our room had a small balcony with a marvelous view of the bay where we disembarked from a cruise ship 3 years ago.


DAY 8 (day 4 for Turkey)
Friday, 1 April 2022

We visited what remains of the ancient city of Ephesus. The church here was the first of the seven churches addressed by the Apostle John when he wrote the last book of the New Testament from Patmos, an island about 60 miles away. (See Revelation 2:1-7.)
The two of us were in Ephesus once before with an excursion from an Aegean Sea cruise in 2019. We again enjoyed seeing the famous and remarkable Library of Celsus, built after New Testament times. We were pleased to find the theater, made famous by the near rioting crowd mentioned in Acts 19:23ff, was open, allowing us to enter on this trip.
A new enclosed site available now to the public that we were privileged to see included some ancient terrace houses built for wealthy Romans. The preserved fresco paintings on the walls and beautiful mosaics on the floors reminded us of houses in ancient Pompeii that had been constructed in a similar style.
Having an American archeologist in the group must have helped us to gain entrance into what has been named the "Cave Church of Paul and Thecla," or known by some as the "Grotto of Saint Paul in Ephesus." Only six of us attempted the difficult, steep climb up the hill above Ephesus to reach the rarely seen man-made cave. A guard accompanied us with keys to unlock 3 gates as we cautiously made our way along the rough path to the site. Rediscovered in 1995, the fresco painting, that includes the Apostle Paul on the cave wall, is a portrayal of an episode found in the apocryphal book, "Acts of Paul and Thecla."
After leaving Ephesus we stopped at Selçuk Köftecisi steak house where everyone enjoyed authentic Turkish cuisine for lunch at a very low price. We then visited Kircilar Turkish Leather shop where we unexpectedly watched a runway fashion show. We purchased 3 very nice leather coats that we hadn't realized we needed.
Our driver then took us to the Roman ruins at ancient Miletus. (See Acts 20:15ff.) The wind was so strong here that one in the group had a terrible fall by being blown off balance while walking up the hill to enter the site. Plans were canceled as we headed at 4:00 to a hospital 45 minutes away for stitches to her forehead. She and her husband with our guide were dropped off at the emergency room. Then the rest of us were returned to our hotel and the van went back to the hospital. All of us were together again by supper time in the hotel.

DAY 9 (day 5 for Turkey)
Saturday, 2 April 2022
After breakfast we left the hotel with our luggage at 8:30. We visited the Museum of Ephesus from 8:50 to 9:30. Nearby were the sparse remains of the Temple of Artemis (also known as Diana to the Romans) where our bus stopped for 15 minutes.
By 9:50 we were en route on the 3-hour ride to Aphrodisias. We stopped for another great lunch from 12:15 to 1:20 at Anatolia Restaurant.
After just a few minutes in the van we were in the ancient Roman city of Aphrodisias, named for the goddess Aphrodite. Following a 2-hour walk about this interesting archeological site, we visited the Aphrodisias Museum.
We stopped at Colossae in the foothills of Mount Honaz at 5 o'clock. There was no archaeological dig here yet, so there were no ruins to view. The two of us and one other person in our group climbed the steep trail to the top of the hill under which the ancient city is still buried. We left for our hotel at 5:45.
The next stop was the Doga Thermal Hotel in Pamukkale, Turkey. This city is famous for its hot springs. We were fascinated by the white hillsides that are the result of deposits from centuries of mineral-rich hot water flowing down.
Being the first day of Ramadan, we were concerned that some opportunities might not be available to us, but we noticed nothing throughout our time in Turkey that was affected by the season.

DAY 10 (day 6 for Turkey)
Sunday, 3 April 2022
At 8:30 on this Sunday morning our group, including our guide, met for a short devotional led by Dr. Manor and concluded with a Communion service.
We departed the hotel at 9 o'clock to visit the nearby ruins and hot springs of the ancient city of Hierapolis, mentioned once in the Bible. (See Colossians 4:13.)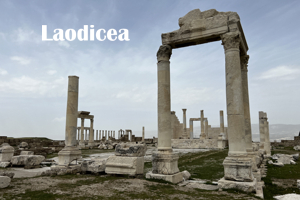 Not far from the archaeological site we stopped at 12:15 at Villa Castelio for a buffet lunch for an hour. This beautiful restaurant serves tourists, not having much in the way of Turkish cuisine that we enjoyed so much elsewhere.
Next we visited Laodicea, seventh of the seven churches to whom the Apostle John wrote. (See Revelation 3:14-22.) We spent a couple hours at the Roman ruins where we saw a few pagan temple sites, a house church with reconstructed chest-high walls, and a large church building (without the roof, of course) from the 5th century. It was another very windy day. The sky had a reddish tint caused by dust blowing across the Mediterranean from the Sahara.
We appreciated returning to the hotel at 3:45 to allow some rest time before the evening meal about 7 o'clock.

DAY 11 (day 7 for Turkey)
Monday, 4 April 2022
We went to breakfast in our hotel at 7:00 and left with our luggage at 8:15.
At 9:30 we stopped for 25 minutes to see Philadelphia, the sixth of the seven churches. (See Revelation 3:7-13.) Little of the ancient Roman city has been uncovered because the modern city of Alasehir, Turkey, is built above it. Our guide purchased a loaf of freshly baked, warm bread from a nearby bakery for us to share. We "broke bread" where Christians once fellowshipped at what remains of the Byzantine St. Jean Basilica.
At 10:45 we were at ancient Sardis, the fifth of the seven churches. (See Revelation 3:1-6.) We walked about the huge Temple of Artemis, never finished due to the Persian conquest. A place of Christian worship was later built in a corner of the temple. We visited the reconstructed synagogue where the Jews met for worship in ancient times.
We left at noon for lunch at nearby Egemen Kafe-Restorant in Salihli, Turkey, where we ate excellent local cuisine. After an hour we were back in the van heading to Izmir.
About 2:30 we arrived at Smyrna, the second of the seven churches. (See Revelation 2:8-11.) The Roman and Hellenistic ruins are in downtown Izmir, Turkey, and cannot be thoroughly excavated. Smyrna was the birthplace of Homer, the author of the ancient Greek classics, The Iliad and The Odyssey. Polycarp, a bishop of Smyrna and said to be an acquaintance of the Apostle John, was martyred here when he was 86 years old in 155 A.D.
We arrived at the Mövenpick Hotel in Izmir at 3:30, about 15 minutes after departing the archeological site. By 4 o'clock the two of us began a long walk along the nearby bay with Mark and Roxi Crews. We stopped to rest at Starbucks, pleasantly surprised to find the prices much less than in the States.
A set menu supper was provided for our tour group at 6:30 in the hotel.

DAY 12 (day 8 for Turkey)
Tuesday, 5 April 2022

We departed the hotel at 8:30. This morning about 10:00 we were in downtown Akhisar, Turkey, for half an hour. Here we visited what has been uncovered of Thyatira, the fourth of seven churches mentioned in Revelation 2:18-29. Thyatira was the hometown of Lydia, whom the Apostle Paul met at the riverside at Philippi in Macedonia, Greece. (See Acts 16:14.)
We arrived at Bergama at 11:30. To reach the acropolis we rode in cable cars. At the top we found what remains of the ancient city of Pergamum, the third of the seven churches. (See Revelation 2:12-17.) The library here in antiquity was surpassed only by the one in Alexandria, Egypt. In the writings of Pliny the Elder the legend originated that parchment had been invented in Hellenistic Pergamum to replace papyrus which had become monopolized by Alexandria.
After returning to the van we rode a short distance to explore Asklepion at Pergamum at 1:15. This was probably the most famous medical center of the ancient world due to the healing methods of Galen. Galen was a famous Greek physician, surgeon and philosopher. He was born at Pergamum in 129 A.D. His medical writings were the dominant influence on medical theory and practice in Europe until the mid-17th century.
The two of us ate sandwiches for lunch between 2 to 3 o'clock, then we were back on the road for a 220-kilometer journey to Kolin Hotel in Çanakkale, Turkey, where we arrived at 6:30. We ate a set menu meal at 7 and returned to our rooms.

DAY 13 (day 9 for Turkey)
Wednesday, 6 April 2022
At 3:30 a.m. one in our tour group was taken by ambulance to a nearby hospital due to severe abdominal pain. Emergency surgery was required to correct the problem. Our scheduled departure at 8:00 this morning was delayed till 9:00, now with only six of us in the group.
We passed through little villages along country roads to arrive at 10:30 at the rarely visited site of the Temple of Apollo Smintheon at Gulpinar, Turkey. During our half hour stay here we saw the ancient road that the Apostle Paul must have used as he walked past the temple between Troas and Assos. (See Acts 20:13-14.)
We then rode the short distance to ancient Troas which we visited briefly before noon. Acts 16 and 20 tell us of two of Paul's visits here.
Though of no biblical significance, we stopped at 12:45 to see the ruins of Troy. The city was lost till excavation began in 1871. This is the site of the Trojan War made famous by the ancient Greek classic, The Iliad, written by Homer. We were amused by the giant wooden horse constructed for tourists.
We stopped for lunch in Çanakkale at 1:30. We then made a brief stop at the hospital to encourage the spouse of our travel friend who had major surgery that morning. We were then on our way again at 2:30 for the long ride to Almira Hotel in Bursa, Turkey. We arrived at 6 p.m. and ate supper together in the hotel restaurant at 7 p.m.

DAY 14 (day 10 for Turkey)
Thursday, 7 April 2022
Our van left the hotel at 8:00 for the day's adventures. Our first stop was 5 minutes later at a hospital where we all were tested for COVID-19 for our flights home the next day. We were pleased that everyone received negative results in the early afternoon.
On our way back to Istanbul we stopped at 10 o'clock to see the Byzantine church (now a mosque) in Iznik, Turkey, formerly Nicea, where the seventh ecumenical council was held in 787 A.D. This ancient Greek city is best known as the site of the first Nicean Council in 325 A.D. The Roman Emperor Constantine funded the assembling of about 300 bishops representing all Christendom from around the empire in an effort to attain consensus, for the first time, of church doctrine and practice. The Nicene Creed was the result. The exact site in Nicea for that assembly is not known.
When we were near Istanbul we had lunch at a Turkish fast food restaurant at a mall. It was delicious and very inexpensive.
We were back in Istanbul around 2 o'clock with ample time to pack and rest. We again spent the night in Istanbul at the Mövenpick Golden Horn Hotel. We had our final meal with the group at the hotel at 7 p.m.

DAY 15 (return to U.S.)
Friday, 8 April 2022
We departed for the Istanbul airport at 4:45 a.m. Our 4-hour flight on British Airways left at 8 a.m. for Heathrow. Then we departed with British Airways at 1:45 p.m. for a 9-hour flight to Dallas. From there it was just an hour-long flight to get us back home.

This incredible tour in what had once been called "Asia Minor" had come to an end. Getting to visit the places where first century churches once flourished was a great privilege that few people we know could ever experience. For us to walk in the seven places mentioned by the Apostle John in chapters 2 and 3 of "Revelation" was almost beyond belief. We know it was a very unique and special blessing that we had never considered possible before our friend Kenneth Mills created and publicized the itinerary. We knew we could not miss this once-in-a-lifetime opportunity. We recognize that God provided us the time, health, and funds to permit us to sign up for and take the tour and to Him we give honor, praise, glory, and thanks.
During this trip we developed an unexpected appreciation of Turkish history, culture, and food, as well as a better understanding of the Turkish people. We developed deeper friendships with the small group who shared our daily adventures and our interest in Bible history and geography. We are grateful for Dr. Manor's knowledge and daily comments about the biblical significance of almost every ancient thing we saw. We were saddened and disappointed that a precious couple were robbed of the last two days with our group because of a life-changing medical emergency.
Our memories and photographs will be a frequent reminder of a thrilling and educational vacation. We created this travelogue for all who might be inspired by reading it. We saw and learned far more than has been shown and written here. We look forward to sharing our new insights with others as opportunities arise.