DAY 5 (day 1 for Egypt)

We left our hotel in Rome on Friday, 22 October 2021, at 4 a.m. for our Lufthansa flight to Frankfurt, Germany, where we joined a connecting flight to Cairo with 20 others in our tour group.

Upon arrival in Egypt we got 4,000 Egyptian pounds (US$255.61) from the ATM at the airport. We had no idea how much currency we would need, but the ATM maximum limit seemed to be 4,000 pounds. Everywhere we went everyone accepted U.S. dollars, of which we had plenty; and we used credit cards as often as possible. We learned the merchants would also accept euro, but we saved those for our next flight to Europe, whenever that might be. We managed to spend all but 30 of our Egyptian pounds (about US$2) by the end of our trip.

Our group and our luggage were taken by bus to Sheraton Cairo Hotel where we spent three nights in a room with a view of the Nile River. Eventually there were 42 Americans in our tour group plus our Egyptian guide, Migo Henes, who works for Tutku Educational Travel. We always had a security guard in the bus with us and often a police car accompanying us.


DAY 6 (day 2 for Egypt)
After breakfast on Saturday, 23 October 2021, we rode the bus to the old Egyptian Museum in downtown Cairo. (It is adjacent to Tahrir Square where thousands demonstrated to demand the resignation of President Mubarak during the Egyptian Revolution of 2011.) In the museum we saw countless objects of antiquity, the most famous being the mask and solid gold coffin of King Tutankhamun.
After lunch we went to Old Coptic Cairo. There we visited Saint Virgin Mary's Coptic Orthodox Church. Because it was built suspended over a passage in a Roman tower of the 3rd century, it is also known as the Hanging Church. After this we walked to the nearby Saints Sergius and Bacchus Church (also called Abu Serga). It is one of the oldest Coptic churches in Egypt, dating back to the 4th century. We walked through the crypt below the church, where tradition claims was the home of Joseph, Mary, and baby Jesus after they fled into Egypt following the order by King Herod to kill all baby boys under 2 years old in Bethlehem. (See Mark 2:13-16.)
Next we were transported to Saladin Citadel, a medieval Islamic-era fortification in Cairo. (It was Saladin's army that defeated the Crusaders in 1187 to regain Muslim control of Jerusalem.) Within the Citadel we visited the Great Mosque of Muhammad Ali Pasha, built in the mid-1800s. It is also known as the Alabaster Mosque. It was built to resemble the Hagia Sophia in Istanbul.
Before returning to our hotel for supper we went to an essential oils store for a demonstration.

DAY 7 (day 3 for Egypt)
Our first stop on Sunday, 24 October 2021, was the Giza Plateau where we enjoyed seeing the famous pyramids. Jeannie and Michael took turns riding a camel, getting photos of the pyramids in the background. Next we visited the Sphinx, which appears to stand guard near the pharaohs' tombs.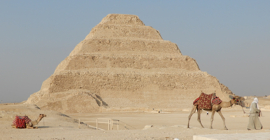 After a brief devotional and communion service in a back corner of a restaurant, we enjoyed an Egyptian lunch at Saqqara. Next we traveled to the Saqqara archaeological site where we visited some tombs and the Step Pyramid. This was the first pyramid and the first large stone building in history. Built around 2700 B.C. by Imhotep, it covered the burial chamber of Djoser, the first king of the Third Dynasty.
Next we visited the museum at Memphis where we saw the gigantic statue of King Ramses II. We stopped for a weaving demonstration and sales pitch for cotton, wool, and silk rugs. After dark we watched the fascinating Sound and Light show at the Pyramids and Sphinx before returning to the hotel for supper.

DAY 8 (day 4 for Egypt)
Monday, 25 October 2021, on our way to the airport in Cairo, our group stopped at a cotton store. Jeannie bought 1600 thread Egyptian cotton bedsheets and Michael purchased an Egyptian motif necktie.
Our flight on EgyptAir departed in the early afternoon for the hourlong trip to Luxor (ancient Thebes) in upper Egypt. We ate a box lunch on the tour bus, then arrived at the Karnak Temple ruins, the second most visited historical site in Egypt. From 2055 B.C. to 100 A.D. about 30 different pharaohs contributed to building the temple, enabling it to reach a complexity, diversity, and size that is not seen elsewhere. It is the largest building for religious purposes ever to be constructed.
We stopped to shop at a jewelry store before our after-dark visit to what remains of the Luxor Temple, built around 1400 B.C. It was never dedicated to a particular god. Some believe it was the site of the coronation of many of the pharaohs of Egypt. Alexander the Great claimed he was crowned here.
We boarded our luxury river cruise ship, Sonesta St. George, on the east side of the Nile River in time for a late supper. Our cabin exceeded our expectations. The rooms were very nice and much larger than we have had on big ocean cruise ships.

DAY 9 (day 5 for Egypt)
On Tuesday, 26 October 2021, we left the cruise ship about 4:15 a.m. to board small boats crossing to the west side of the Nile for our first experience in a hot air balloon. Our balloon floated over several ancient sites. We came down just after sunrise.
After eating a boxed breakfast prepared by the cruise ship, we were taken to see Al-Deir Al-Bahari Temple, a complex of mortuary temples and tombs in the Theban Necropolis on the west bank of the Nile, opposite the city of Luxor. Then we went to an alabaster shop where we bought a heavy light blue vase and a pretty matching bowl.
Next we entered the Valley of the Kings, where pharaohs were buried after they stopped building pyramids. (They began hiding their burial sites rather than drawing attention to where grave robbers could find a fortune in gold.) We saw the mummified remains of King Tutankhamun (better known as King Tut) in his small tomb. We entered two other tombs, the most impressive of which was the tomb of King Ramses VI.
We returned to our cruise ship for lunch about 2 p.m. Shortly after we embarked, the ship departed to begin the upriver cruise. We watched the sunset from the top deck before our ship passed through a lock and dam. Supper was at 8:00. We were eager to catch up on sleep.

DAY 10 (day 6 for Egypt)
On Wednesday, 27 October 2021, we went to breakfast at 8:00. Soon after the boat docked, our group (two by two) rode in horse-drawn carriages to the remarkably well-preserved Edfu Temple. It was dedicated to Horus, the falcon-headed god. About noon we left with the same carriage to return to our cruise ship. Lunch was at 1:30. Then the ship set off for the next stop to the south.
Our ship docked after dark about 6 p.m. At 6:30 we walked off the boat, crossed the street, and walked through the Kom-Ombo Temple. The site was illuminated for nighttime viewing. The temple was built in the 2nd century B.C. It is unusual because everything is perfectly symmetrical along the main axis, half dedicated to the crocodile god Sobek and half to the falcon god Horus. We then viewed the exhibits in the adjacent and bizarre mummified crocodile museum before walking back to our ship for the evening meal.

DAY 11 (day 7 for Egypt)
When we awoke on Thursday, 28 October 2021, the cruise ship was at the city of Aswan. At 8 a.m. we took a one-hour bus ride to the west side of the High Dam of Aswan, where we stayed nearly an hour. Then we drove north and crossed the Nile at the lower "Old Dam" (also known as Aswan Dam).
Next our group rode in a small boat to and from an island where we explored the Philae Temple of the goddess Isis. Before returning to our ship for lunch, we visited an ancient quarry which was the source of most of the red granite used by the Pharaohs hundreds of miles to the north. The site is called the Unfinished Obelisk, because what was meant to become an obelisk cracked before the one thousand ton block could be removed from the hillside.
This was our hottest day yet, with temperature to 101 by early afternoon. Everyone drank lots of water to prevent dehydration and we rubbed on plenty of sunscreen daily to prevent sunburn. Most of us wore a hat in the bright sunlight. At 3:30 our group left on a motorboat for a visit to the Aswan Botanical Garden on an island in the Nile. We were returned to our ship about 6 p.m.

DAY 12 (day 8 for Egypt)
On Friday, 29 October 2021, we departed the cruise ship for the last time. We spent 9 to 10:30 at the Nubian Museum in Aswan. We stopped for about 45 minutes at a papyrus shop where we watched a demonstration of how sheets of papyrus are made. We purchased two papyrus paintings.
We boarded a small boat to explore Nubian, Egyptian, Greek, Roman, and Jewish ruins at the archaeological site at the Aswan Museum on Elephantine Island. The island was named such when it was a major trading post for ivory. It was uncomfortably hot on this island as we were in the midday sun with little shade. Our guide led Michael and a few others in our group into the nilometer down to the level of the Nile River.
For thousands of years, Egypt had 3 seasons (each about 4 months): flooding, planting, and harvesting. The prosperity of ancient Egyptians was dependent on the annual flooding of the Nile River. The higher the waters reached, the better the economy for the citizens and the more each family paid in taxes. In the past, many Egyptian towns along the Nile River had what is now called a "nilometer" at the shoreline. It measured the peak floodwater depth of the Nile which determined the rate of taxation the government would require for the following year.
We left Elephantine Island in the boat about 1:30 to travel farther upstream through the rougher and faster cataract. It was a very hot, sunny day, as every day of the year is in this area that very rarely sees rain. Aswan is one of the sunniest places on earth. The average annual rainfall is 0.06 inches. Many in our group enjoyed cooling off by wading in the Nile when our boat stopped briefly at the shore where there were several vendors and many camels.
We arrived about 2:30 at a Nubian village. We saw pet crocodiles while we were served hot tea or a cool hibiscus drink. Most in our group had individual photos taken while holding a live, muzzled young crocodile. Michael and Jeannie chose to skip over that experience. We were served a traditional Nubian lunch about 3 p.m., then had free time for shopping at the open air bazaar (or "souk"). We left the village by boat at 4:30.
We were in our rooms at the Movenpick Aswan Hotel on an island in the Nile by 5:30. We ate supper together at 7:30.

DAY 13 (day 9 for Egypt)
On Saturday, 30 October 2021, we were up early once again. Since our hotel was on an island, our group rode a boat across the Nile River about 6 a.m. We ate breakfast from a sack on the bus to the airport, arriving shortly after 7:00.
Our EgyptAir flight returned us to Cairo about a half hour later than scheduled. We left the airport about 11 o'clock. COVID-19 test swabs were inserted into each person's nose by a lab tech as our bus left the airport. The test went much quicker and was more comfortable than we expected over the bumps in the road.
We stopped at the new National Museum of Egyptian Civilization. This is where, since six months before our visit, the mummified remains of 18 pharaohs and 2 queens have been respectfully displayed downstairs in the dark-walled and dimly-lit crypt-like Royal Mummies Hall. Two hours later we were getting lunch nearby at the same restaurant where we had our first lunch in Cairo seven days before.
We arrived at Le Méridien Hotel at the Cairo airport about 4:30. Our COVID-19 test results, necessary for our return flights, were distributed at supper in the hotel at 7:00.
Getting to sleep was delayed by our completing online forms that are required by the different airlines and destinations. Our hotel room overlooked a noisy outdoor wedding party with loud music that continued till 11 p.m. We were astonished that anyone would want to use an airport hotel for such a venue or that a hotel, filled with guests wanting as much sleep as possible the night before catching early morning flights, would allow this disruptive event.

DAY 14 (return to U.S.)
On Sunday, 31 October 2021, we were up at 3 a.m. Many others who were in our tour group were also up that early, but no one else shared our flight itinerary. A representative of the tour company accompanied the two of us through the multiple security and check-in locations in the airport. After boarding our plane, we were delighted to discover a seat that remained empty between us.
Our British Airways plane landed on time at London Heathrow airport. Even though everything was in English, inside the airport was unnecessarily confusing to us. We constantly were unsure about where to go or if we were in the right place to get to our connecting flight. The few signs were useless in helping and at first the airport employees we asked acted like we just had to figure it out. When we finally located a departure board, we were even more perplexed since it did not give us a gate nor a definite time for our plane. Of course we eventually got to the right gate. Our 9-hour flight to Dallas departed 1½ hours late. We slept some on the flight. Our plane landed in Dallas about 6 p.m.
It was good that we had a long layover at DFW. Probably because we were so tired, we exited customs with only 2 bags, having forgotten that we had added a 3rd checked bag when we left Egypt. We did not realize the error until over an hour later. It was quite a challenge to recover the forgotten bag from international baggage claim, forcing Michael to go through security clearance again.
Our flight to Fort Smith landed at 11:25. We were home by midnight, eager for a good night's sleep.
Travel changes the way we see the world and often changes the way we see ourselves. We sometimes develop new ideas after being introduced to someone else's ideas and perspectives. What is unfamiliar and strange to us is just common and routine to the people who live in the places we visit. We discover just how different we are, and learn that we are no better humans, compared to most others, whether living or those long dead. We should be reminded that all people are created in the image of God and are worthy of kindness and respect.
Traveling in Egypt with a tour group as we did, allowed us to spend precious time with old friends and make new friends among people with fascinating stories and similar interests. We experienced new things together, then enjoyed one another's reactions. We shared moments of enchantment. We shared moments of awe and moments of frustration. God blessed our group with a variety of personalities who got along remarkably well together.
The trip was educational, inspiring, and truly delightful. Though glad to be home, we are already looking forward to another overseas adventure, God willing.