We landed on time in Florence, Italy, before 5 p.m. Our driver transported us to the Grand Hotel Cavour where we were greeted by Pascal, who handed us our hotel key cards, having already checked us into our room. Shortly before 7 p.m. we walked with him a few blocks to Ristorante La Giostra, where the two of us enjoyed a very nice meal. We texted Pascal when we finished and he led us back to our hotel. While Jeannie took a shower, Michael went exploring near the hotel. He found a gelateria and purchased a cup of delicious Italian gelato.


DAY 6
Sunday, 1 October 2023
We rode a taxi to Chiesa di Cristo which meets in an old Greek Orthodox church building, Ex-Cappella Demidoff. The worship service, combining English and Italian, started at 11 a.m. Students from Harding University in Florence were in attendance.
We were hoping to go to lunch at a pizzeria recommended by our daughter, but we could not find transportation to get there and back in time for our scheduled afternoon tour. Instead, we rode the tram, getting on near the church site. We got off at the main train station and began walking toward our hotel. We came upon a Vera Napoletana pizzeria and enjoyed a very tasty pizza Margherita con prosciutto at Giotto Pizzeria.
After lunch we walked several blocks to our hotel, arriving shortly before time to begin our "Heart of Florence Walking Tour" at 2:45 with Francesca Marucci, a local guide. She was very knowledgeable about the history and architecture of everything we passed. After the tour ended at 4:45, we rested briefly in our hotel room, then headed back to the jewelry shops on the Ponte Vecchio. Jeannie found a beautiful necklace and earrings that we decided needed to be taken home with us.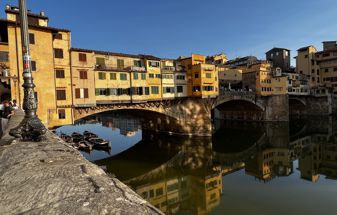 At 7:50 we met Pascal in the hotel lobby and walked with him to Osteria dei Baroncelli where the two of us had a dinner reservation at 8 p.m.

DAY 7
Monday, 2 October 2023
We met Pascal in the hotel lobby at 7:45. He was our driver for the day. We stopped briefly to take beautiful pictures overlooking Florence from the Piazzale Michelangelo. Then we were off to the Tuscan countryside.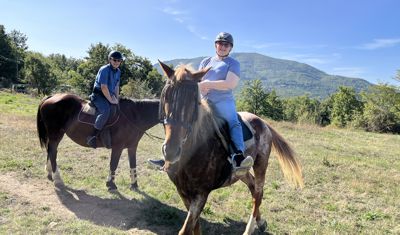 We arrived at 10 a.m. for horse riding at Hotel Rifugio Pratediano near the town of Montieri. It was a new experience wearing riding helmets and sitting in English saddles. Our skillful and friendly guide, Zoe, was from Germany. It was only the three of us on the 6 kilometer trail through the Tuscan hills. Upon our return to the stables after 2 hours, we enjoyed lunch with Pascal at the hotel.
Our next stop in Tuscany was to visit what remains of the Abbey of San Galgano near Chiusdino. Six months before this trip we enjoyed "The Journey," a movie which included a song performed in the ruins of this abbey by the famous blind Italian tenor, Andrea Bocelli. We then walked a long distance up a steep hill nearby (that we should have gone up by car) to see the sword in the stone below the rotunda of the Montesiepi Chapel. Galgano Guidotti gave up his knighthood to become a monk in Tuscany in the 1100's. Rejecting his former vocation, the story is told that he thrust his sword into this rock and no one could pull it out. We had to see the sword to believe it, but we can't explain how it could be possible. (Historians believe this is the source of the legend of King Arthur being declared king after pulling a sword from a stone.)
We arrived at 4 p.m. at the resort hotel, Villa Dievole. From our room we had a breathtaking view overlooking the Chianti Classico hills and the Chianti Mountains. At 7:30 we were met by Pascal who drove us into the nearest town for our evening meal. On the way back it was exciting to see a wild boar run across the dirt road in front of the car as we neared the hotel.

DAY 8
Tuesday, 3 October 2023
This day was our son's birthday, for which it seems we are out of the States almost every year.
At 9:30 we met Claudio, our driver for the day. (Pascal was no longer accompanying us, having duties in Venice.) Our first stop was at San Gimignano about 10:30. We explored this medieval city and a great number of its tourist shops. We ate gelati from the world famous Gelateria Dondoli in Piazza della Cisterna. At 12:20 we departed for our next adventure.
From 1:30 to 3:45 we visited a winery, Le Fonti in Lucignano d'Arbia, where we had lunch and learned about Tuscan vineyards and wine making. This was not our first time to visit a winery in Italy, but it was the most enjoyable because the owner and his interpreter were so enthusiastic about the business and they showed great eagerness to please. They were positioned on our arrival as if we were important dignitaries who were blessing them by our visit. It was a splendid welcome that served to impress us from the very start.
Our driver returned us to our hotel about 4:30. We ate supper outdoors at our hotel at 8 o'clock. Jeannie ate cappellacci ripieni di parmigiana di melanzane, pomodori arrosto e fonduta di parmigiano (cappellaci stuffied with aubergine parmigiana, roasted tomatoes and parmasan cream). Michael ate tortelli dolceforte al cinghiale, topinambur e funghi (tortelli dolceforte with wild boar, topinambur and mushrooms), followed by faraona arrosto con soufflé al tartufo, cicoria e fichi (roasted guinea fowl with truffle souffle, chicory and figs).

DAY 9
Wednesday, 4 October 2023

We again met our driver, Claudio, this morning at 9:30. He was very professional in manner, dress, and driving. (We joked that he resembled the agents in the movie, "Men in Black.") About 10 o'clock we arrived in Siena, where we met Ludovica. She spoke excellent English and was a delightful and very knowledgeable guide. We enjoyed an informative walking tour for 3 hours, then had a quick lunch at a restaurant that she suggested. After lunch we had an hour free to do what we wanted, which included gelati and shopping. We met our driver about 2:30 and returned to our hotel at 3:00.
Chef Andrea arrived at our hotel at 4:30 and drove us about 10 minutes to an old villa beside a winery that his cousin owns and operates. Andrea's wife and sister-in-law, who are twins and don't speak English, quickly put us to work preparing the evening meal. Then as the Tuscan sun was setting, Andrea's cousin gave us a quick tour of his winery before the two of us sat outdoors where our meal was served. We were returned to our hotel by Andrea's wife around 9:15.

DAY 10
Thursday, 5 October 2023
At 9:00 we left our resort hotel to return to Florence with our driver, Filippo. We arrived about 10:20 at Grand Hotel Cavour, where we had stayed a few days prior. Since it was too early for our room to be ready, we left our luggage and spent a few minutes checking out some shops near the hotel.
At 11 o'clock we were met by Francesca Marucci, the same tour guide we had on Sunday afternoon in Florence. She led us to the Galleria dell'Accademia and guided us through while sharing with us incredible detail about the art and musical instruments on display. Michelangelo's "David," the most famous statue in Florence, is housed here.
We stopped for a delicious lunch at 1 o'clock at the Sofia Loren restaurant per our guide's recommendation. At 2:00 she led us to the Uffizi Gallery, where we stayed till 4:30. We learned so much more about the art there than is possible without a guide.


Shortly after arriving back at our hotel, we walked half a block to get gelato. After giving our tired feet a rest in our hotel room, we went to take photos from the roof of the hotel.
We were excited to briefly visit with Pascal as we passed through the hotel lobby on our way to supper. We walked several blocks to La Ménagère for supper. We were surprised to discover that our 7:30 p.m. reservation was at a French restaurant.

DAY 11
Friday, 6 October 2023
We awoke at 3:30 a.m. Around 4:30 we were on our way to the airport. Our first flight was with Vueling airlines. They could check our bags only as far as Dallas and they could not provide boarding passes for any of our connecting flights. We departed Florence, Italy, for Madrid, Spain, about 7:45.