Saturday, 31 May 1986
Dear Mom and Dad,
I hope the birthday present I sent Daddy arrived before today. Also, I certainly hope it fits properly. Please let me know if it didn't fit.
Angelique and I were planning to go to Pompeii this morning to take pictures (slides), but it is too cloudy. It actually rained Thursday night.
I was off Thursday after a slow night in the ER Wednesday. Jeannie and I worked most of the afternoon in the yard. It had turned into a jungle even without rain.
Earlier this week a baby chicken showed up in our yard. We fed it corn meal and gave it some water. Then it moved in with us. It is about the size of both my fists together. If we knew where it came from we would have taken it back. Steven named it Alvin the Chipper. Today we were unable to find it, so we guess it returned to where it came from.
Also, this week we had one car with a hole in the gas tank and the other with a short in the ignition switch. Neither car was fit to drive. The Ford just started leaking gas while parked in front of the clinic. We fixed it temporarily with a bar of soap. The Fiat would just die driving down the road and not start again without beating on the switch. The tank was fixed today. The ignition switch was cleaned a little and is working fine for the moment. I would have had it replaced completely if I had a third car to drive while the two were in the shop. But without such problems all at once around here, we wouldn't think we were in Naples.
Last weekend Jeannie and I went to Sorrento on Saturday. The kids stayed with Andrea. We bought several Christmas gifts to take back. At the inlaid wood factory they showed us a desk that they had marked down 65%. We had to have it at such a good price. It is a secretary with a pull down top. There are three big drawers under it. We put it in the trunk of the car (barely) and brought it home without any problem.

The exactness of detail by skilled Italian craftsmen, the use of the finest woods, and the honest, friendly salesmen made Notturno Intarsio our favorite inlaid woodworks factory in Sorrento, Italy. Above is a view of their showroom. For over a year Michael tried to talk himself into spending US$1,000 for this masterpiece inlaid wood reproduction of Botticelli's "Birth of Venus," but alas we returned to the States without it.

Michele Pellecchia of Notturno was our favorite Sorrento salesman.
If you are ever at Notturno's, tell Michele that we sent you.
Sunday after church we had the Jeffersons over for hamburgers. Bob brought 40 diskettes that we spent the afternoon copying.
On Monday we went to shoe alley (the market) with the Jeffersons.

On Memorial Day, Monday, 26 May 1986, we ate lunch at our favorite pizzeria, "Bagnoli Joe's," as the Americans call it. We really have no idea what the Italians call it. Since it has the best pizza in all of Naples, the birthplace of pizza, then it must be the best pizzeria in all the world.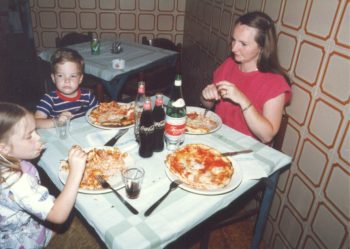 The Krumreis were planning to come down from Holland next week and spend a week with us. But last week they got a call from the States saying there was a baby available they could adopt. They are understandably not coming here.
We still do not have a definite date of when to leave Naples. Right now it appears that 5 August is the most likely day. We are fed up with still not knowing for sure and with the U.S. Navy's inability to get its act together and give us a firm date. I had to call my replacement myself and find out when he was arriving here.
The packers are coming 2 and 3 July to ship out most of our stuff. We will keep just enough to survive until 31 July when the express shipment will go out. We will then move into a hotel. Jeannie prefers to stay until I leave so she can have help on the plane trip back. We regret that we will probably be in the hotel on Angelique's birthday.
(McDonald's is supposed to open on 14 June.)
Now for the really bad news: We got a letter yesterday from Memphis telling us that we have to be in Memphis by 14 August to register Angelique for school which starts the 18th. I am really displeased with that. I had hoped to take 2 or 3 weeks leave after we arrived. We were seriously considering even going to San Antonio in August. BUT now we will be lucky to get 7 days free before we have to go to Memphis. That is certainly not enough time to divide between Little Rock, Searcy, and Harrison.
We had been looking forward to getting some time to visit with family and friends this summer. We feel quite cheated by the whole thing now.
This situation makes me very unhappy. We are quite angry with the Navy. I still am bitter that we did not get to leave here in April as we were led to believe for almost 3 years. There is still the possibility that we could leave later in August.
Well anyway, please understand that we will probably only get to spend a couple of days with you when we get back.
Steven has learned to whistle. Angelique can't figure how he can do something that she can't.
Angelique is all excited that she has two loose teeth.
I can't believe anyone would pay $200 for a painting.
You do not need to send anything that is not first class. That includes the newsletter you mentioned from Arkansas Genealogical Society.
You will start getting more and more of our mail. We are slowly changing addresses on magazines and things. Just hold on to anything that isn't first class. I'll get it in August.
Jeannie is considering returning in mid-July. I will be surprised if she does.
Let us hear from you. I am very interested in your opinions about how we can see everyone in August.
Love you,
Michael, Jeannie,
Angelique, and Steven