Friday, 13 Dec 1985
Dear John and Faye,
We have received two packages from you. I hope you got the package from Sears for Jason and Jeremy. We ordered the same thing for ourselves and are really enjoying it.
My sister and her husband called just before we left on our trip. They are buying a Commodore 128. They said they would send some diskettes soon for me to copy programs for them. (Where do I start?)
I have not heard anything else about going to Texas. I will be happy either way, but I would enjoy seeing you all. There is no way that Jeannie would talk me into taking her with me. It just costs too much money.
I hope you all are settled in your house by now. It is a shame that John can't write any more without his computer. By Faye's letters we can tell that you all aren't settled yet and are missing friends and Christian fellowship. Just remember all the times that you didn't have electricity or water. While SOME things may be better here than in the States, overall things are better there! So CHEER UP!
Steven is learning to read at a remarkable pace now. Angelique is still bored with school. They had a good time on the trip. Both of them learned a few words of German.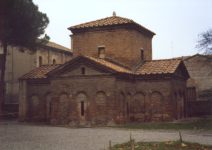 The Christian tomb of Galla Placidia built in the mid-5th century A.D. in Ravenna, Italy.
I thought of John the whole time I was in Ravenna. You would have loved this city. I wished I had time to see every one of the 6th century churches. The baptistry was bigger than either in Naples. It even had a little water in it.

Church of San Vitale in Ravenna, Italy, completed in 547 A.D.
I was pleased by the response to my Bible study programs at Berchtesgaden. But then even if the diskette had been blank, it was worth $1. I found Christians with IBM and Apple computers that said they were interested in translating the programs for us.
Bob and Annette seemed to get a lot out of the retreat. I more and more agree with you about Bob. He is going to be a great leader in the church some day.
Phil Krumrei is going to start typing his doctoral thesis soon and wants a computer to assist him. Of course, you know which one I sold him on.
We miss you all so much. I know God will eventually fill the void left in our lives. But even after the pain is gone you will be forever our friends, in this life and in the one that follows.
If this gets there before Christmas, then "Merry Christmas." Otherwise, "Happy New Year." May God bless you richly in the coming year.
Lots of Love,
Michael, Jeannie,
Angelique, and Steven