30 Oct 1985
Dear Mom & Dad,
How are things in Arkansas? Is it getting colder? It is definitely Fall here. It is getting cooler and is raining finally.
The kids are getting excited about Halloween. They went to a Halloween carnival Saturday and won lots of little toys and candy. They both have parties tomorrow at school. I'm the room mother for Angelique's class so I guess I'll go to her party. Sounds fun, huh! Then we'll trick-or-treat tomorrow night. Angelique will be Rainbow Brite. I made her some golden hair out of some yarn to go with a ready-made costume. Steven will be the Lone Ranger. He'll wear his boots, red hat, guns and holster and mask. He looks cute.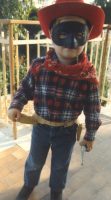 The sad news is that John and Faye Sigle, our best friends, moved back to Texas today. They were due to move back in March, but John's mother is gravely ill, so they sent him back home. We will miss them a lot ... especially since we will be here until June. Michael's detailer, who does all the Family Practice doctors assignments, says he can't get a replacement here for Michael until June. There is a bright side to this. At least Angelique will be able to finish first grade here without changing schools in the middle of the year. Plus it will give us another chance to get to Holland in April to see the Krumreis and tulips. Which brings me to my next proposal.
Refer to the accompanying Aces Military Charter Flights ad. You can fly from New York to Germany for $169. They fly out of Atlanta also. You are eligible for these special military rates as parents of a military spouse (me). I don't know how much a flight from Little Rock to Atlanta or New York would be, but it shouldn't be outrageous. We could be going through Germany on our way to or on our way from Holland in March or April -- whenever your Spring break is and pick you up and bring you back to our home -- maybe with a stopover in Venice or Rome if you would like. How does that sound? Mother, if Daddy doesn't want to come, we'll take just you. Of course, we'd like to have you both.
I assume these prices are just for one-way tickets since it doesn't say they are round trip. That would be $338 for one round trip ticket from New York to Germany. That is an outstanding price. I don't know if a travel agent in the States can handle these Aces Charter Flight reservations or not. If not, let me know if you want me to make reservations from here. You'll need to get passports right away.
We should be leaving the day after Thanksgiving for a trip to Germany for a European Church of Christ lectureship. We will tour Salzburg, Austria; Munich, Germany; and Venice, Italy; on this trip. Michael and the kids have not seen any of these. I haven't seen Salzburg. The kids are excited about seeing Venice, the Salt Mines and McDonalds in Germany. We will probably tour a German concentration camp also. It will be cold, but fun. Several other Americans from church here in Naples are going also.
The Stacy wedding sounds like it was exciting. I can't imagine Kim pregnant. I guess the last time I saw her was at her wedding.
I have a small package to send Denise Haigwood for her birthday. I need to get it mailed.
How was your visit to Springdale? What is Rex doing now? Is Barbara working?
How are you getting along with Dr. Dan? Does he seem real busy?
I hope Diane is doing okay. I got a baby blanket for her for Christmas like I sent to Brenda when she was pregnant. (That means Diane can't read this letter.)

31 Oct 85
I babysat a 6-month-old little girl this morning while her parents packed out to move back to the States. I only had her about three hours. It was fun to have a little baby around -- for just a few hours! It was nice to be able to take her back to her parents after we had played with her.
The kids went to about 12 houses tonight Trick-or-Treating. They enjoyed it.
I don't have any other news. Oh, except it sounds like Phil and Susan Krumrei will be meeting us in Germany for this lectureship. That will be fun.
I'll be mailing Christmas packages within a week or two. I can't find anything exciting for the little boys, though.
Love,
Jeannie