7 Oct 85
Dear Diane,
It seems a long time since I've written to you, but I think I've been waiting on a letter from you.
The Coles are here. Since they have been here before, we are not running as hard as we did when you were here. We went to Ercolano/Herculaneum (the other city buried by Vesuvius). Michael took them to Paestum (the Greek ruins) and Vietri - the pottery city on the Amalfi coast. We're going to Sorrento tomorrow. Freda went with me & the hospital wives club to the Gaeta market one day. She went with me today to my Greek cooking class.

The ancient city of Ercolano was covered by volcanic mud when Vesuvius erupted in 79 A.D.

"Trellis House with balcony"
along street in Cardo IV.


"House of the Mosaic Atrium"
floor damaged by hot mud.


This cloth press was similiar
to the printing press.
Steven says thanks for the Legos; Mom says thanks for the case! (That's the best present ever in Mom's opinion.)
Angelique will enjoy her Shrinky Dinks. She should have time to do them Wednesday or Thursday maybe.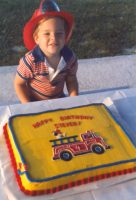 Steven turned 4 years old on Thursday, 3 October, with a party at NATO's Carney Park.
I think Steven's birthday party is on this videotape. The Sigles and all the Coles gathered at Carney Park for the occasion. We had to rush before it got dark since we've already switched off Daylight Savings time. Steven had a cupcake party at school the day before with his friends.
I went back to Positano a few Saturdays ago with Faye Sigle and another friend. I got a flowered jumpsuit and a flowered romper. I think they are polished cotton. I think I was told they wouldn't need ironing. We'll see. Oh, I also got a pretty mohair sweater.
Tuesday, 8 Oct
What news! We just got your letter today. I can't believe you're pregnant! And you even told Laura. You must be feeling pretty confident about it. I guess so if you are through your 1st trimester. Italy produces more than just olives & grapes, huh! We're very excited for you and we'll be praying for you.
Should I tell you what my daughter said when she was told you were gonna have a baby? Maybe I shouldn't - but here goes ... "At her age? Goodness!" I didn't know she had a concept of being "too old" to have a baby. Anyway, you are not too old - so enjoy! I wish we could be back in time for the big event, but don't count on us.
We went to Sorrento today. We bought 3 beveled tea carts. One for us, one for Leonard and one for Mom. We'll get them mailed in a few days.
I'll write more later when things slow down around here.
Relax & enjoy. Write while waiting in the doctor's office & keep us posted.
Love,
Jeannie