Monday, 24 June 1985
Dear Mom & Dad,
Now that Jeannie has gone, I have plenty of time to kill. So I will write. You have probably forgotten how to read my writing. I have almost forgotten how to write a letter without my computer.
Scotland is a truly beautiful country. You would enjoy it here, too. There are lots of mountains & lakes. It doesn't get dark till about midnight here. Everything stays green year round. I rains a lot. The temperature only ranges between about 30 and 60 year round.
There is so much to tell. I am not sure where to start.
Our plane left Naples 8 hours late. It was 4 AM last Sunday before we got to bed in London. We met Diane & Bill & Laura about 9:30.
We went to the changing of the guard at Buckingham Palace, then to McDonald's for lunch. We went to the Tower Bridge & the Tower of London (but not inside). We walked by Parliament. We went to Westminster Abbey. We went to Madame Tussaud's wax museum. Then we went to the Woolly's hotel & rested till supper. I still can't believe we saw so much in one day.
Monday morning we flew to Glasgow & were picked up there by a Navy bus.
We were in our hotel in Dunoon, Scotland, before lunch time. I got checked in while Jeannie & the kids slept.
I was authorized a rental car which is certainly nice. It is hard to remember to drive on the opposite side of the road.
Monday night we went to a 2-hour Scottish show.
The clinic here is about the size of Pinetamare, but sees very few patients by comparison. It has been nice to work from 8 AM to 4:30 PM again. There is one other doctor at the clinic, but she is on leave this week. Still, it isn't very busy.
Tuesday we kept having trouble getting the car started. Wednesday they told me it was because I was driving with the choke out. I didn't even know it had a choke! I still can't believe that a 1985 car has a choke. (The choke doesn't say "choke" on it.) Now that I know, I haven't had any more trouble with it.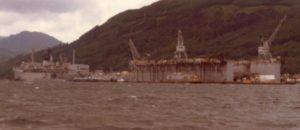 The U.S. Navy submarine tender at Holy Loch outside Dunoon, Scotland.
Wednesday, Jeannie & the kids caught a bus from Dunoon to Glasgow to shop. It is about an hour away. That day I ate lunch on the ship here with the doctors on the ship. There are three doctors on the submarine tender here. One was on leave. They wanted to show me around the medical department. That was fun.
Wednesday night we went to a Chinese restaurant here.
I was off Thursday afternoon. We drove to Loch Lomond. Then we went to the castle at Inverary. A duke still lives there. He is a Campbell.
Thursday night we went to the most expensive restaurant in Dunoon. It was the fanciest restaurant I have ever been in. The kids were well behaved. The food was fantastic! When I got the bill I thought that it surely wasn't enough. We paid about $42. It was worth every cent. They fixed something for the kids that wasn't even on the menu. (Thursday was Jeannie's birthday.)
Friday, Jeannie washed clothes.
Saturday morning we took the ferry across the river here. (The ferry landing is across the street from the hotel.) We drove to Edinburgh to see the castle there. We ate lunch nearby, then drove to Glasgow. Jeannie flew out of there about 4:15.

The church here meets at the Dunoon Grammar School. It is only a little bigger than our congregation in Naples. Once I left the hotel for church, I didn't get back till after 10 pm.
One of the dentists here is a member of the church. I went home with his family for lunch. Before we ate I got beeped to the clinic, but got back just before they sat down. His mother was here from Nashville with her sister from Memphis. The aunt goes to church with the SULLINSes in Memphis. They will sure be surprised she ran into me.
Church starts at 4 pm on Sunday nights. Afterwards I went to the preacher's house for a light supper. He is from England; his wife is from Ireland. They have been married less than a year. There was also a young American couple there last night.
I certainly didn't get bored yesterday as I was afraid I would.
I ate supper in the hotel tonight. I had the following things: Cock-a-Leekie Soup, Haggis, Tatties, Neeps, Roast Angus beef, & Tipsy Laird. I don't even know what most of it was, but it was good. It was a traditional Scottish meal. All the other meals I have had here were similar to American meals.
I called Jeannie this morning. She got home without any real problems.
I also called the clinic (Pinetamare). Four doctors from Naples have been aboard ship off Beirut for a week. (Four Army doctors from Germany are now in Naples.) I'm glad I'm here or I probably would have gone to sea. Of the three usual doctors at Pinetamare, I am here, one is near Lebanon, & the other is on leave. What a mess that clinic is in! I just hope I will get to take my leave while Bill & Diane are at my house.
I can't understand why they don't take doctors from one of the big Navy hospitals in the States where there are plenty and send them to Beirut. This would let Naples get their doctors back (25% of the staff). Then the Army doctors could return to Germany. I can't believe the Army is helping the Navy in Naples. The order must have come from the Joint Chiefs of Staff. How does Washington think that Naples hospital can function (especially if there are casualties) without the full staff??
Jeannie bought a lot of wool things while she was here. Now I have to carry them home. She has finally learned how to pack. We came with only two suitcases: one large one & one medium sized. She took the smaller one back with her. I'm not sure I can get everything we bought into the large one.
I bought three tapes of Scottish folk songs.
Well, that is about all that has happened so far.
I will try to get this to the post office tomorrow.
Take care. I look forward to hearing from you.
Love you lots,
Michael