Saturday, 4 May 1985
Dear Mom and Dad,
I am printing this with small type because I know it will be very long. I hope you will be able to read it all right.
I have two letters from you that I need to answer. But first I want to tell about our trip. I hope it will not be too boring.
We got up at 5 o'clock on Tuesday morning, 23 April. It was raining all the way to Rome. Angelique got car sick in Rome and threw up after we got through all the traffic jams. The weather was better the rest of the day, but it was cool. We ate lunch in Florence. North of Bologna we entered the Po River valley. We were impressed with how flat it was for so many miles. There are no foothills before all of a sudden the Alps start. We got to Milan, Italy, by about 5 p.m. We drove 500 miles that day. We went to Milan primilarily to eat supper at Wendy's. It was busier than I ever remember seeing a Wendy's in the States. We stayed in a very nice hotel. The kids stayed in an adjoining room.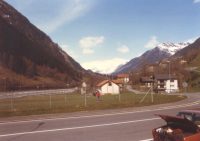 southern Switzerland

Wednesday morning we drove 160 miles to Lucerne, Switzerland. (Have you been there?) It was a beautiful day. The Alps start just north of Milan. We had to buy a sticker for the car that cost $12 (Swiss road tax). There are no toll roads in Switzerland. Everyone just pays the road tax which is good till the end of the year. We crossed the border very easily and quickly. I had been told it might take an hour. All but an hour of driving was on a superhighway. I can well understand why you want to go back to Switzerland. The Alps are very beautiful. We loved the waterfalls, the snow-topped mountains, the cleaniness, and the tunnels.

We went through the longest tunnel in the world. It was 11.5 miles long by my odometer. Officially, it said it was 17 kilometers long. It was through a mountain that was covered with snow, almost down to the level of the road. It was a bright, sunny day when we entered. When we came out it was very cold and it was snowing! We had to wear heavy coats for the next week. We counted at least three dozen tunnels we went through that day.

We got to Lucern in time for lunch. We stayed in a nice hotel close enough to walk to the main shopping area. This is a very nice, friendly, and beautiful city. There are snow-topped mountains all around the lake there. We couldn't see them until the next morning, because of fog. We bought several nice things there, including a fancy music box. I bought the cassette of "USA for Africa" which we can't get here, but I have been wanting ever since I heard about it.

They speak German in Lucern. We ate supper in a nice restaurant that had live entertainment. We all really enjoyed it. Angelique especially liked the yodelling.

Jeannie and I enjoyed the food everywhere we went. We try to avoid the cafeterias ("self service") as much as possible. You should, too. Most places in Switzerland have menus in three languages. Most of the nicer restaurants around Europe have someone there that can speak English. I will admit that sometimes we order something that we have no idea what it is. But if the local people can eat it, so can we. It is a little of a problem with finding something the kids will eat. But when they get hungry enough, they will eat anything.

We had a Swiss cheese fondue that I thought was horrible. I kept eating it thinking it would get better, but it never did.

We got the kids to bed late every night and usually up early throughout the trip. The kids usually slept in the car during the day. We took the old carseat for Steven because it was easier for him to sleep in it. Most mornings we ate breakfast in the hotel dining room. The Swiss breakfast also has cheeses.

We left Lucern on Thursday morning. Actually, we would have enjoyed staying there a few days. We drove north through Basel and into Germany. We had some German gas coupons and filled the tank before crossing into France at Strasbourg. That makes three times I have been in Germany without needing any German money. The superhighways in Germany (called autobahns) are free.

In France we drove mostly on superhighways (called autoroutes) and must have paid a fortune in tolls. At lunch time we got off the highway northeast of Strasbourg and went into a nice town of Saverne. We found a nice restaurant there and managed to get a very good meal, though we knew practically no French.

During the time we were in France we learned quite a bit of French, especially related to ordering in a restaurant. I was amazed at how much French I remembered from the fourth grade. Much of it slowly came back to me. We were able to read the majority of the French we saw; we just didn't know how to pronounce any of the words. It was hard not to speak French when we got back into Italy. We kept wanting to say "oui" and "merci" instead of "si" and "grazie." Even the kids learned a little French. It was wonderful to get back into Italy where we could communicate.

We drove 375 miles that day from Lucern to Reims, France. The country is very pretty through there. There are lots of windmills just like in Kansas. Beginning about an hour away from Reims, there are all sorts of artwork along the highway. We got two rooms in a Hotel Ibis (a chain in France) at Reims. There was a shopping center across the street where we ate supper. We got Angelique a necklace there with her name on it.

We were 95 miles from Paris. From our hotel that afternoon we called the USO in Paris and asked them to find a hotel for us. We awoke to a very heavy frost the next morning. We got into Paris about 10 AM and went to the USO. We had a very nice, large hotel room that I thought was reasonably priced. It was about two blocks off Champs-Elysées.

We left our car parked in a parking lot for four days. We were given a ticket, but both the hotel and the USO said not to pay it. They cannot require parking tickets to be paid if you are from out of the country. The traffic in Paris is absolutely atrocious. We took the Metro every where we went except to Versailles (and we took a train then, too). We did not think the Metro in Paris is better or easier than the "Tube" in London. Everyone had told us it was, including you, I think.

After we got settled in our hotel we went to Burger King for lunch. The kids loved it. Afterwards we walked a few blocks to the USO with several questions. We were able to get a tour of Paris at a discounted price.


the Madeleine, Arch of Triumph, and Sacré-Coeur
We went on a three-hour bus tour of Paris that started from near the Louvre. It was quite expensive compared to a similar tour in London. Angelique even had to pay half fare. We rode on the top of a double decker bus. Steven slept about half the time. We had to wear head phones that got uncomfortable long before the tour was over. We did see nearly everything in Paris worth seeing from the bus. Did you take a tour like that? The headset plugged into the back of the seat and you could dial one of about six languages.

Angelique and Steven in Paris
After the tour we went to the Eiffel Tower. Steven really thought that was something. He got excited all over town when he could see it. We were not able to go all the way to the top of the tower. We did not understand why, but they were obviously working on it. We went up to the second level, which Jeannie thought was high enough. We couldn't believe all the pushing and shoving getting back on the elevator to ride down.
At the foot of the tower we bought a wind-up bird that really flys. They asked 100 francs for it but we ending up getting it for 30 francs ($3.24). What a rip-off at 100 francs. Think of all the tourists that pay too much. I later saw the same thing sold at a shop in a park for 35 francs. We got it for a very good price. The kids were really fascinated by it. I still haven't put ours together to see if I can get it to fly.
We ate a nice, but expensive, supper close to our hotel.
We had been warned by about everybody that the French were rude, especially in Paris. We had been told that no one in France would speak English. We were pleasantly surprised. No one was really rude and many people spoke English. Those under 40 were a lot friendlier than the older people. Our kids were tolerated by most people, but it was quite different from the showering of affection they get in Italy. Even at Burger King they spoke English, but I tried to speak French as much as possible.

Versailles palace

Saturday morning we took the train to Versailles to see the palace. It was very crowded and we had to stand in line a lot. The kids were ready to leave before we even got inside. We ate lunch close to the train station there.

That afternoon we went to Galeries Lafayette (like Harrod's in London). We looked a lot but didn't buy much. That evening we went to a place recommended by the USO for supper where the kids got balloons. It was not all that good a place. It is run by Citroen, the automobile company of France.

We kept being amazed at how raw the meat comes when you order it "medium." The food in Italy is better. Jeannie fell in love with crepes. The omelettes were always good. Mustard is served at nearly every meal, but I soon learned it was too hot. The bread in France is better than in Italy.

Nôtre-Dame cathedral in Paris
Sunday we went to Nôtre-Dame cathedral, then to the Louvre. Around the "Mona Lisa" people were packed like sardines. There was too much pushing and shoving to enjoy the painting. (Too many Italians were there.) Sunday is a free admission time at the Louvre and it was really crowded. I liked the Louvre but it is not any better than the British Museum. We found a restaurant a few blocks away, where no one spoke English. After lunch we went to a park where the kids got to ride ponies. (Except Angelique's was surely a burro.)

Napoleon's Tomb in
Dôme des Invalides

Then we went to Napoleon's tomb and to the military museum nearby. Steven went absolutely crazy over all the guns there. Both kids enjoyed seeing all the cannons and the tank. We got to see Napoleon's hat and some other things that had been his.

We ate supper that day at the same Burger King and found a children's section downstairs. They had tables for the kids that looked like they were part of a train.

This was the only day in Paris that I took any pictures with my video camera. It was too heavy to carry around.

We slept late Monday morning. It was raining off and on all day. We went to the USO to let them help us make a reservation in Nice for Wednesday night. Then we went to the Georges Pompidou Center and found it to be a total waste of time. We went to a section on the north bank of the Seine across from the Conciergerie where there are lots of sidewalk shops. Most of them are seed and plant shops or pet shops. The kids really enjoyed the pet shops. Some of them had monkeys, parrots, peacocks, swans, chickens, rabbits, etc. The kids thought they were at the zoo.

Later we went to Champs-Elysées to shop down the street. There are many malls there. The prices are way too expensive in most of the shops. This street is also where many of the cabaret shows are located. Steven found a button on one of the escalators that he pushed and made it stop. This happened while Jeannie was in a shop spending $70 when she thought she was spending $7.

Again we ate supper at Burger King. Then we went to bed early.

the château de Chambord

Tuesday morning we drove south to Orleans where we got off the autoroute and drove through some of the countryside where there are lots of castles in the Loire Valley. The villages were interesting as well. We went inside the chateaux (as the French call castles) at Chambord. It is supposed to be the fanciest one in France. It is quite fancy, both inside and out. It is located in a large park. We saw two deer in the woods along the road there. The kids went nuts in the chateaux. Angelique would have stayed there all day exploring all the rooms. She was hard to keep up with. There is a large double staircase that she was amused by.

Then we drove to Blois where we ate lunch at a restaurant along the river. It must have been a good place to eat. Lots of townspeople were there. They did not speak English though. We ate a small lunch. We took the autoroute back to Orleans then cut across to the east to get on the autoroute to Lyon. We got as far as Macon and spent the night in a Novotel (a motel chain in France). We drove 400 miles that day.

The next morning I drove 335 miles in 5 hours to Nice, on the French Riviera. We stayed near the beach on the west side of Nice at a Novotel. After lunch we walked to the beach. It was in the 70's, but not warm enough to swim, though a few people were at the beach to sun bathe or to swim. We rolled up our sleeves after having to wear coats that morning. Our kids had fun playing in the sand and wading in the water. We stayed at the beach about 1½ hours. I am surprised we didn't get sunburned. More than half of the women at the beach were topless. (It is one of those things you have to see to really believe.)

It was May Day and all the shops were closed. It is a holiday in both France and Italy. The largest mall in the Riviera was across the street from our hotel. It is CAP 3000. We were very disappointed it was closed. For supper we went into downtown Nice. All the restaurants served Italian dishes with a few French ones available on the menu.

On Thursday morning we had a terrible time finding the road we wanted to take out of Nice. We thought we were taking a short cut, but it ended up taking hours longer. We cut across the Alps. The road was worse than the Amalfi coast. There were dozens of hairpin curves. We went over two or three mountains. Jeannie did the driving. Angelique's car sick medicine worked for about two hours. We stopped and rested after she threw up. It was very beautiful country, but we had wanted to go faster than 35 MPH average for two hours. There was only one tunnel along the whole road. The tunnel looked more like a cave. It went under a snow covered mountain from France to Italy.

We had wanted to get to Turin, Italy, before noon. It was about 1:30 when we got into town where we wanted to go. It seemed to take forever to find a restaurant.

A doctor at church in Fort Smith had asked me over two years ago to get him some slides of the Shroud of Turin. Do you know what that is? Well everything was closed for siesta when we got there. Even the Cathedral of St. John the Baptist was locked up. That's where the shroud is. We parked across the street. A few of the tobacco shops were open but didn't even have a postcard of the shroud. We were quite disappointed that we had come so far (climbing every mountain) without being able to get anything we came for.

Jeannie encouraged me to wait a little longer since it was siesta time. I really didn't want to go inside the cathedral; I just wanted slides. We let the kids play on the porch of the cathedral for awhile. A lady was taking a class of girls past the place. Jeannie asked her if the church was going to open and she said possibly at 3 PM. So we waited a little longer. (I still was doubtful that I would get what I wanted.) About 2:45 someone came with a key and went in, but told us it would open at 3. Well, it finally opened at 3:10.

We were all quite impressed inside. I saw a shop on the inside, but a women was locking it up just as I got there. When I asked her if it were possible to buy things, she said in about 5 minutes. She had to do something that I didn't understand in Italian. In just a couple minutes she told me someone else was going to open the shop.

A very old woman unlocked the shop. She had more energy than a two-year-old and didn't stop talking (in Italian) for the whole time we were in there. I was in the shop 15 or 20 minutes. She kept rattling on and on to the kids. Steven just kept nodding. She GAVE them several postcards in French. When I asked her about having something in English she started all over again with the kids, changing all the postcards to English. Steven just kept nodding. It was a joy to watch her fussing over our kids after being in France where the kids were mostly ignored. Angelique just looked overwhelmed.

I bought $75 worth of books and slides. She threw in several postcards for free. I bought two of almost everything. Unfortunately, the slides were only in Italian or French. I also got John Sigle a set of the slides.

We then went into the room where the shroud is kept sealed in a box. (A room nearby contains an exact replica on display.) I am convinced this is the actual burial cloth of Jesus mentioned in Matthew 27:59. Have you ever heard of it?

the Shroud of Turin
I do not believe many of the "relics" of the Catholic church are authentic. However, the evidence in support of the Shroud of Turin is astounding. It was well worth the trip and the wait to visit this place.
We then drove to Genoa, the birthplace of Christopher Columbus, on the Italian Riviera. We spent the night in a barely decent hotel about a block from the sea in Nervi, adjacent to and south of Genoa. We ate supper at a place on the water's edge. We got two rooms for $42. We drove about 250 to 300 miles that day.
Jeannie was grossed out at all the cockroaches in the dining room of the hotel at breakfast. It is good that she did not see them before spending the night there.
The kids did not go to sleep well on the trip except when they had their own room. Otherwise, they stayed awake as long as we did, sometimes till 11:00. We were fortunate to get adjoining rooms at such good prices.
Yesterday we drove 450 miles back to Naples. We got to Naples about 4:30.
The kids were better than we expected. They did not go completely crazy strapped in the car for hours at a time. They have finally gotten big enough that bathrooms are not a problem. Flying is a lot easier, but we could never have seen all the things we did if we had flown.
I had a wonderful time on the trip. We were gone 11 days and seldom worried about how much money we were spending. It is indeed a beautiful world (especially outside Naples). We saw four countries, each one unique. I enjoyed Paris almost as much as I did London. The confusion I work in is all worth it to get to experience so much of Europe. The flowers were beautiful everywhere we went.
Well, that ends the trip.
We saw John Sigle on the Tangenziale before we got home. We talked to him long enough to find out that Nola Erman had her baby on Monday morning. She is the girl that we baptized in our bathtub last year. She is one of my patients. I was hoping to get to deliver her.
We got home to find a mess. The Cummings had been gone to Israel the first week that we were gone. Ann came over to check on our house soon after she got back. She found our bedroom flooded. The radiator had developed a leak. (Actually, it is a more complicated story than that.) She and Bob and our landlord cleaned it all up. Half of the things in the bedroom were scattered all over the house. It was a lot of work for them while we were gone, but we were thankful they took care of it. It was also a big job for us to straighten up. Most of it was left until the kids were in bed last night. One of the carpets is ruined beyond hope. Ann said the house smelled like a sewer when she came in. Fortunately, nothing but the rug was seriously damaged. My video camera usually sits on the floor in the bedroom, but we had it with us.
I went to Pinetamare to get the mail shortly after we got home. It was nearly midnight before I got through it all. I still have not got the package you sent for my birthday.
This morning we went to the base. We got the car washed. Steven "helped" the men at the car wash with our car and the one ahead of us. He thought he was such a big boy. Then he and I went to the barber shop. This was his first trip to the barber. He tried to be brave, but chickened out when it was time to get into the chair. He settled down within just a couple of minutes and sat relatively quietly after that. I took Jeannie along so she wouldn't fuss at me for the way it would be cut. I think it looks good. He lost all his curls. Jeannie thinks he is bald.
I took the kids to Baskin Robbins for ice cream while Jeannie bought groceries.
And I have been writing this letter for hours. I hope it doesn't take you very long to read it. I am sure it is boring in places.
The postcard you got about "The Cole Heritage Book" sounds good unless you read it very carefully. It contains exactly what it claims to contain. However, those who don't read it carefully buy a book that they are very disappointed with. The article in the newspaper from the Attorney General was a little too harsh. These books have been published for many years. Every book is the same for every family except for the one chapter that contains lists of names and addresses from phone books all over the country. If they were more honest, it wouldn't be so bad. Basically, it is a worthless book. It also makes it more difficult for those of us who write legitimate genealogical books to sell them.
Grandma sent me a birthday card. She also sent me tapes of some of J.C.'s sermons. Am I supposed to keep them, send them back to Grandma, or send them to J.C.?
I appreciate the newspaper clippings, but you are sending more and more every month. They were more important to me when I couldn't get news over here. Now they take me too long to read. Please keep sending them to me, but not quite so many. Thank you.
Last year I was in Athens on my birthday. This year I was in Paris. I would love to be in Memphis next year. Jeannie and the kids gave me a surprise party a couple of days before we left on our trip. John Sigle was here playing on the computer with me. Jeannie gave me a very nice, black leather brief case with my initials on it that she got when she went on one of her shopping trips to Florence. It was one of the things sitting on the floor of the bedroom while we were gone. It was not ruined but I will always notice the water marks on it, though it will not be apparent to anyone else, I don't think.
You will find enclosed an article I wrote about the proper use of an emergency room. I was very surprised to find it on the front page of the base newspaper. I was "assigned" the article and I thought it was to be submitted by the hospital in general. I was surprised to find my name on it.
Emergency room treatment more costly than clinic exams
by Lt. Cmdr. Michael Cole

printed in the Panorama, 12 Apr 1985

    As the American public is becoming more concerned about health care expense, the U.S. government is getting involved in measures to stop or reduce the continually escalating costs. An area that even the private sector is stressing is the proper use of hospital emergency rooms. Even simple treatment rendered in an emergency room involves a greater expenditure of funds than the same treatment rendered in a clinic exam room.
    Care in the Naval Hospital, Naples, Emergency Room is comparable in quality to that in civilian emergency rooms. The emergency room is equipped for every conceivable life-threatening situation. The staff is dedicated to making the care even better. All emergency treatment records at the Naval Hospital are reviewed within 24 hours by a different physician than the one who rendered the care to assure appropriateness and completeness of treatment. Though already qualified, physicians are participating in continuing education to enhance the quality of care.
    All physicians stand duty in the emergency room on a rotating basis. All are qualified to handle bona fide emergencies involving Americans, such as motor vehicle accidents, heart attacks, seizures, asthma attacks, lacerations, burns, broken bones, and other potentially life-threatening cases. Administering non-emergency care can tie up the emergency staff and interfere with true emergencies.
    People who require only routine care occasionally misuse the emergency room. Non-emergencies are best cared for at the appropriate clinic. Appointments are available at the Naval Hospital (724-3305) for active duty personnel and at the Pinetamare Clinic (0823/858-744) for dependents, civilians, retirees, and active duty. For problems that require relatively prompt attention, patients are best served on week days during walk-in at Pinetamare at 8 a.m. or 5 p.m. Urgent problems for active duty patients are also handled during sick call at the Naval Hospital at 8 a.m. or 1 p.m. The clinics are closed from noon till 4:30 on Thursdays to permit cleaning, training, etc.
    Utilization of the emergency room for anything but emergencies is, in a sense, an abuse of the system. Because of monetary considerations, it borders on government waste.
    When a young mother brings her baby with a high fever to the emergency room, it is an emergency to her. Though this is often just a routine case, the staff will be happy to examine, treat, and reassure the family. Everyone who presents to the emergency room will continue to be seen and treated by a physician. However, those who use the emergency room "simply for their own convenience" may be interfering with someone who needs immediate treatment.
Also, you will find an article that tells how you can get cookies mailed free to your poor, hungry, lonesome son.
I am enclosing two recent pictures that Angelique did while on the trip. She can do better when she is not in a moving car. (It is a "pear" tree.) She is writing her name very well now.
We have a new C.O. at the hospital now. The old one was fired.
I didn't realize the Today Show was filmed in Naples until the following week. I knew they were in Rome.
If you are buying the salt water spray for your nose at the pharmacy, how much does it cost? Save your money and mix it up yourself. Here's the recipe: mix exactly one-fourth teaspoon of table salt in exactly one cup of water. I tell people to throw it out after a week if they mix it up themselves. (Now you can spend the extra money you will save on your trip to see me.)
What kind of cataract surgery is Grandma having? If she is not getting "posterior chamber implants," then she should go to another doctor who knows how to do them. I am very serious about this. Please find out.
You can probably buy plexi-glass at a hardware store.
We saw the U.S. national and worldwide news the day after the accident at Vesuvius. I was surprised it was the third story on the Today Show. This was a week after David and I were there. The weather was the same. The T.V. did not tell the whole truth. Several sailors from a ship were on the top of Mt. Vesuvius about 6 PM Sunday night. One of them was foolish enough to want to climb down into the crater. Did I tell you that it was so foggy when I was up there that I couldn't find the path down to that ledge you went to? Well, it was just as foggy the following week. The sailor was not looking for that ledge. He was stupid enough to think he could actually climb down into the bottom of the crater. You have read that book on Vesuvius and know how impossible that is.
The sailor intentionally dropped his bag over the edge and said he HAD to go down now. All his buddies stayed at the top and yelled at him every once in a while. After 30 minutes they became concerned because they didn't hear him any more. One of them (almost as stupid as the first guy) went down to find him. The second sailor found his buddy, who had apparently fallen. The first sailor died about 45 minutes after being reached. Well, there was still the second guy in the crater who had only a few bumps and bruises, but couldn't get out. It took the rest of the night to get him out. He kept warm near one of the steam vents.
The man who died did so because of his own idiocy, not by any "accident" as stated on T.V. I hope the Navy judges that he died due to his own misconduct and not in the line of duty. It makes a difference to benefits due his survivors.
The Vomero is the section of Naples that is the wealthiest part. There are lots of high class shops there. We took you there to eat lunch.
We got a letter from Diane while we were gone. She still doesn't sound very prepared to come. We will enjoy their coming. I am taking off a few days while they are here.
This letter got so long it wouldn't fit into my computer as one letter. That is a bad sign. I guess I wrote a book instead of a letter.
Anyway, this is the last page. If I didn't say something I wanted to, I reckon it is too late. Come on over and I will finish the story.
Lots of love,
Michael, Jeannie, Angelique, and Steven