Tuesday, 22 May 84
Dear Mom (& Dad),
I am sending this to Wichita. I hope you get it there; otherwise, I hope it is forwarded to Harrison.
I am sitting on the front porch watching the kids play on the swing set. They are practically living on it as much as they can. Angelique just said she didn't want to watch "Sesame Street."
Steven just fell & skinned his chin.
Jeannie & I went to Pompeii Saturday. The weather was very nice. Faye kept the kids. We were gone most of the day. John was in Belgium for a week.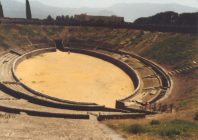 The amphitheater in ancient Pompeii.
Sunday morning I led singing and taught class.
We went to Bagnoli Joe's for lunch.
Jeannie & Angelique went to Nola & Brett's wedding at Carney Park on Sunday afternoon. It was terribly windy, hot, & humid. Steven & I didn't feel well enough to go.
On Friday, Paddington kids went to the zoo. Jeannie & Steven went along with Angelique. Steven kept his pants dry the whole morning.
We had tapes (a videotape, actually) at our house Sunday night. There were 3 men here off one of the aircraft carriers presently in port. The church kids just loved the swing set.
Last night I was the MOOD (Medical Officer of the Day) at the hospital & only got 2 hours sleep. I am tired, even though I slept 2 hrs. this afternoon.
About an hour ago, Angelique & I walked up the 4-laner & watched them shear sheep. I took my video camera, so you will eventually get to see a little of what we saw. Unfortunately, they were on the last sheep when we got there.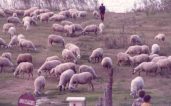 Sheep often grazed behind our house in the vacant lot beside Lago Patria.
Jeannie mailed a 2-hour videotape today. It can be Daddy's birthday present. It is mostly the kids playing. Jeannie also mailed a Father's Day present today. Don't let him open it till Father's Day.
Did I tell you that the Italians have Mother's Day on the same day as we do?
We are going to try to go to London next month. Jeannie is really excited about it.
The physician's assistant at the clinic & his wife came over last night to use our phone. (I wasn't here.) He ended up going home with one of my books, Introducing the Church of Christ. By noon today, it looked like he had read half the book. I hope something comes of this. He is a devout Baptist. He was really studying hard it appeared. He had my office Bible open on his desk.
Look up Athens in your Frommer's. He tells more than I could. The ruins are interesting & older than Rome's. The museum is very interesting but we didn't get to see it. The Plaka area is wonderful for shopping. There is a very good bus service in Athens. The train (subway) is very similar to Naples. It is cheap, but there is only one line (one? direction). Taxis are cheap there, too. (They are expensive in Naples.) There is also a very pretty park a few blocks from downtown.
It is about a two-hour bus trip from Athens to Corinth. The ruins in Italy are better.
We took a taxi from the airport to our hotel. It cost $30, but it was probably 30 miles. If we had been going to downtown Athens, it would have been much cheaper.
We flew Alitalia (the Italian airline) from Rome to Athens. It was a joke. We told about it on the tape.
You have to get outside of Athens to see that Greece is a pretty country. Thirty-40% of all Greeks live in Athens. It is similar to other large European cities.
The only places in Greece, outside of Athens, that I would like to see are Delphi, Mt. Olympus, and some of the Greek Islands.
The Greek food is no more greasy than the Italian food. They use no more olive oil than Italians. Their olive oil has a different flavor, but it is still good. Greek food seemed to be more bland than Italian. They use milder spices. We all 4 liked the food.
There was NOTHING that we tried to hide from the Inspector General at Pinetamare. We wanted him to be aware of our problems, hoping that things can improve around here. We want changes. The Guards in Harrison are content with leaving things like they are. Overseas, it is different. We even made it clear about the kinds of problems we have with the hospital. The hospital was stupid & tried to cover everything up. That can't help change things. The IG found all the major problems, anyway.
If we were at a command in the States and felt that we liked everything just like it was, then of course we would have been less eager to let the IG find any problems.
Thank you so much for finding the book, Traits of a Healthy Family. I look forward to getting it. I will send $14.95 plus 4% (?) tax plus your postage cost after I get it.
The swing set is too pretty to repaint it.
We have stopped having earthquakes at our house. I found one crack today down the wall downstairs near the inside door to the garage.
Tell people we live in Naples. That's what we tell people. Actually, we live in the country. Giugliano is the nearest town.
Please try sending a letter to the following address:
Michael S. Cole
Villa Carolina, Parco Spinelli
Via Circumvallazione 435
Lago Patria - Giugliano
(NA) 80014 Italy
You will have to mail it at the post office. Don't write anything important because we may never get the letter. But try it & see, if you want.
If you are coming to Europe in 1986, I hope it isn't with intentions of seeing us. We will probably be out of our house sometime in February '86. Jeannie & the kids may return to the States permanently in Dec 85 or Jan 86.
I thought you planned on going straight back to the States from here next time. Skip Rome. Why don't you think you can go through Yugoslavia? You can't use a Eurailpass, but Americans do go to Communist countries.
There is NO rush to send cartoons to the kids. I was merely curious. Thanks for thinking of us for "The Last Days of Pompeii." I have heard that there is to be a mini-series on Abraham Lincoln. I hope you or Bill & Diane copy it for us. We haven't gotten "Pompeii" yet. What did you think of it?
What does Andy think about living in a house with this unmarried couple? I know I wouldn't like it.
The Greek Orthodox Church celebrates Easter similarly but usually on a different Sunday than the Roman Catholic Church. I do not know why. While we were in Athens, I never found the right person to ask, who could give me a reason.
Ask Susan (travel agent) if she knows anything about charter flights designed for families of military personnel. Especially, check about flying from St. Louis to Frankfort. I believe one of the companies that does that is called ACE. You could take a train from Frankfort through Switzerland to Venice, then on to Athens. Then ride the ferry & train to Naples. Fly back from here (different airline). (Look into it.)
I'm sure? the new doctor at Pinetamare, possibly coming in October, will outrank me. I suppose that right now I am the "head doctor" at Pinetamare, since I am the only doctor there.
What caused the gas tank in your pickup to leak? I've never heard of one leaking into the floorboard. Is the tank higher than the floorboard?
When you don't know anything or very little about mythology, the best book by far is Bulfinche's Mythology - The Age of Fables. You should be able to find it in paper back in a large bookstore.
Tell me something about the lots west of Forney's. How big are they? How expensive are they? What rules do they have on the property? Would it be a good investment?
Did you all have fun at Dogpatch? Is there anything new this year?
I did not know that the new Star Trek movie was out. If you find an article about it, please send it to us.
I do not know Mike Bishop. I hope their theater works out. Indeed, they will be in competition with Branson.
Tell Grandma, Cat, Jack, Joan, & Bill that we said, "Hi!" Tell them they are welcome to come see us. Doesn't Jack have Italian ancestry?
I need to get to bed before I pass out. It's only 9:15, but I need sleep.
We love you,
Michael, Jeannie,
Angelique, & Steven