Tues Afternoon
28 Feb 1984
Dear Diane,
What a lovely surprise I got yesterday! Michael brought home a package with a tape, several dresses, a boy's jumper, soap and a Clinique special. THANK YOU! Please let me know when our fund is running low again. I like the jumper. It should fit next Christmas. I hope we'll have a mild Christmas next year so his legs won't freeze. It was fairly mild this year, but soon thereafter it really turned cold.
Fri Afternoon, 2 Mar
Well, obviously I got interrupted from my letter writing Tuesday and have been running ever since. Again let me thank you for the package. We really like the dresses. Were they Laura's? I don't remember them and I thought I had all her dresses already. They will be nice for this Spring. It's beginning to warm up some (not enough) but it keeps raining. Everyone is sick of rain. We've had one day of total sunshine this week. Tuesday it rained mud. (Actually the Sahara Desert blows this way and the rain falls down through it. Everyone's cars and patios are disaster areas now. I tried sweeping our terrace, but it still looks awful.) The Clinique was a real morale booster. Thanks. Of course the kids loved the soap on a boat.
Tuesday I was interrupted by a telephone call from Michael just a couple of minutes before I was going to put the kids down for a nap. He had driven 40 minutes to downtown Naples to get opera tickets for Wednesday night. Well, he locked his keys in his car and needed me to bring him another set of keys. Fine. The kids and I jumped in our car and drove 40 minutes through the worst traffic in all the world (literally) to take Michael more keys. Michael was so beside himself for doing such a dumb thing. Of course, he normally only does one dumb thing a year (and here it was only the last of February). Anyway, he had gone into the Galleria Umberto, the closest thing to a mall around here, and bought me a wind up musical alarm clock so as to soothe my temper for having to rescue him. By the way, I was not upset at all. I thought it was rather comical. So I told him any time he wants to lock his keys in his car again, I'll come rescue him ... especially for presents.
I had some appointments and shopping to do on base Tuesday afternoon so Michael took the kids home in his car while I drove to AFSouth, the NATO base. The traffic was awful. I'd stop, wait awhile, then go. Stop, wait awhile, then go, etc. Finally, I got to AFSouth (Allied Forces Southern Command). I pulled up behind a car at the main gate, waited awhile, then went when he went. All of a sudden I heard this whistling and shouting, "Senora, Senora!" I slammed on my brakes and realized what I had done. I'd forgotten to stop and show my I.D. to the guard at the gate! Now in most places this would be no major ordeal. But at AFSouth the security is very tight. They even have another guard in a booth with a loaded rifle at the gate to shoot anyone trying to enter the base without authorization. I mean, he stands there ready to shoot the tires of any vehicle or person as needed. I know that rifle was aimed at my tires by this point, 'cause I was well past the gate before I stopped. The guard ran up to my car, checked my I.D. and then waved me on. I was so embarrassed. I really thought he would search my car and me, but fortunately he didn't. The Italian military are notorious for shooting first and asking questions later.
Anyway , I got all my errands done, came home, cooked, ate, cleaned, bathed kids and got ready for Wednesday.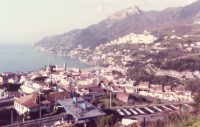 Wednesday was fun, but very tiring. I left the kids at Paddington school and went with the hospital wives group to Vietri, a town on the Amalfi coast, an hour away from here, famous for its pottery and ceramics. I love this town. It's close to Sorrento - another favorite town. I ended up buying a bowl, pitcher & plate of one pattern that I may go back and buy a complete set of. It's a blue floral on a gray background. The owner of the store gave me a mug to match this set. It's the only one he had, but said he'd make up some more for me. He was a very nice man. He makes and paints these things himself. I also bought a couple of decorative plates for hanging from him.
I picked the kids up and a babysitter about 2:45, came home, threw the kids down for their naps and got ready to go to the opera. We needed to leave a little after 4:00. I didn't want to wake the kids up to go get a babysitter so I just brought her home with me. She's about 21 years old, works at Paddington and is a friend of the family so she didn't mind coming for an extra hour to help me out. Her 13-year-old sister babysits for us sometimes, too.
I wore my new Maria Knit dress to the opera. I really felt out of place because I wasn't wearing a fur. This was the last night for "Don Carlo" by Verdi. The last nights are suppose to be casual dress. Or at least we were told that. Michael wore a 3-piece suit and certainly was not overdressed. We thought we might be overdressed, but apparently not. I guess I'd better stay away from opening nights. Anyway, we had lousy seats. There were only 12 seats to choose from when Michael got the tickets. Our seats were on the side of the 4th floor in a tiny box for 4 people. We had to break our necks to see more than just the left third of the stage. We had read a 3-paragraph synopsis of the story of "Don Carlo," but still wasn't sure what was going on most of the time. The opera started at 6:00 and wasn't over until 10:15! I don't know if I'll ever get Michael back to another one or not. I kept telling him with better seats and a more familiar opera, he'd enjoy it. We did enjoy watching the orchestra which we had a good view of. And the people were interesting, too.
After the opera we went to a nearby restaurant recommended by a friend and had a hot bowl of pasta for supper. Italians think Americans are weird for only ordering a one-course meal. A bowl of pasta just creates their appetite and then they eat & eat & eat. I usually get only one or two or, at the most, three courses. Italians sometimes have six or seven. It was twelve midnight before we got home and collapsed in bed. Very tired.
I spent all day Thursday cleaning house that hadn't been touched since Sunday. That wears me out, too. Then I fixed a big supper which is not a good thing to do after a tiring week. I probably should be taking a nap right now, but I'm so far behind on my letter writing. Would you believe I got a letter from Lanney this week! He and Cheryl both actually wrote. I also got a semi-annual letter from Denise Mason Haigwood. Getting a letter from both of them during one week is more than my system can take. Maybe that's why I've been just a "bag of nerves" since last night. Why do I always end up writing you when I get all jittery? Maybe this is my therapy. I wouldn't dare write Mother when I'm in one of these moods. Speaking of Mother - I can't write her without an address. Maybe I'll get a letter from her soon. I imagine the old married students' apartments will work out for them well. I hope so anyway. Where did they store all their other furniture? Do you have a phone number for them?
Tomorrow, Michael & I are going on an archeology tour of Oplontis, a huge villa that was buried by Mt. Vesuvius in 79 AD. It is supposed to be very well preserved, but not open to the public. Hopefully, that won't take more than a couple of hours.
"The Fox & the Hound" is suppose to be showing at the base tomorrow afternoon and I'd like to take the kids. Other than that, things should be slow this weekend since Michael is on call all weekend. I'm ready for a good rest. However, just as in the States, things have a way of popping up around here to ruin a good restful weekend. Maybe we'll be lucky this time.

I'll be mailing you a package Tuesday, so be looking for one in two or three weeks. Hopefully it will get there in one piece.

I'm including a Panorama, our weekly American paper. The center story is on the Pinetamare Clinic where Michael is working. Also, on page 2 in the Forum section, the lady writing about the clinic is Michael's patient. You might enjoy browsing through the rest of the paper, too, to give you an idea of what goes on around here.

Love,

Jeannie