Monday, 23 Jan 1984
Dear Mom & Dad,
It seems like we haven't gotten a letter from you in a couple weeks.
I am only going to be able to get off 24-29 March. I waited too long to get the days I wanted. But, I kept asking & asking exactly when you would be here & you told us as soon as you knew, but it was too late for me to get leave. Someone else is going to be gone the next-to-last week in March.
I can take off the afternoon of 20 or 21 March (Tues. or Wed.) and drive to Rome and pick you up. Let me know as soon as possible.
Jeannie will show you around the first couple of days after you get here. I will work out a schedule of what to take you to after I find out exactly what days you will be here. We haven't been to Capri, but will go when you get here.
Last Tuesday night we went to the circus in Naples. It lasted 2 1/2 hours (from 4:30-7:00). It is called Nando Orfei and is the largest circus in Italy. The inside of the circus tent was only a little bigger than the one at Circus World in Florida. There is only one ring. We could understand very little that the ringmaster said, but it was still good.
Angelique got to touch the hand of a chimpanzee. She thought that was neat. It was dressed like a little boy. It even had on tennis shoes.
The circus had lots and lots of acts. There were clowns, elephants, acrobats. There was a show with doves. A strong man named "Samson" drove a spike through a board the size of a railroad tie using his hand, then pulled it out with his teeth. (It was NOT a trick.) There was a show with 9 tigers. It took a while to put the cage together & take it down.
The kids got bored at times, but overall had a good time. Angelique says she liked the acrobats & clowns best.
I was in classes Monday through Thursday last week. It was hard to concentrate & sit still so long. I'm out of practice. Anyway, I passed the test at the end. I had to study a lot at home, too.
It was nice to go back to work on Friday & see patients again.
Saturday morning we got up at 5:30 AM & drove to Rome (leaving here about 7 AM). We went to the Vatican. It took forever to find it. We just kept getting lost in Rome. I thought for sure there would be signs telling us how to get there. We were very tired by the time we got there.
We looked through the museums at the Vatican from 11 to 12, then ate lunch at the cafeteria there. The food was cheap, but not very good.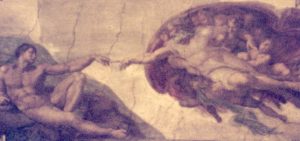 The Sistine Chapel is in the middle of the walk through the museums. It wasn't as great as Jeannie thought it was going to be. (I was still impressed.)
There were several things that we wanted to see in the museums that we didn't have time to find. I bought a guide book to the museums & we will go back some day & spend more time there.
We rode a bus from the museum to St. Peter's. The kids were going crazy because they were getting to ride a bus. Jeannie & I liked getting to ride through the Vatican gardens (which aren't open to the public).
You have to go to the Vatican museums in the morning. I suggest you ride this bus to St. Peter's. (It beats walking.) A door for this bus is located on the same level and near the ticket office to the museums.
St. Peter's is worth seeing once. I was more impressed 4 years ago. They claim that Peter's tomb is underneath the Basilica. I was disappointed that we couldn't go see it. Our 2 tour guide books said that we could.
Then we had to walk about a mile back to the car. I carried Steven on my back all day & Angelique rode in the stroller. My shoulders have never hurt so bad.
We had as much trouble trying to get out of Rome as we did going in. It was very confusing to even figure out which way we were heading.
Jeannie started taking Italian lessons last week from 11:30 AM to 1:30 PM Mon. through Fri. for a month. She had just studied how to ask for and understand directions. It came in handy for getting us out of Rome. We were very tired Saturday night.
I spent yesterday afternoon figuring out how to make a tape of the Super Bowl using video off Italian TV and audio off the American radio station. Well, I taped the audio, but the Super Bowl wasn't shown live. It is being shown tonight on Italian TV, 24 hours late. Since it doesn't come on till 10:30 tonight, I doubt we will stay up to watch it.
I'm on call tonight & I know there is a girl in labor. They always deliver in the middle of the night around here it seems.
The radio news just said the roads are slick in North Arkansas. We have heard that is has been very cold again.
Thursday, 26 Jan 84
I waited till tonight to finish this letter, thinking I might get a letter from you by now. One will probably come tomorrow after I mail this.
Monday night I had to go to the hospital at 2 AM & sleep there the rest of the night. The patient still hadn't delivered when I left at 7:30.
Jeannie got her braces off Tuesday afternoon. She sure looks different. Next Tuesday, she starts wearing a retainer. We aren't sure what that will look like or how long she will have to wear it. She is happy to have the braces off.
This week we have had the Cummings boys every afternoon from 3-5 PM. Then for supper we have the boys, ages 14 and 11, who live across the street. Their parents are gone on a ski trip. The boys are all well behaved. The teenager is driving us both crazy. He thinks he is a lot more intelligent than he really is.
Tomorrow I have to stay at the hospital all night.
I have to preach Sunday, so I need to study.
We look forward to your coming.
Love,
Michael, Jeannie,
Angelique, & Steven