Sunday 11 Dec 1983
Dear Mom & Dad,
I am working at the hospital today. So far it has been very busy. I hope I get a chance to write as much as I want.
Not much has happened since I wrote a week ago. I am enjoying Pinetamare. We have fewer problems there as compared with the hospital. I have been quite busy there seeing lots of patients. That is why I wanted to work there.
Friday morning it was about 33°F. That is the lowest it has gotten yet. We are getting quite adjusted to it being in the mid-50's in the house all the time.
It has really been nice having a phone since it has gotten cold. Right now it is raining outside and has been since late yesterday afternoon. It was nice to call the hospital last night without getting cold and wet.
Jeannie hasn't been feeling well for the past 2 days. She probably has the flu. She was going to go to a museum yesterday with the archeology group but didn't feel like it. I was on call and didn't plan to go anyway. I was going to watch the kids unless I got paged.
Angelique's school went on a field trip Friday to the same museum. She was really excited about it, both before and after. She thought the bus was the best part, I think. She told us about a lot of things she saw, too.
Angelique hasn't been feeling very well for the past couple of days. She got up Thursday night vomiting & had diarrhea yesterday morning. All the rest of the time she has just felt real tired. She ate almost nothing Friday. Jeannie almost didn't let her go to school Friday, but she seemed to be doing ok that morning and she wanted so bad to go to the museum.
The museum is the San Martino. It is on the highest hill in Naples. The view is really something from there. It is almost in the very center of the city.
Jeannie & the kids didn't go to church this morning. Jeannie said she still didn't feel well. I hate to have to leave her over 24 hrs. when she is sick. But, now we have a phone at least so she can call if she really needs something.
I'll bet you are working hard here at Christmas time.
Don't lose the telephone number for the hospital, but actually you need the number for the front desk only. The 3396 was only for Family Practice. The desk can page me on my beeper and if you call the hospital this is the number you need: 011-39-81-724-3300 or 724-3301. To call Pinetamare clinic, I think you call 011-39-823-858-744 or 858-020. The phone number at our house is 011-39-81-867-7747. Our missionary here is Ron Winfree. His phone number is 011-39-81-876-1708. However, he lives at least 10 miles from us. Someone answers the phone at the hospital 24 hrs. a day at 3300 or 3301. The phone at Pinetamare is answered only between 7:30 AM & 4:30 PM, Mon. - Fri. Be sure and write all those phone numbers down.
Take care of your back so that it is well in March. I will tell you then what I tell my patients with back problems.
A couple of weeks ago, I had a chest Xray to be sure my pneumonia had cleared completely. Well, the original site was clear, but there was another patch (in another area). So I have been on medicine again. Since I haven't felt sick, I didn't stop working. I didn't want to tell you that I had pneumonia again because you would just worry. I have now finished the medicine and will get another Xray in a couple of weeks. If I could be sure what was causing this, I would stop it. A lot of people come over here and develop respiratory problems. I would prefer not to have this for 3 years. I think it is related to the air pollution in Naples. Now that I am working most of the time at Pinetamare, I hope my lungs will get a chance to clear up.
I think I told you that we got the package from Becky a week ago Friday. A few days ago we got a package from Diane and one from Kem.
Pinetamare is about 5 miles north of our house. See the map that I sent right after we got here. (Pinetamare is also where the elementary school is.) The clinic presently has only one physician (me), one physician's assistant, and one pediatric nurse practitioner. Last Monday (my first day), the 3 of us together saw 70 patients. It is a Navy clinic. American civilians can be treated at a Navy medical facility only if they work for the U.S. government. Even then, civilians pay $45 per visit, which includes prescriptions. Hopefully, we will have another physician out there in a month or two. By next summer, there will be 2, 3, or 4 doctors there. I have no guarantee that I will stay at the clinic the remainder of my tour here (2½ yrs.). The attitude of the command and the medical staff right now is to remove Family Practice from the hospital and have it all at Pinetamare. There are some disadvantages to that. But right now it seems that the advantages outweigh them. As long as they let me continue to deliver babies here, I don't really care what they do. The community around Pinetamare seems very pleased and excited that I am out there. Most (probably 80-90%) of the Americans live north of Lago Patria. Most of the patients I see are wives and children.
It has been nice not to have to go through Squeeze Alley twice a day any more. I have been getting home an hour earlier than I used to.
It took us about 3 hours to drive to downtown Rome.
You need to look at the carousel projectors for your 35mm slides. That's what I would get. That adaptor for your projector does not work well. At least look at the newer kind.
The museums and art galleries are closed in Italy on Mondays (usually). The hours are generally from 9 AM to 1 or 2 pm on other days, with occasionally a different opening & closing time for one day per week. I do not know if the other European countries have similar hours. Try to find out so you can better plan your days. The afternoons are a good time to shop at the markets. All the shops (that is, those in permanent buildings) close every day for siesta from 1 or 2 to 3, 4, or 5 pm and then stay open till about 8 pm. Lunch and supper are eater later in Europe than in the States.
Spend one to two hours at one or two museums in every city you visit. There are some paintings that are very famous (that even Daddy will recognize) and you will want to be sure to see some of them. Every museum has something that will interest both of you. Plan on seeing a few archeology museums. Be sure to see the British Museum in London which has items collected from all over the British Empire. Especially famous there are the artifacts from Egypt.
By the way, it is not much warmer in the hospital or at the Pinetamare clinic than it is at our house. Everyone just bundles up around here. The only places I really get warm are in my car and under the electric blanket.
I don't know if I mentioned that you could take the buses in Europe. They are cheap. You have to get your ticket before you get on (at least in Italy). If the bus driver speaks English, he will help you get off at the right place if you tell him where you are going. I just remembered the other day that that was the way Dan and I got to the hotels from the airports in Athens & Rome.
There is nothing to see in Pisa except the Leaning Tower. It is easy to take a tour bus from Florence to Pisa which leaves in the morning and returns in the evening of the same day. Some of these tours are with English guides. There are several going to Pisa from Florence every day. There are a lot of hotels near the train station in Florence and everything to see is within walking distance. If you go to Rome, you definitely should see the Colosseum (but if you don't, we will show you one very similar in Pozzuoli, near here), the Roman Forum, & the Vatican (St. Peter's and the museum). You won't have time to see much else. Rome is a big place and you need to stay someplace downtown close to the subway or buses that can get you to all these places.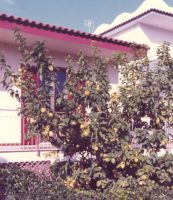 I asked Angelique the same question, "How do our lemons taste?" She said, "Sour." I guess that settles it.
I hope J.C. gets the Christmas card we went him to his old address.
Who were Viola's parents and grandparents?
Did you ever get to visit with David Campbell?
Is Debbie Stevenson back and did you get to talk with her?
It is not legal in Arkansas for anyone but the doctor to sign his own prescriptions. I have worked a lot of places where the nurse would fill out everything on the prescription, then the doctor would sign it. The physician is ultimately responsible. Nurses can be sued, but rarely are. Lawyers go where the money is.
On Sat., 24 December, we should be home all day. I am not on call that weekend. We are 7 hours ahead of you. (Kids might be taking a nap at that time.) The best time to call will be between 10 AM and 1 PM Arkansas time. I hope the phones are working. If we get cut off (which happens frequently here), call right back. I hope you can open presents before you call.
Thanks for the flag stickers. I will show you what I needed it for when you get here. I have a neat little plaque that I wanted to hang in my office, but it has a spot on it that is messed up. The flag will cover it & goes well with the subject.
I hope you get this by Christmas. The mail may be slow this month.
We have been making lots of videotapes. It keeps me busy while I am at home. I hope we can afford all the money we are spending on it. However, it sure is nice to watch what we want, when we want it. We are presently renting masters at $5.00 a piece and making copies. (It is illegal to do this, but everyone does it.) Counting the blank tape, it is costing us $7 to $10 per movie to do it. As you know, that is cheap. It isn't quite as good quality as the original, but most movies don't really matter to us that much. There are a few originals that we want to own, but we can get them a few at a time.
We will have to send Diane a list of our movies so she won't record the same ones. We will only be able to do this for about 4 more weeks. (That is when the Cummings are coming back.)
It has been pretty busy here today except for about 2 hours after lunch. It is probably going to be a busy night since I have 2 girls in labor.
The kids are getting excited about Xmas.
We look forward to talking with you. If Daddy can wait till the 24th to call, I will be surprised.
We love you.
Merry Christmas,
Michael, Jeannie, Angelique,
& Steven