Friday, 10 June 1983
Dear Mom & Dad,
I hope this gets to you before Father's Day. If not, please remember I thought of you anyway.
This has been a very busy week. We are all very tired.
Monday, I got the refrigerator and transformer hooked up. It works fine. The compressor is only 3 yrs. old and is 220V. The rest of the refrigerator is 110V.
Tuesday afternoon, George Maynard & I worked on both cars to have them in top working order: one to sell, one to do well for Jeannie. Tuesday night, Jeannie drove to Pinetamare (5 miles north of here) by herself to do laundry. She had no problems driving the standard car. (We are leaving the automatic parked at the hospital with a "For Sale" sign on it.)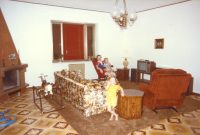 Wednesday, I got the day off. Our household goods shipment was delivered from 9 am to 2:30 pm. About 8:00 a.m. I took the kids to Faye's house. She kept them till after supper and brought them back. They acted like they had a good time. It gave us time to get the majority of unpacking done. We were really worn out by the time we went to bed that night. It was really nice to sleep in our bed again. It really was like Christmas opening all those boxes. The kids didn't want to go to bed that night because they were so excited about all the toys. They acted like it was Christmas. Most of the toys were not unpacked till they got back.
My Rabbit got here yesterday. I've got 45 days before I have to get it out through customs. Surely I can sell the car by then. (I cannot have but 2 cars.)
Last evening, Jim Elkins, from church, helped me get the rest of our wardrobes, and a cabinet that we put in the upstairs bathroom. Also last night, I converted the lamps to 220V.
Tonight, I got the barbeque grill hooked up. It took a little ingenuity to figure out how to do it. The temperature is hotter with a bombola, it seems. It is probably the gas regulator that is different.
We have got most of the boxes unpacked. I think we will soon find space for everything. I will eventually find time to build some shelves, then we will have room to buy more stuff.
Our express shipment weighed between 600 - 700 pounds. Our household goods weighed ~5700 pounds. (We left 1200 pounds in storage in Fort Smith.) Since our weight limit is 11,000 pounds, we will probably ship a lot extra back in 3 yrs. as compared with what we shipped over here.
I am very pleased with the condition that everything came over in. There was nothing major broken. The furniture is in good shape except for some minor scratches & holes in Angelique's furniture. My aluminum ladder is worthless now because the legs got all bent up and even torn. The Navy will pay for damages.
Anyway, since it is after midnight now, I had better get to bed.
Happy Father's Day!
Lots of love,
Michael, Jeannie, Angelique, & Steven