After the seven of us were cleared for entry, we were a bit alarmed that our Israeli guide, Yatzuck Azuz, was not there to meet us. It was doubly confusing since none of us could get a cell phone connection to call for assistance. We were so relieved that he and our driver arrived about 5 minutes later, thinking they were getting there 45 minutes before us. Obviously, there were communication problems that caused this situation. But all was well after they arrived. We loaded our luggage and bodies onto a small bus that was about three times larger than we required. The extra room was appreciated.

Our first stop was at Lido Junction at a long-abandoned dance hall that was once at the edge of the Dead Sea. The water is now a great distance away due to the shrinking size of this inland, salty body of water. The shoreline is the lowest point of dry ground on Earth, at nearly 1300 feet below sea level.
Our next stop was for lunch, just outside the ancient ruins at Qumran National Park. We then followed our guide to see the archeological site where a Jewish sect, the Essenes, had lived until the Romans destroyed Jerusalem. In the distance we could see the caves where the famous Dead Sea Scrolls were accidentally discovered by Bedouin shepherds in 1947.
We were next taken to Masada where Herod the Great built an elaborate villa and fortress for his own protection, but probably never used. We took a 3-minute ride in the cable car to the top of the mountain to see the ancient remains. Masada is most famous for being the last holdout of Jewish rebels during the period of Roman annihilation of the Palestinian Jews. The Jews at Masada (men, women, and children) were under seige for over 2 years before the Roman army succeeded in reaching and breaking through a gate in 73 A.D. after building (probably with elsewhere captured and enslaved Jews) a massive rock ramp on the east side of the mountain. The rebels then chose to be killed (after killing their own wife and children) by fellow Jews (with only the last man dying by suicide) rather than be killed by Romans or captured to be carried away as Roman slaves.
We caught the last cable car back to the base of the mountain at 4:00. We then were taken to the Leonardo Hotel on the Dead Sea for supper and overnight stay.
On Tuesday, 22 March, after breakfast at the hotel, we left by 8 o'clock on Highway 90, the longest road in Israel. Our bus driver, Abdullah, was a Moslem. Yatzuck, our Israeli guide, was a disciple of Christ. (He made it clear that he is not a "Jewish Christian," but a "Messianic Jew.") He worked for Sar-El Tours, subcontracted by Aristotle Travel. He talked almost constantly with incredible enthusiasm about the biblical, religious, and secular history of his country. He was so animated that it was sometimes exhausting for us to keep up with him, whether we were listening while walking or sitting. His positive mood generally kept us excitedly delighted to be in the Holy Land. Unlike most tour guides, Yatzuck rarely boringly narrated details but rather used his gift of entertaining to hold our attention. He had friends almost everywhere we went in Israel and he easily made new friends. We all felt truly blessed to have him as our guide. Our bus driver was very nice to us as well. His calmness was a refreshing contrast to Yatzuck's hyperactivity.
Our first stop was at En Gedi Nature Reserve on the eastern edge of the Judean Desert and near the shore of the Dead Sea. We walked the short distance along Wadi David to the first waterfall, passing many desert ibex (deer) and rock hyrax or "conies" (somewhat like a groundhog). It was in a cave, similar to what we passed, where David spared the life of King Saul in this area. (See I Samuel 23:27 - 24:1ff.) This beautiful place is also mentioned in Song of Solomon 1:14, "My beloved is to me a cluster of henna blooms in the vineyards of En Gedi."

Next stop was at the Greek Orthodox church of San Gerasimos. (It seems we only visited here because our guide's father was born in Greece.) Gerasimos was an early Christian whose story includes making friends for life with a lion after pulling a thorn from his paw. Apparently Gerasimos lived where the church was built. Tradition also holds that Joseph and Mary camped on this spot while fleeing to Egypt with baby Jesus.

After passing Jericho we visited a War Memorial in the Jordan Valley where our guide pointed out the name of his friend who died fighting alongside him in 1972.
In the Jordan Valley we explored the ancient Roman ruins at Bet Shean, one of the cities of the Decapolis. (See Mark 5:20.) Bet(h) Shean is mentioned 5 times in the Old Testament. With beautiful weather we snapped some awesome pictures. We ate lunch before we left the archeological site. Just as we finished, the temperature quickly dropped and a light rain began.
We rode to nearby Gan Hashelosha where we visited a beautiful park and its warm water stream. (It is of no biblical significance.)
At Bet Alpha we saw the incredibly well-preserved remains of a huge and fanciful mosaic floor of a sixth century synagogue that was lost till 1928.
We made a quick trip to Ein Harod where Gideon found 300 men (out of 32,000) worthy to fight against the Midianites. (See Judges 7.)
Our driver took us to the top of Mount Gilboa, where we could see a great distance in every direction. Though it wasn't raining, it was chilly and windy. I Samuel 31 tells us that King Saul was mortally wounded and his sons, including Jonathan, were killed on Mount Gilboa by the Philistines, who hung their bodies from the city wall of Beth Sh(e)an, mentioned above
After arrival at Tiberius, we settled into the Golan Hotel, excited that we would stay in the same rooms for three nights. From our room we had a great view of the Sea of Gailee. Supper was served in the hotel at 7:00.

view of Sea of Galilee from our hotel balcony at sunup
On Wednesday, 23 March, we were on our way by 7:30. As our guide did on the previous day, he sang a Psalm to us in Hebrew then had Michael read it in English, followed by Yatzuck leading us in prayer. The first morning was Psalm 100; the second day was Psalm 123.

We were the first tourists of the day at the archeological site of ancient Capernaum, on the northern shore of the Sea of Galilee. We visited the fourth century synagogue which was built over the first century synagogue in which the events occurred that are recorded in Mark 1:21-29. And we saw what many claim are the remains of the house of the Apostle Peter. (See Mark 1:29-34; 2:1-4.)
Next our group climbed aboard a boat for a short cruise on the Sea of Galilee. Immediately upon casting off (about 9:15), the "Star Spangled Banner" was played as a crew member raised an American flag. At the trip's half-way point, fishing with a net was demonstrated. The boat ride was clearly a thing for tourists, but, nevertheless, was a lot of fun. It was quite inspirational, too, considering the stories in the life of Jesus that involved this inland sea. We were delighted that we did not have to share the ride with tourists not in our group. Though it was a little hazy and a bit chilly on the lake, we took some great photos under partly cloudy skies.
After some shopping for souvenirs (where all prices were marked in U.S. dollars, as we later found to be common wherever there were tourists), our bus driver took us to the top of a hill overlooking the Sea of Galilee where many claim Jesus taught His disciples what we read in Matthew 5, 6, and 7, known by all as the "Sermon on the Mount." There were many busloads of tourists visiting the modern Church of the Beatitudes.
We next visited the supposed site of John 21, where Jesus met the Apostles on the shore after their unsuccessful night of fishing. This event was after the Resurrection, when Jesus asked Peter three times if he loved Him. A Franciscan chapel is built here.

We ate fish for lunch, which the restaurant wanted us to believe came from the Sea of Galilee (from which it has been illegal to fish for the past couple of years to allow the low fish population to increase).

Our next stop was Nazareth. Here we visited the Basilica of the Annunciation, built in 1969 over the remains of the site where the angel Gabriel is said to have appeared to the virgin Mary. (See Luke 1:26ff.) This basilica is the largest church building in the Middle East.

It began to rain while we were inside, so we hurriedly walked to the nearby ancient synagogue. It was built over the original synagogue where Jesus read a prophecy about Himself from the scroll of Isaiah. (See Luke 4:16-28.)

We then visited a high place in Nazareth, where some believe the angry crowd (mentioned in Luke 4:28-30) tried to throw Jesus over a cliff. It was now mostly sunny, a little chilly and very windy. From here we could see Mount Tabor and Mount Carmel and the Jezreel Valley.

Next we visited a couple of sites in Cana that are thought to be connected to the marriage where Jesus turned water into wine. (See John 2:1-11.)

We returned to our hotel in Tiberius before 6 p.m.



On Thursday, 24 March 2011, our group headed north on Highway 90 at 8 a.m. Michael read aloud Psalm 121, "I will lift up my eyes to the hills ..." after Yatzuck first read the chapter in Hebrew. After we heard it in English he sang the passage in Hebrew.
Our first stop, an hour later, was at Dubrovin Farmstead, which was established in 1884. There we had fun manually activating an antillia well, which has a series of buckets on a belt that bring up water and pour it out as each bucket turns upside down at the top. Michael found that the mechanism got progressively harder to turn as more buckets filled with water.
Nearby we visited the swamp preserve in the Hula Valley. We all greatly enjoyed the 3-D film about the 500,000 birds that stop here during annual migration. Not only did we wear 3-D glasses, but the seats moved, water splashed on us, and other special effects entertained us as we watched and literally felt the presentation. The film was over too quickly and we headed out into the swamp. We chose to cut our hike short when it started to rain.
Our bus passed Mount Hermon (mentioned 15 times in the Old Testament). It is the northernmost point of the Golan Heights, near the Lebanon border. With a break in the rain we stopped at Tel Dan Nature Reserve. Here most of us hiked up a muddy trail along the rapid-flowing Dan River to its source, the largest karstic spring in the Middle East. Most of the spring's water comes from snow and rain on Mount Hermon. The Dan River is the most important source of water for the Jordan River (north of the Sea of Galilee). We were fortunate to spot a fire salamander, the first salamander that Michael and Jeannie have seen in the wild. As our bus drove away from the nature reserve, we passed the remains of one of the city gates of ancient Dan. (Dan was one of two places where King Jeroboam set up an idol as a substitute site for worship for the northern tribes. See I Kings 12:29.)
Being time for lunch, we ate near the ruins of ancient Pania, long known as Banias. We had the best falafel and grilled chicken. Except for tasting better, lunch was nearly identical to the day before but was US$10 less expensive per person. The restaurant was built adjacent to the river and even had some of the water running through the restaurant.
With another break in the rain we explored the ruins which included a temple to the god Pan. Here we saw the huge and beautiful Hermon River Springs, another major source of water for the Jordan River. This was also the location of Caesarea Philippi where Peter's great confession was made. (See Matthew 16:13ff.)
We passed through a couple of Druze villages before arriving at Sa'ar Falls, where we stopped to take pictures of this impressive waterfall and pretty wildflowers and to taste the delicious apples. On a distant mountaintop we could see the Fortress of Nimrod, a castle built by Muslim rulers to defend against a possible Crusaders attack, which never happened in this remote edge of the Holy Land.
Leaving this site, our bus climbed into the clouds. We stopped at the top of Mt. Bental, an extinct volcano. It was too foggy to see anything beyond a hundred yards. There are some interesting foxholes here that were once used (and apparently could be used again) to defend Israel from attack from Syria.
The ride back to our hotel in Tiberius was uninteresting in the rain and fog. We arrived about 4:45. Supper was from 7 to 8 with our fellow travelers. Yatzuck, our guide, joined our table for conservation and dinner in the hotel. Then everyone packed, as it was our final night at the Sea of Galilee.
On Friday, 25 March, we ate breakfast in the hotel, left our suitcases outside our hotel room doors at 7:30, and paid the front desk for incidentals as we checked out. After getting everyone's luggage loaded, we were on our way for another exciting day of sight-seeing and spiritual reflection. In the bus we read Psalm 131.
Our first stop was at the Jordan baptismal site that is near the outlet of the Sea of Galilee. This place probably has no New Testament connection, but is very popular with tourists who want to be baptized in the waters of the Jordan River. Jesus was baptized far to the south, near the Dead Sea (most likely).
We drove between Mount Tabor and Nain (where Jesus raised a widow's son from the dead). (See Luke 7:11.)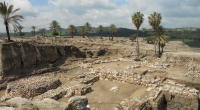 Next we visited Tel Megiddo, one of the most important archeological sites in the Middle East. Megiddo, mentioned 12 times in the Bible, overlooks and controlled the Jezreel Valley. It was strategically located on the principal trade route between Egypt and Mesopotamia. It was one of the most fought-over cities in the region, being destroyed 25 times. Some think there is a connection to Armageddon, mentioned in Revelation 16:16. We exited the ancient city ruins by walking through the secret tunnel used to access water when the city was under siege.
On Mount Carmel we visited the site where it is believed that the prophet Elijah proved that Jehovah was superior to Baal. Michael read I Kings 18:19-46 to the group. It is one of his favorite Old Testament stories.
After stopping for lunch, we arrived about 2 o'clock at Caesarea [Maritima] which is mentioned several times in Acts, most notably as the port used by Paul and as the home of Cornelius, the first Gentile convert. While exploring the Roman ruins at the Mediterranean beach, we were pleasantly surprised at the ancient theater when our guide changed clothes and acted as Pontius Pilate telling his connections to this place. The archeological site closed early at 3:00 sharp due to the Sabbath about to begin. Next we drove by the remains left by the Crusaders and stopped briefly at the ancient aqueducts.

Then we headed toward Jerusalem. At 4:00 we dropped off our guide close to his home so he could be with his mother on her birthday. We arrived at Hotel Neve Ilan, near Jerusalem, at 5 o'clock. (The hotel was not far from the site where David slew Goliath, but we did not go there.) Our four rooms were together, two adjacent on each side of the hallway. Without planning we all went to supper around 7 and found a table reserved for us. We were fascinated by the Sabbath activities of the big crowd of Jews in the hotel restaurant.



On the Sabbath, 26 March, we left the hotel about 9:15 for the 30-minute ride into Jerusalem. Michael read aloud Isaiah 60:1-5 which was followed by Yatsuk singing in Hebrew and leading a prayer. We drove through a town with an Arab name (Abu Ghosh) that might be the site of ancient Emmaus (see Luke 24:13), but there are two other possible sites; experts cannot agree.
We stopped first at the Mount of Olives and were reminded that Jesus was not the first to weep here about a parent-child relationship. (Compare Luke 19:37, 41 and II Samuel 15:30.) The view from here of the old walled city of Jerusalem is magnificent. The weather was perfect for touring and getting good pictures all day. We walked through what might have been the Garden of Gethsemane. Then we crossed the Kidron Valley on our bus. It warmed up enough by this point that most of us left our jackets on the bus before we walked into the old city of Jerusalem through the Lions Gate. We followed the centuries-old Via Dolorosa.
Time for lunch was found somewhere in the schedule. And the group stopped along the way while Michael purchased two coins in excellent condition that were in circulation in Jerusalem during the time of Jesus. (See Matthew 22:19-21 and 26:15.) Old Jerusalem is cluttered along narrow streets with all kinds of shops catering to tourists.
The old city is thick with religious buildings claiming to contain a landmark of biblical or other historical significance. We saw so many of them that we cannot recall them all. Most are clearly stretching the evidence, with few worth considering that they might be in the right location. Nevertheless, millions of believers travel to visit these sites, and it was clear from what we observed that a sizable number of pilgrims believe they will receive special blessings by touching or kissing these things or places. It seems very superstitious or even pagan to us to venerate what is unproven and unlikely to be sacred. And there are many churches (without "sacred" landmarks) of which their followers just want a presence in Jerusalem.
It is worth mentioning here that the men who originally set up some of these sacred sites were, in some cases, merely trying to enable pilgrims to reflect on a biblical scene or event. These meaningful approximate spots or similar settings turned a commemorization into a place where some visiting believers behave as if there are magical powers available for them there.
One of the most unexpected things we discovered is that the most popular site claiming to be the empty tomb where Jesus was buried has been completely enclosed in such a way that one must wait in an hour-long line to see any part of it. This structure is inside the huge Church of the Holy Sepulchre, the various sections of it being managed by several different major Christian factions, none of which get along with one another, but all claiming the right to be here at "the world's most holy Christian site." It can be rightly described as a "warehouse" of different churches. It is sad that the Christ they seek to glorify prayed that all who follow Him would be united. (See John 17:20-23.) Even more amazing is that since the days of Saladin (the Moslem conqueror of nearly a thousand years ago) the building belongs to the Moslem Arabs, two families of which keep two different keys used by them to unlock and lock the door every day. It is hard to imagine how this has continued for so many centuries. We wish we could tell more about what we did and saw this day, but too much of it is truly beyond belief and would take too much explanation.
A few blocks from our hotel we stopped, just for the fun of it, at a cafe dedicated to everything Elvis. We were back in our rooms about 5:45 and went to supper around 7. The dining room was so different than the night before when so many local families were there to celebrate the Sabbath meal.
On Sunday morning, 27 March, after breakfast the group met in our room for Communion service led by Bob Null. We were on our way back to Jerusalem on the bus by 8:30. Because of a traffic jam, the trip into Jerusalem took 1¼ hour. Though not on our itinerary, our guide planned to take us up on the Temple Mount, but the extra 45 minutes it took us to get there made it impossible to get in. We were all disappointed.
We visited the Jerusalem Archeological Park adjacent to the Southern Wall and south edge of the Western Wall of the Temple Mount. Here we saw the ruins of the ritual baths and the first century temple compound gates that are now sealed. In the above photo our group is among the large stones from Herod's Temple, which the Romans threw off the Temple Mount after destroying the city in 70 A.D., just as Jesus predicted in Matthew 24:1-2. We then watched a 10-minute film about the experience of a Jew taking a sacrifice to Herod's Temple prior to its destruction.
"The world's most holy Jewish site" is the sacred spot on the Temple Mount where the Holy of Holies was located in the ancient Temple. We visited the Western (Wailing) Wall, the closest most can conveniently get to what was once the Holy of Holies. At the Wall, men and women must separate by gender into divided areas. It amazes us that some Jews and Christians who venerate this landmark act as if an all-powerful, omnipresent God will better hear their prayers here than anywhere else.
After lunch we walked through the ruins of the ancient Roman cardo (or town center, not the same as a forum). Nearby we saw remnants of what is called the Broad Wall because it is 7 meters thick. It was surrounding Jerusalem during the reign of King Hezekiah (8th century B.C.).
We left the walled city on foot through the Zion Gate to enter "the City of David." Here we visited what has been traditionally called King David's Tomb, but it is not possible that he was buried there. Even more implausible is the building above the tomb that is traditionally known as the upper room of the Last Supper.
We then got on the bus to be taken to the Pool of Bethesda of John 5. This is probably the real thing. There are ruins of at least one church here as well as a Roman temple.
Next we visited the Israel Museum where we viewed the large, impressive, outdoor, scaled model of Jerusalem as it was when Herod's Temple dominated the landscape (as in the days of Jesus). We visited the most popular part of the museum, where the Dead Sea Scrolls are housed. There was a little time for the museum gift shop before we left for the hotel. Near the museum we passed the Knesset (or Israeli Parliament).
On Monday, 28 March 2011, the 14th day of our trip and our last day to tour Israel, we left by 8:15 a.m. On the way we read Psalm 134. Our first stop was at 9:00 at the Garden Tomb. Though it is very unlikely to be the place where Jesus was buried, it is an empty tomb of the right time period, and its peaceful setting is so much more inspiring here, away from the commotion of the more popular site in Old Jerusalem. A guide was assigned to us when we entered.
We stopped at a souvenir shop before visiting St. Peter in Gallicantu, traditionally at the house of Caiaphas, where Jesus had a "trial" before the Jewish leaders. "Gallicantu" loosely means crowing rooster and refers to the story in Luke 22:54-62. Michael read aloud for us from a notebook in many different languages of Psalm 88 that he found open in the ancient dungeon of the building. This site or one similar to it could be where the Apostles were locked up in Acts 5:18-19.
After lunch our driver took us to Bethlehem, under control of the Palestinian Authority. Our guide, being an Israeli citizen, was not allowed to accompany us across the checkpoint. We expected to get off the bus and show our passports, but we crossed over with little attention given to us. Our first stop was a high quality souvenir shop, quite similar to the one we visited in Jerusalem that morning. Here we were introduced to a man who we thought was to be our guide, but when we left the shop a different guide was made available to us.
An 8-seat minibus (with 9 aboard, including a new driver) transported our group to Manger Square. There we entered the Church of the Nativity, built over the supposed place of Jesus' birth. The exact spot is marked where the baby Jesus is said to have been born and it is treated with incredible reverence by many who visit there. This may be the oldest site on Earth of a continual Christian structure. Next we saw the Shepherds' Fields where some believe the angels announced the birth of "a Savior, who is Christ the Lord."
Leaving Bethlehem with our original bus driver to re-enter Israel was only a little more troublesome than the earlier border crossing. We picked up our original guide before traveling to Ein Kerem, the likely birthplace of John the Baptist. Four of us followed Yatzuck to visit Mary's Spring, then walked up a steep hill to see the Church of the Visitation. The other three people in our group walked an easier path to see the Church of St. John the Baptist, built where it is claimed that John was born.
We returned to our hotel about 5:30 and began packing for our departure.
On Tuesday, 29 March 2011, we were up very early, getting too little sleep. We were on our way to the airport in Tel Aviv by 2:30 a.m. After changing planes in Madrid and Dallas and a 7-hour time change, we returned to Fort Smith about 10 p.m., 23 hours after our first flight of the day began.
It was impossible to keep this travelogue brief. We saw so many interesting things and learned so much more than is recorded here. A visit to the "Holy Land" is something that every Christian should experience. Though many of our friends were concerned about our safety, never once did we feel unsafe. (We will not discount their prayers for us, but we encountered thousands of other tourists who were also finding safe passage as they grew closer to God.)
Michael has now visited 30 countries, Jeannie 29. We recognized many years ago how our travels enrich our lives. Learning about the history of the lands and peoples, tasting new foods that are commonly eaten by the locals, admiring the creativity of those living or long dead, and meeting friendly or not-so-friendly folks (whether locals or travelers) all combine to change us into (we hope) better people ourselves. This physical and spiritual journey through lands that have a biblical significance will undoubtedly continue to influence, for the rest of our lives, our understanding of the Bible and the Creator & Savior who provided it.
May God bless all who read these words.
see 91 of our best photos on Shutterfly

Copyright © 2011, Michael & Jeannie Cole

Discover lessons about Christianity from ancient Pompeii.
You may contact us at
MColeMD@theColeFamily.com
Jeannie@theColeFamily.com
or leave a message in our guestbook