Medical Mission to Tanzania

10 - 16 February 1980

10 February 1980, Sunday
We went to church at Igurusi. We learned about the forced movement of the Tanzanian people to the major roads in 1974-75. We saw monkeys in the trees near the village of Chimala. At 5 p.m. we met for worship at the Chimala Kanisa la Kristo. At 6 p.m. it rained for the first time since our arrival. At our house I saw a mouse run under the chair that Dan was sitting in.
10 Feb 1980
Dear Jeannie & Angelique,
      This is Sunday afternoon about 3:00 pm. Surely, you are asleep at this moment in Harrison. I think of you constantly and pray that all is well. I suppose this will be the last letter I write. If I write one next week, I will beat it home. We think we are going to Mbeya tomorrow, but we really aren't sure yet. There really isn't much to say; not too many exciting things happen.
      Last Wednesday we went to Mbeya in the Land Rover, which is similar to the vehicles they drove on "Daktari." Dan did most of the driving. Mbeya wasn't calm like Chimala. It was more like a rat race, especially the open market. It probably wouldn't have been so bad if Mrs. Farrar hadn't kept asking us what we wanted to buy. We wanted her to take care of that. We barely got back in time for church that night. It took 1 hour & 10 minutes to drive back. The road is paved all the way. (I hope you can read all this.)
      You wouldn't believe what we eat here. Zabron, our cook and housekeeper, can cook anything. We even had a pizza the other day. I don't think we have eaten anything that wasn't "American."
      On Thursday the 7th, Dan assisted Dr. Farrar on a C-section. I did the anesthesia. On Friday I assisted on a prostatectomy. About 2 kids a week die here with measles. It's unbelievable how deadly it is here.
      Yesterday afternoon we drove 5 1/2 miles up a mountain. When we reached the plateau on top, we drove to where the Bible school used to be. It was once very beautiful. Then we walked about 2 miles back into the bush trying to get to the waterfall on the Chimala River. It has no name and only about 3 dozen white men have ever seen it. We had as a guide, Phil Leedal, an Englishman who has lived in Tanzania over 20 years & even written a book about this region. We couldn't get any closer than about 1/2 mile, but the falls were magnificent. We found a trench that the Zulu tribe once used for defense. There are few tribes and few customs left. The government, in 1974-75, ordered all the people to move to the major roads. This destroyed dozens of congregations that had been established in the bush. We still haven't seen any evidence that snakes exist here. We heard some baboons on the mountain & saw a track that Phil said was a leopard's.
      After rounds this morning, we went to Igurusi, about 15 miles west on the pavement, where Dr. Farrar preached by reading Swahili. We went & watched a girl about 14 be baptized in the river. On the way back we saw some monkeys between the Chimala River & the hospital. That sums up the wildlife we've seen except for lots of lizards and the safari ants.
      We have chapel every morning about 8:00 am in the waiting room for the clinic. They need some missionaries over here badly. No one here is starving and no one is wearing rags & it seems there are plenty of Bibles. The Lutheran church is quite strong in Tanzania.
      I'm taking lots of pictures but I'm sure they won't be good enough to make you feel like you've been here. Here it is the rainy season, and it hasn't rained since the day before we got here. I sure wish you could be here. It would be a lot more fun and I wouldn't want to go home so badly. I pray for you every day, before you are even up. I wonder constantly about what kind of problems you are running into. I am confident that you can handle whatever situation arises. I know you miss me, but I hope not too much. I hope Angelique is well. I wish I could be there to share in her moments of changing and growing. I'm sorry I can't help you change her diapers. Don't forget to show her my picture every day. I wonder what new foods she is eating. If there is anyone in the world I need - it is you. Please take care of yourself. Let's both treat each other better when we reunite. It's still almost 4 weeks for me before we see each other, but only a few more days by the time you read this. I am doing fine, so please don't worry. Neither Dan nor I have had diarrhea since we got here. I had fits with my sinuses for a few days, but am fine now. Keep in mind that better things lie ahead for you. We will soon have a house that we have dreamed for since before we married. I am starting to dread going back and going through the hassle of moving, but I guess it will be fun with you. I hope everything is going well with getting the house. As much as I am praying for you, I'm sure you are making the right decisions about things. God bless you and Angelique and keep you safe. I love both of you, but mostly you.
            All my love,
            Michael
11 February 1980, Monday
We were up at 6 a.m. We made rounds before chapel at 8 a.m. Dan did a D&C. We left for Mbeya at 9:30 in a big truck to get "free" supplies from the Baptist Hospital. Having problems with the government, the Baptist missionaries closed down their hospital in Mbeya. They gave about $10,000 worth of supplies and equipment to Chimala Mission Hospital. This was a blessing from God for us. Dr. Farrar drove back to Chimala while Dan & I stayed for lunch with Dr. Mitchell, the Baptist missionary dentist from Arkansas. I tried for over 2 hours to call Jeannie from Dr. Mitchell's house. In Mbeya the people wore more modern clothing. Some women wore pants there, but we never saw women in pants around Chimala. We rode with Martha & Esther back to Chimala, arriving at 4 p.m. It poured late this afternoon. We made rounds at 6:30 p.m.
12 February 1980, Tuesday
I assisted Dr. Farrar with a hemorrhoidectomy. Later I did the anesthesia for a skin graft. My right flank started hurting about 11 a.m., reminding me of a kidney stone. Thankfully, it stopped after I took a nap after lunch. At 8 p.m. I did a D&C. Then I pumped a woman's stomach who was admitted yesterday after being beaten by her husband. She almost stopped breathing after she ate food tonight that her husband had brought her. Then a woman came to the hospital who had been raped. In the middle of trying to make rounds, Dan had to suture a lacerated scalp and I sewed up a lacerated hand.
13 February 1980, Wednesday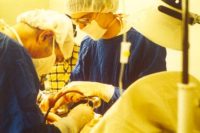 We discharged about a dozen people this morning so that we could have room for more. I provided anesthesia while Dan assisted Dr. Farrar with a laparotomy in which we found a left ovarian cyst. I noticed there was a small lizard on the overhead light in the operating room. Zabron brought us 2 kilos of beef at 12/- (US$1.50) per kilo, so we paid him another 4/-(US$0.50). We went to church
at 5 p.m. Dan delivered a breech, presenting left leg first, which didn't survive at 8 months gestation. I stayed up till 11 p.m. to see the Southern Cross rise above the mountains.
14 February 1980, Thursday
We did skin grafting for 3 patients with burns. I assisted with the first, then Dan assisted the others. I did an IV cut-down on the 3rd patient at the medial left ankle. I bought some baskets from a local basketweaver for 40/- (US$5). Dr. Farrar, Samantha, Dan, & I played Parchesi after rounds this evening.
14 Feb 1980
Dear Jeannie,
      Happy Valentine's Day today. I'm sorry I can't be with you. I miss you terribly. I really need your daily encouragement that I have gotten so used to.
      This is Thursday afternoon. Dan is sleeping. You will probably get this before you get the last letter I wrote. Dr. Mitchell, from Pine Bluff, a Baptist missionary from Mbeya, is going to stop here in the morning on his way to Dar. He will mail this in Dar & it will reach you faster than if we mailed it in Mbeya. I hope that by now - the middle of February - you have gotten word that we are well. I pray daily that you and Angelique are doing okay.
      I mailed your last letter on Monday, 11 Feb. We made rounds an hour earlier that day, and after Dan did a D&C we left for Mbeya. Dan & I rode in the back of a big truck that Dr. Farrar rented to get some supplies from Mbeya. The Baptist Hospital closed & they gave us about $10,000 worth of drugs & supplies, because they didn't want to give them to the government. Dan & I didn't want to have to ride back in that truck so we stayed in Mbeya & ate lunch at Dr. Mitchell's. Our head nurse Esther was already in Mbeya & she had a friend of hers bring us the 50 miles back to Chimala. I guess I should tell you that while at Dr. Mitchell's, we tried for over 2 hours to call you just to let you know that I'm fine & to see how you are, but we couldn't get through, even to Dar, where the international operator is. I was quite disappointed.
      On Tuesday, 12 Feb., I assisted on a hemorrhoidectomy and later did anesthesia for a skin graft. At 8:00 pm I did a D&C on an incomplete abortion (i.e., miscarriage). Then we pumped a woman's stomach whose husband brought her some poison food to the hospital. She had been admitted the day before after having been beaten by her husband. Before we finished making evening rounds a man came in with a knife wound to the scalp and another with a knife wound of the hand. Dan sewed up the head & I sewed up the hand.
      Yesterday the 13th Dan assisted on a laporotomy & I did the anesthesia. Church was at 5:00 pm last night & lasted about 45 minutes. Of course, we didn't understand a word of it. During rounds last night, Dan delivered a premature breech that never would breathe. We tried a long time to resuscitate but finally had to give up. I stayed up till 11:00 pm in order to see the Southern Cross last night. This morning we did 3 skin grafts to kids who had burns. I assisted on the first one & Dan on the next 2. On the last one I did a "cut down" to get an IV going. It was a rather hectic morning.
      This is a typical day here: It starts to get light about 6:00 am. Dan & I get up at 7:00 am when our cook Zabron comes. He fixes us a big breakfast & we go to the hospital about 8:00 am & have chapel in the clinic waiting room. It is all in Swahili but Dan & I can sing the songs from the song book. Afterwards we make rounds on 50-60 patients. It takes about one hour. Then from that time till noon we are in surgery or seeing clinic patients. We usually come home about 12:00 noon & Zabron fixes lunch. We go back to Dr. Farrar's house between 2:00 & 2:30. Every afternoon is different, but we usually finish by 4:30. We have to fix our own supper; usually leftovers from lunch. The generator comes on at 6:30 & it is almost dark by 7:00 pm outside. We start rounds between 6:30 & 7:30 & have to have our flashlights to get home. The generator goes off at 10:00 & we are usually in bed by then. (The generator is also on from 9:00 am to noon.) We live the equivalent of one block from the Farrar's and then it is about 2 more blocks to the hospital. Dr. Farrar has a radio that we listen to almost daily to get the news from the U.S. I am eating so much that I'm afraid I'm going to gain weight.
      I think of you constantly, Jeannie. I want you to know that I do miss you very much. Being away from you so long really reminds me of how much I love you. It has been 14 days since I last saw you & I have 23 more days till I can see you again. It seems like it will never come. I think it will be the most exciting day of my life when I get to see you & talk to you again. I hope all is going well for you. I hope you & Angelique are going to church Sunday night & Wednesday night while you're in Searcy. Here I am writing about Searcy & you are still in Harrison yet. It's 7:40 a.m. in Harrison right now. I wonder if you are up. Give Angelique a big hug & a kiss for me. Remind her that she has a father. Remember that you do have a husband. I love you!
            Thinking of you always,
            Michael
P.S. Smile & be happy for Angelique.
15 February 1980, Friday
I assisted Dr. Farrar on a penile cancer removal. Then I did the anesthesia to remove a dead fetus. We played Parchesi again at Dr. Farrar's after evening rounds.
16 February 1980, Saturday
A young girl died in our presence during morning rounds. We changed 3 pediatric burn dressings. Dan went to Esther's parents' house with Mrs. Farrar, Samantha, Esther, & Shadrach (the secretary). Without gloves I sewed up a laceration of the left foot due to an axe injury. We had an eclipse of the sun today. It was at its maximum (about 80-90%) at about 11:10 a.m. Dr. Farrar ate lunch with me at our house. Ants invaded the west (back) wall of the house and were starting to come into the kitchen, but were deterred after we used bug spray. I sat in the sun from 1:30 to 3:30 p.m. working on my sermon on the "parable of the sower." My shoulders got sunburned. Dan returned at 7:00 p.m. We made rounds, then ate supper at the Farrars'.
more photos