December 2012
Merry Christmas and Happy New Year!
The Lord keeps blessing us over and over again. We achieved a major milestone in life when we paid off our home mortgage this year. At the Medical Missions Seminar in Dallas we were co-presenters of "Traits of a Healthy Mission Team." One week before Super Storm Sandy we were in New York City where we visited Times Square, Central Park, Statue of Liberty, 9/11 Memorial, and saw three Broadway plays, Spider Man, Mamma Mia, and Wicked.
Michael attended classes at state and national Family Physician conventions in Little Rock and Philadelphia. He served as preceptor for a physician's assistant student from Harding University for 6 weeks. Michael helped defeat the "medical" marijuana issue on this year's Arkansas ballot. He occasionally teaches Sunday School at West-Ark Church where he has served as an elder for 12 years and has served on the Missions Committee for 25 years.
Jeannie was re-elected to the Fort Smith School Board where she presently serves as vice president. She was the solo singer of the "Star Spangled Banner" at a ceremony on one of two school board trips to Washington, D.C. Jeannie is president of League of Women Voters of Fort Smith. She teaches ladies Bible classes and serves as secretary for the Hope Chest, a non-profit organization that gives clothing to the needy.
Angelique is a stay-at-home mom. Greg finished fellowship training and is now a fully-credentialed Pathologist. He begins a new job in Fort Worth in January. Corbin, now 8 years old, is learning to play guitar. He enjoys everything Beatles and Star Wars. Rhiannon celebrated her 5th birthday at Cinderella's Castle in Disney World.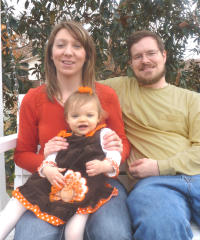 Steven enjoys being a dad. He is a computer programmer at the University of Arkansas. His office moved off-campus, much closer to his home. Louise is a stay-at-home mom, working on her Ph.D. dissertation as time permits. Carmen celebrated her first birthday in our courtyard in September. She is becoming a delightful little toddler.
As a new year dawns we look forward to the adventures that lie before us. It is comforting to know that God has blessed us with family and friends who seek to please Him. It is our prayer that your Christmas will be filled with joy and your New Year full of wonder.

Michael & Jeannie