December 2011
Holiday Greetings to one and all!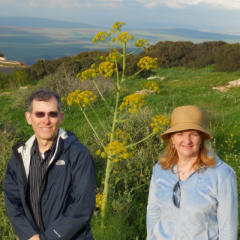 As another year's end approaches we will take a moment to think back upon the newsworthy events of our family in 2011. God continues to bless us with new adventures, deeper insights, beautiful grandchildren, and blooming flowers.
We took the trip of a lifetime to Greece, Jordan, and Israel in early Spring. Athens and Corinth continue to inspire us. We were fascinated by Petra, a city carved from sandstone in Jordan. We cannot adequately describe what it was like to stand on the mountain that provided Moses a glimpse into the Promised Land, seeing the caves where the Dead Sea scrolls were discovered, boating on the Sea of Galilee, and walking about Bethlehem, Nazareth, and Jerusalem.
Michael continues to master computerized medical charting, a course not taught in his medical school in the 1970's. Spending so much time entering data all day at work, he finds less interest in entering genealogical data into his home PC, though our family tree continues to be his favorite hobby. Michael typically spends every Saturday morning keeping our yard looking great. Sunday mornings finds him teaching a Bible class at West-Ark Church of Christ, where he serves as one of 11 elders.
Jeannie returned to Nashville to sing on another Acappella Praise & Harmony CD. She continues to serve on the Fort Smith school board. Jeannie was elected President of League of Women Voters of Fort Smith. She co-teaches a ladies' Bible class and serves on the board of managers for the Hope Chest, a benevolent ministry of the church.
Angelique served as a Children's Minister until she became a stay-at-home mom in September. Greg completed residency and is now a board-certified Pathologist. Corbin just turned 7, enjoys playing flag football, and is doing well in 1st grade in Coppell, Texas. Rhiannon is a delightful 4-year-old who is learning to read.
Steven is a Software Support Specialist at the University of Arkansas in Fayetteville. Louise taught some college classes while working on her Ph.D. She and Steven gave us our third grandchild, Carmen Amelia Cole, on 15 September.
It is our prayer that all who read these words will recognize the blessings that will come to you in 2012. May all that we do bring glory to our Creator and Savior.

Merry Christmas and Happy New Year!
Michael & Jeannie