December 2009
Merry Christmas to all our Friends and Loved Ones,
It was 26 years ago that we started our family tradition of sending a Christmas newsletter. Once again we will share some of the past year's events with you. We hope you will rejoice with us as you read how the Lord has been kind to us in 2009. We are certain that something special has happened in your life this year and we hope you will tell us about it.
We enjoy co-teaching a Sunday School class this year that we call Building Stronger Christian Families. It is well attended and we hope beneficial to the parents. At the State PTA Convention we were co-presenters of a workshop on the traits of a healthy family. In June we led our 19th medical mission team to Guyana, South America. We stopped in the Bahamas on the way back home. Since Jeannie had a National PTA conference to attend in Orlando in August, we spent our 34th wedding anniversary at Disney World. We later had a special time attending a wedding in Oklahoma City where we reunited with friends from Naples, Italy.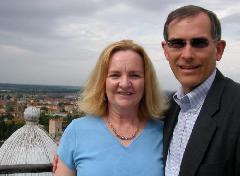 Atop the Leaning Tower of Pisa
The highlight of the year was spending the first half of October in northern Italy, touring places that we didn't visit when we lived in Italy. Robert Browning once wrote, "Open my heart and you will see, engraved inside of it, 'Italy.'" We couldn't agree more. Of all the countries we have visited, Bella Italia remains our favorite.
In July Jeannie participated in her 3rd recording session with Keith Lancaster's Acappella Praise and Harmony CD series. If you are interested in acappella gospel music, you can find the Praise and Harmony series at www.acappella.org/praiseandharmony. She enjoys utilizing her music education degree. Perhaps she uses it more in the education field. For the first time, Jeannie had an opponent for the school board position that she has held for 12 years. We were delighted on the morning following the election that the city newspaper headline read "Cole Wins Re-election."

And of course, we made a few trips to Dallas to visit grandchildren (as well as Greg and Angelique). Corbin just turned 5 years old and Rhiannon 2 years old. They are a joy!
Angelique recently accepted the position of Children's Education Co-ordinator at Grapevine Church of Christ. Corbin and Rhiannon love the preschool just down the hall from their mom's office. Greg is now a third year Pathology resident.
Steven and Louise are working at the University of Arkansas while they finish their studies. We rejoice with them upon the purchase of their first house in Springdale. It is nice that they are close enough to visit occasionally.
We completed a 7' waterfall from the edge of our terrace in the Spring, and we're nearing the end of a 3-year project to improve our landscaping. It has been a lengthy process, but well worth the wait. In September our landscaping received the city's Orchid Award. We have hosted several parties in our Italian courtyard and more are planned. If you visit Fort Smith, come get a taste of Italy at La Terrazza Cole!
God's blessings from our home to yours for the New Year!
Michael & Jeannie