December 2005
Holiday Greetings,

We are reminded once again that it is good friends and family that makes life worth living. We hope that you will surround yourself with good people so that you too will be truly blessed. May you find joy by bringing happiness into the lives of others during this season and throughout the new year.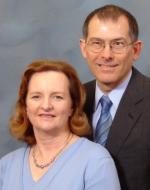 We celebrated our 30th wedding anniversary in August by visiting Prague, Vienna, and Barcelona. We recently spent a weekend in Chicago where we visited the Pompeii exhibit and attended a professional performance of "Joseph's Amazing Technicolor Dreamcoat." We still enjoy teaching our Sunday School class for young married couples.
Michael developed a torn retina just weeks before turning 50 years old. Emergency laser surgery in Little Rock repaired most of the damage. He led his 15th medical mission team to Guyana, South America, in June. Now in the third year at his clinic in Fort Smith, he has a crowded patient schedule four and a half days each week. Michael has served as the volunteer Webmaster for the West-Ark Church of Christ for the past 10 years. It is the oldest church Web site in Arkansas. He continues to serve as a church elder and spends hobby time working on the family tree.
Jeannie graduated from Leadership Fort Smith in June. Later she attended Arkansas Leadership Academy. She sang with Fort Smith Chorale on July 4th. Jeannie has begun her ninth year serving on the Fort Smith public school board and keeps busy as a leader in both state and national PTA. She continues to be a group leader in weekly ladies' Bible classes and participates in after-school tutoring.
Angelique began studying for a Master's Degree in Children's Ministry with the fall semester. She works part time at Preston Road Church of Christ in Dallas. Greg will soon be a senior med student. They're busy raising 13-month-old Corbin Moses. We're delighted to have a grandson and look for every possible excuse to see him.
Steven has one more semester at Fayetteville to complete his second Bachelor's Degree. Louise will soon complete her Master's Degree at the University of Arkansas, where she teaches beginners' Spanish. We enjoyed attending a choral concert in which they sang "Mozart's Requiem" in April. During the summer they spent a month living in Mexico for a Spanish language immersion course.
May the Lord surround you with people who love you. We pray that 2006 will be your best year ever.
Merry Christmas and Happy New Year from our house to your house.
Michael & Jeannie